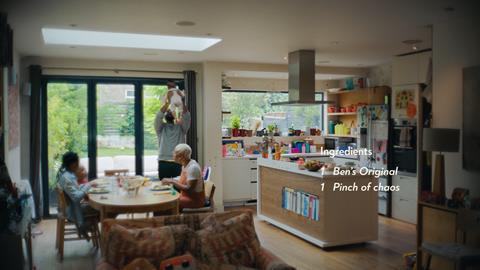 Mars Food has introduced the first Ben's Original marketing campaign in the UK.
The 'Everyone's Original' campaign is linked with the brand's ongoing commitment to enhance inclusion and equity in service of its purpose to offer everyone a seat at the table.
The adverts feature a collection of six diverse households who gather around the table for meals featuring Ben's Original long grain rice. These include a nuclear family, a pair of friends, three roommates, a single-parent family, a family who uses sign-language and a multi-generational family.
The fully integrated campaign, which was developed by The&Partnership, first aired in the United States before rolling out to the UK. The first adverts in the UK include two television ads, as well as digital, social and video-on-demand formats that will air on a variety of different platforms.
"The inspiration for the new campaign came from the simplest of places – our brand name," said Rafael Narvaez, Global CMO and R&D Officer, Mars Food. "Original not only speaks to the quality of the world's best rice brand, but also our vision of inclusivity that celebrates individuality. We are not defined by our age, gender, sexuality or race – what defines us are the personality traits and quirks that make us all unique. Because we're individuals … we're all original."