As shoppers navigate the continued return to 'normality', and demand for drink-now formats increases, Britvic has released independent research that aims to help retailers better prepare their soft drinks ranges.
Soft drinks is a hugely valuable category in convenience, worth £2.3bn1, but macro trends are influencing what products consumers choose and where they choose to buy them. Throughout the pandemic, many retailers remerchandised their soft drinks ranges, shifting the focus to larger bottles and multipacks. While these formats will remain important parts of retailers' offerings as many UK workers continue to work from home, the latest research from Britvic shows that on-the-go soft drinks are very much back in business, and there is a clear opportunity for retailers to drive sales as a result.
The on-the-go soft drinks opportunity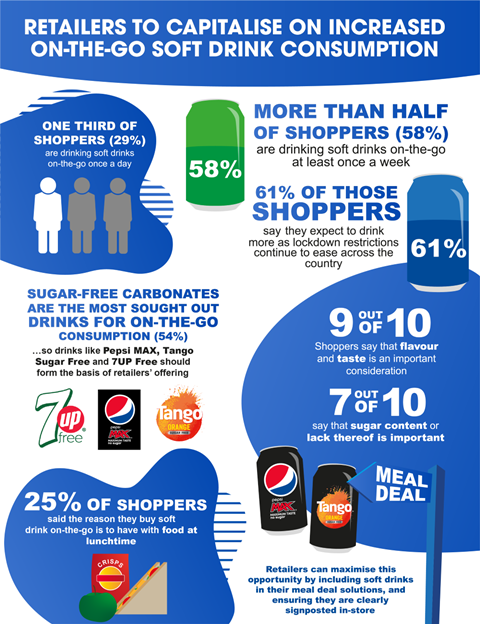 As lockdown restrictions have eased, 61% of shoppers claim they expect to consume on-the-go soft drinks even more2, showing a renewed opportunity for convenience stores across the country.
In fact, of the 2,000 Brits who participated in the survey, just under a third (29%) are already enjoying soft drinks on-the-go once a day3, and more than half (58%) claim to do so at least once a week4, so the demand for drink-now formats is already clear.
During the pandemic, soft drinks remained the number one category bought on a food-to-go mission5. Britvic's latest research reflects this, with a quarter of those surveyed saying the reason they buy soft drinks is to have them with food at lunchtime6. Retailers should be including soft drinks in their meal deal solutions, clearly signposting the offer in-store and encouraging cross-category purchases to maximise the on-the-go opportunity.
Offering the right range
Throughout the pandemic retailers needed to pay close attention to the demands of their shoppers and adapt their soft drinks ranges accordingly. It has never been more important to offer customers the right drinks for the right occasions. Research shows that nine out of 10 shoppers say flavour and taste are key considerations when choosing a soft drink for on-the-go missions, and seven out of 10 say that sugar content or lack thereof is important7.
Sugar-free carbonates are the most sought-out options (54%)8, with the latest innovations from well-known brands such as Pepsi Max Lime, Tango Sugar Free Dark Berry and 7UP Free Cherry (see gallery below) presenting a strong line-up that should form the basis of retailers' offerings – sugar-free drinks that don't compromise on flavour.
Path to purchase
To take full advantage of the on-the-go opportunity, retailers should consider shoppers' path to purchase, and not just at the chiller.
One macro trend influencing consumers is the desire to seek elevated experiences9, especially when it comes to seasons and events. In the run-up to Christmas when people will be out and about getting their shopping sorted or on their way to parties, retailers should try to capture shoppers' attention before they even reach the chiller.
Utilising the tools already at their disposal – POS materials, social media channels and high-visibility placements such as checkout displays and gondola ends – will allow them to do just that, maximising impulse sales this autumn and beyond.
Retailer testimonial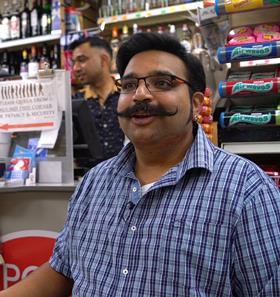 Gaurave Sood, owner of the Neelam Store in Hillingdon, West London, has always had a keen focus on soft drinks, due to the profit margin he can make and the demand from his shoppers. With doors on his 2.5m chiller too, he's known for having the coldest drinks in town.
Gaurave comments: "Soft drinks is an important category for us and I've always tried to keep a comprehensive range across all formats and varieties. Whether stocking drinks in the chiller or on shelves, we make sure to have a prominent display so customers remember they can always rely on the store for any future purchases.
"During lockdown, take-home sizes were very popular as people were using our store instead of the supermarkets. Those sales reduced significantly when restrictions lifted, so we in turn reduced the range to the essentials, and have shifted focus to drinks for instant consumption. Our best-selling size of soft drink has always been 500ml, irrespective of soft drink type or format of a bottle or can. Price-marked packs also perform well for us at the right price point – over the years in retail, the magic number has become £1, whether across drinks, confectionery, crisps or general grocery. Semi-permanent promotional pricing of two-for-£2 has worked well on our on-the-go drinks too, helping to increase sales. Our 500ml bottles have continued to be such a big hit that we've also set ourselves apart from the competition by sourcing non-PMPs and selling them for £1.
"Our core range of on-the-go soft drinks will always be our bread and butter, but we also made a name for ourselves locally as being the first store on our parade to have a good range of American drinks and confectionery when the trend for this kicked off. My advice to retailers on soft drinks is to know your shopper demographic and don't underestimate spending power of shoppers coming in for a 500ml drink, coupled with other snacks or confectionery to enjoy on-the-go."
For more information on boosting your soft drinks sales, click here.
Sources
1 IRI Marketplace, GB Convenience, Total Soft Drinks Value, 53 weeks to 22.08.21
2-4 Research commissioned by Britvic, July 2021 (2,000 shoppers)
5 Lumina Intelligence Convenience Tracking Programme, 4 w/e data from w/e 22.11.20 to w/e 27.06.21
6-8 Research commissioned by Britvic, July 2021 (2,000 shoppers)
9 Kantar Futures Consumer Macro Trends to 2025 (Britvic bespoke research) 2020