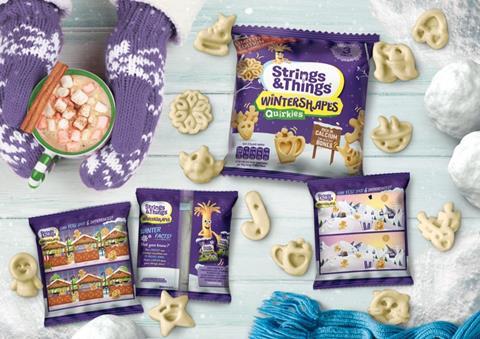 Strings & Things has announced the launch of its limited-edition Halloween and Winter-themed packaging across its portfolio.
As part of Strings & Things' commitment to making kids snacking fun, the brand is re-launching its successful limited-edition Halloween themed packaging. The launch includes 18 new Cheeshapes designs, 16 fun Yollies motifs as well as 48 limited-edition collectable Rare Scare Cheestrings characters.
In November, Strings & Things will also be bringing back its Winter-themed Cheeshapes, made with 100% real cheese, which includes an array of festive new shapes. Set to launch 2 November, the new range will be an extension of Cheeshapes Quirkies with the new shapes including festive favourites such as a snowflake, cuddly penguin and a winking reindeer.
"We are so excited to be bringing back our limited-edition Halloween and Winter packaging this year to give retailers more opportunity to tap into these important cultural occasions and drive excitement amongst shoppers," said brand manager at Strings & Things Melissa Sargeant. "Halloween and Christmas are such important occasions for kids and their families so we wanted to ensure we're providing them with eye-catching and fun snacking options that would excite them. The limited-edition reimaging of the classic Cheeshapes also builds excitement for consumers and helps retailers maximise their in-store opportunities this year."