Cold brew coffee company Far Side is bringing its Rwanda and Peru cold brews to the UK, with an extended nine month shelf life.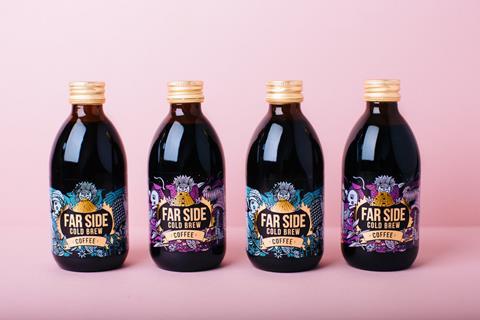 Made using two ingredients: coffee and filtered water, Far Side's range is steeped in chilled waters for over 18 hours. The brand's Rwanda cold brew features chocolatey notes while its Peru cold brew contains orange peel flavours (rrp £3.20 each).
Kadie Regan, founder of Far Side Coffee, said: "There's nowhere to hide with cold brew. It's a simple process that relies not just on high quality coffee but also the investment of time, resulting in a clean, fresh, unadulterated brew that sings to its origin and plays out complex notes on the tongue.
"With consumer preference moving away from sweeter tastes in the Stateside coffee sector, I have every confidence that cold brew will continue to make inroads here in the UK as a refreshing, delicious choice for coffee lovers who want to chill."