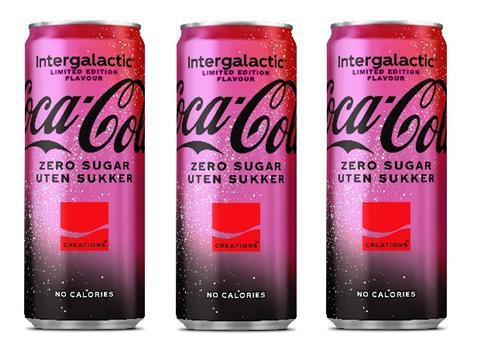 Coca-Cola has announced the launch of limited-edition Intergalactic.
Inspired by the world of space, Intergalactic has a reddish 'starlit' hue, and comes in a 250ml can inspired by the stars. Coca-Cola Intergalactic is available in small volumes in GB to grocery, managed convenience, high street chains and some wholesale retail club members.
It is the first limited edition, zero sugar product under Coca-Cola Creations, a new platform that takes the iconic Coca-Cola brand and lends it to new expressions, driven by collaboration, creativity and cultural connections.
The one-of-a-kind Intergalactic cans also allow viewers access to the world's first 'Concert on a Coca-Cola', featuring global popstar, Ava Max. The augmented reality (AR) concert can be accessed by scanning the QR Code on a Coca-Cola Intergalactic can, launching the Coca-Cola Hub where the performance will live. Other digital elements for fans to interact with include Instagram filters, ASMR experiences and more.
Martin Attock, VP commercial development at Coca-Cola Europacific Partners GB said:
"Innovations like Intergalactic give us an opportunity to drive excitement, talkability and momentum around the Coca-Cola brand – engaging new and existing shoppers with innovative flavours and experiences unlike anything they've had before."