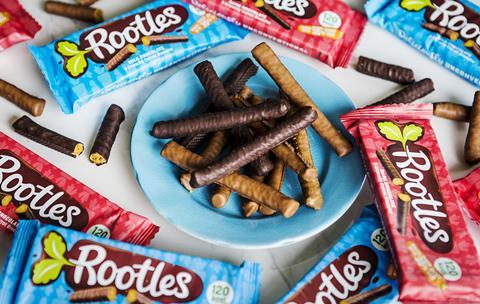 Chocolate-covered crunchy carrot biscuits Rootles have been launched to the UK market.
Currently available in two flavours, dark chocolate and milk chocolate, each pack of Rootles contains three crunchy carrot biscuit fingers. Rootles have an rrp of £1.00-1.20 per 27g pack and have a shelf life of at least seven months delivered.
Rootles developer Helen Yates said: "The Covid pandemic has led to a greater focus on health and Rootles are the perfect product for guilt-free snacking, as they are high fibre and contain just 120 calories per pack – fewer than many other snack bars. Consumers are looking for healthier snacks, particularly in the impulse snacking sector, but they don't expect to compromise on taste or texture and still want to treat themselves. Veg has been added to cakes for a long time but we've taken the concept a stage further and developed biscuit bars using root vegetables.
"Rootles taste like a traditional chocolate biscuit but are naturally sweetened with carrot and sweet potato. They are deliciously unconventional and really have to be tasted to be believed!"