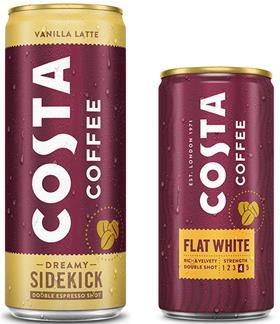 Coca-Cola European Partners (CCEP) is unveiling two ready-to-drink (RTD) Costa Coffee lines: Vanilla Latte in a 250ml can and Flat White in a 200ml can, both rrp £1.70.
Vanilla is one of the biggest flavours in Costa Coffee retail and accounts for six million over-the-counter servings every year (Costa Store Data December 2019). The new variant is designed to tap into 85% growth in vanilla-flavoured RTD coffee over the last 12 months (Nielsen Week Ending Val 3.10.2020 MAT total GB), while bringing a point of difference to the category. Vanilla Latte joins Latte, Caramel Latte and Americano variants, which hit the scene in June 2019. Consistent with the rest of the Costa Coffee RTD range, the Vanilla Latte offers consumers an authentic coffee experience with less milk and 30% less sugar than its competitors (Costa Research July: 30% less sugar versus most RTD coffee drinks in GB).
Costa Coffee Flat White RTD, combines a double shot of espresso with milk to deliver a stronger coffee taste and velvety texture, with just 76 calories per can. The aim is to tap into continued growth in Flat White RTD coffee sales, which have more than quadrupled over the last year (Nielsen Week Ending Vol & Val 5.9.2020 MAT total GB).
Simon Harrison, vice president, commercial development at CCEP GB, said: "The RTD coffee sector is experiencing over 20% growth in value [Nielsen NCB sector report, RTD Coffee, Total GB incl. discounters, val MAT w/e 26.12.20] as consumers look for pick-me-ups whilst on-the-go, and increasingly at home as well. Within this, Costa Coffee RTD doubled in size in 2020 [ibid], growing ahead of the segment and our strategy is to continue driving growth through incrementality as more than 50% of Costa RTD consumers are new to the sector [Kantar Worldpanel Division – Take Home Purchase Data, Jun 2019 - Mar 2020].
"Costa Coffee's coffee shop business gives us insight into the types and flavours of coffee consumers want, and we're confident our new launches will deliver – bringing new tastes and milk and caffeine profiles to our RTD range just before the peak summer months. We'll continue to support the full range with impactful marketing and sampling activity this year, demonstrating the ranges' suitability for a variety of consumer occasions."