Coffee is driving the hot beverages market but don't count out premium tea products.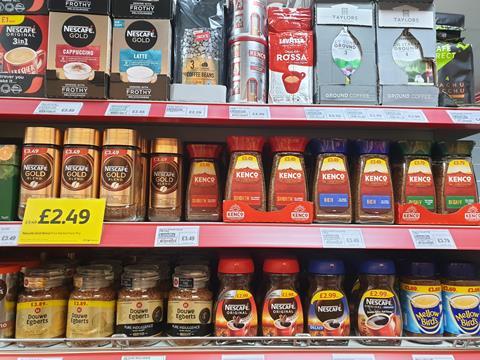 1. Coffee is driving the hot beverages category within convenience with a 63% value share
The total coffee category has almost returned to pre-pandemic value sales levels when comparing 2021 to 2019 with sales only down 0.2%, claims wholesale data analysis company SalesOut. "This shows a resilience in the category versus other Hot Beverage areas," claims a company spokesman. "This is set against a context where the number of buying customers in the Coffee category is actually down 3.4% for 2021 vs 2019."
Nestlé Beverages UK concurs that coffee is driving the hot beverages category. "Over the past six months as we have moved through the pandemic coffee sales have slowed, but the category remains strong with 97.7% of UK households buying hot beverages and it is worth £285m in convenience," says Alicia Gardner, customer category manager for wholesale & convenience. "The main driver of growth within the hot beverages category across total convenience is coffee with a value share of 63% [IRI Data, Convenience excl major mults, 52 w/e, 17th July 2021]."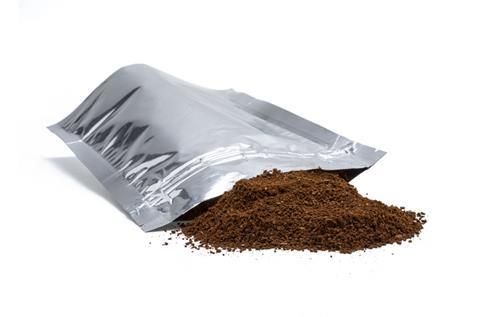 2. Roast and ground coffee value sales are up 46% in convenience
The fastest growing segment in terms of value sales is roast & ground, +46% v 2019 (IRI Data, Convenience excl major mults, 52 w/e, 17th July 2021), claims Nestlé. "Consumers are looking for a quality cup of coffee that resembles a coffee shop experience," says Gardner.
Helen Boulter, multi sector sales controller at Bettys & Taylors of Harrogate, which makes Yorkshire Tea, adds: "The pandemic has impacted the coffee category within convenience in numerous ways. People have spent more time at home, and out of home spend moved into the home. This not only means people have been drinking more coffee at home, but also trading up."
Roast and ground coffee is growing faster than any other sector within hot beverages, she states. "With ground coffee making up 64% of these sales (IRI and Kantar, 52 w/e 19th June 2021), independent stores should consider increasing their range and ensuring the best-sellers are available," she advises, noting that Taylors of Harrogate is the UK's favourite ground coffee brand (ibid).
Ground coffee is a winner at Londis Bexley Park in Dartford, Kent. "Ground coffee sells well for us," says owner Nishi Patel. "We offer Taylors Lazy Sunday range and Machu Picchu [from Cafédirect]."
Cafédirect distributor RH Amar has enjoyed the rise in demand. "We very quickly witnessed a significant increase in retail sales from the first lockdown last March, and that upward trajectory has very much increased ever since," explains Lesley Parker, brand controller for Cafédirect at RH Amar. "It's the premium end of the category that has seen the greatest growth. Sales of roast & ground are up by 14%."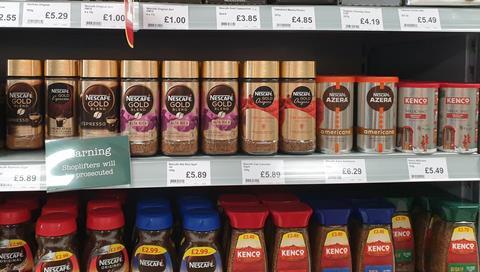 3. Within instant coffee, premium pack formats are in demand
Instant Coffee remains by far and away the biggest sales area within Coffee, states SalesOut. "Its recovery to pre-pandemic levels has not quite been achieved as yet," adds a spokesperson. "2021 sales vs 2019 sales are tracking 1.8% behind where they were."
Instant coffee accounts for 54.1% of value within the hot beverage's category and 85.5% of value within total hot coffee, claims Nestle. According to the firm, the pack formats driving growth are frothy and super premium which collectively equate to 15.7% value share of the category (IRI Data, Convenience excl major mults, 52 w/e, 17th July 2021). "2020 saw consumers spending more time at home, which meant that the hot beverages category had an exceptional year," says Gardner. "In 2021, we continue to see significant growth within the premium coffee segment." Nescafé Azera recently partnered with independent Manchester-based coffee roastery, Grindsmith, to create the UK's first craft coffee in instant format. The firm has also released the Nescafe Gold Blend Roastery Collection: a range of light and dark premium instant coffees. Both variants are stocked by Musgrave, while the Dark variant is listed in Blakemore and Appleby Westward Group.
Nishi has certainly seen customers trade up their instant coffee. "We used to do Azura or Milicano - whichever was on offer," he says. "Now we stock both and we've started stocking more facings. Where they couldn't get Nescafe last year they tried Azura and they liked it. People are still going to be working from home two or three days a week and they want premium."
Lesley Parker, brand controller for Cafédirect at distributor RH Amar agrees that "all the growth is coming from more premium offerings". She claims that grocery sales of Freeze Dried products, which account for more than half (£372m) of instant coffee's total sales of £705m, are up by +5% year on year, whilst sales of the category's more entry level granule-based products are down by -0.1% to account for £118m (Nielsen Scantrack Grocery Mults data to 24.4.21). "It's clear, therefore, that the direction of travel continues to be towards the more premium end of the category, and it's important that wholesalers and retailers of all shapes and sizes bear these trends in mind when deciding what to stock," says Parker. The firm revealed a new look for its Single Origins range back in March and will be on TV screens this month promoting its star performer Machu Picchu, which has seen sales grow +52% in the last 52 weeks.
ADVERTISEMENT
Stocking Taylors is like giving your sales figures a shot of espresso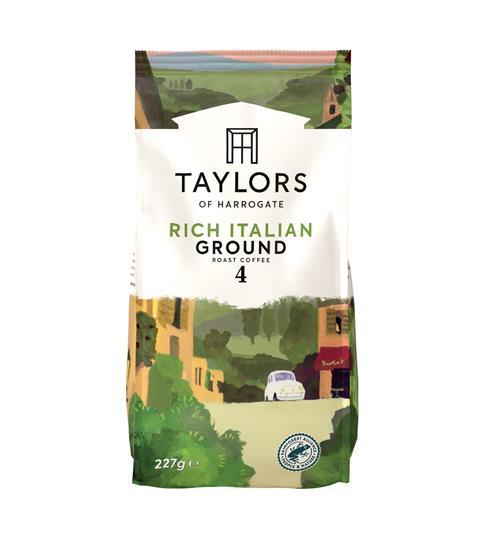 Coffee is worth £201m in convenience (70% of the hot beverages category) so it pays to get your coffee offer right.*
Ground coffee has grown by +7.8% YOY* and roast and ground coffee is growing faster than any other sector within hot beverages.* Taylors of Harrogate is the UK's number one ground coffee brand* and its Rich Italian ground coffee is a customer favourite and a must stock product for convenience stores. With notes of dark chocolate and almonds, it is a great all-rounder, perfect for making espresso and filter coffees.
Available from your local wholesaler.
* IRI and Kantar, 52 w/e 19th June 2021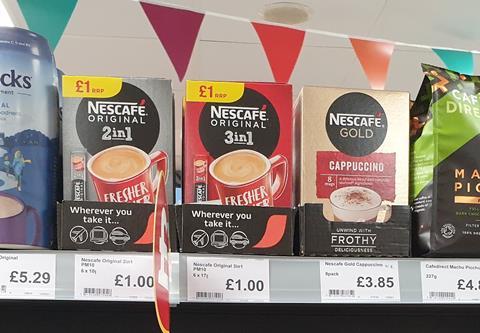 4. Portioned coffee and mixes are causing a stir
"We are seeing growth within portioned coffee and mixes across all channels," says Nestle's Gardner. "As we head into the winter months, some of the key trends to maintain this momentum are the launch of 2021 seasonal products including Starbucks Seasonal Edition (Toffee Nut), Nescafe Dolce Gusto Latte and Starbucks Instant Mixes."
Portioned coffee goes down well with Premier Morley's customers. "The three in one sachets are massive," says Ajay. "We do Starbucks, New York Coffee, Booker's one - that's the biggest area of growth.
"Rather than messing about, you just throw it in a cup, add hot water and mix it. Builders use it, the majority of them buy the Starbucks or the New York ones with 12 sachets in a pack for £1.29. We sell loads of them, it's madness! They come in different flavours - salted caramel and Irish coffee and cappuccino etc."
Nishi is also seeing demand for this format. "We've started doing a lot more three in one sachets," he says. "There's Nescafe, Starbucks and Kenco do them too, boxes are £1".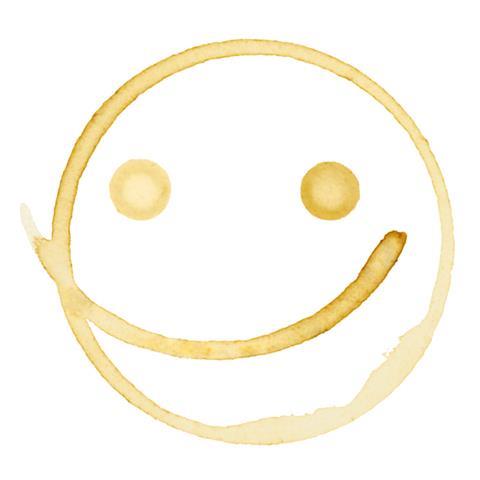 5. Decaf coffee and tea both show impressive growth
Decaf coffee has grown by 16.5% YOY and is worth 10% of the total coffee category [Kantar, 52 w/e 21st March 2021], according to Bettys & Taylors of Harrogate, which produces Taylors of Harrogate Decaffé coffee. "We also know it attracts a more affluent shopper so it's well worth ensuring you stock a good decaf coffee," says Boulter.
A decaf option in tea is also crucial. "Customers won't expect a huge range but stocking a well-known brand and product like our Yorkshire Tea Decaf 40 teabag PMP will exceed expectations and give customers a reason to visit your store," she says. "With shoppers switching to decaffeinated options, decaf is a key driver of growth in the tea sector, growing by 8.9% [IRI and Kantar, 52 w/e 19th June 2021]. It is therefore essential that independent stores have a strong decaf tea available."
As a companion to everyday black, a black decaf should feature in the core offering, states Tetley owner Tata. "Sales of decaf black teas have been extremely strong throughout lockdown and continue to show growth, with volume sales up 0.5% in impulse," says Parminder Walia, category development manager, Tata Consumer Products. "Decaf drinkers are an important group as they will not choose an alternative tea if decaf is not available. Decaf is also a good trade up option with a higher pence per kilo than everyday black." Volume sales of Tetley decaf are up 5.6% in convenience and 7.4% in impulse (AC Nielsen volume sales year to 19 June 2021).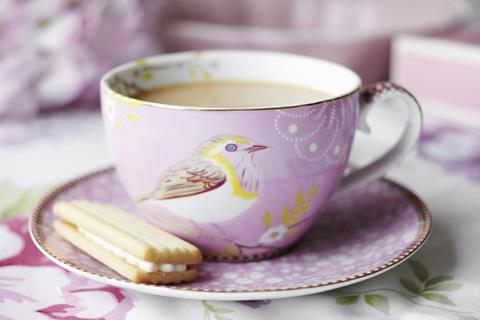 6. Tea sales are down, but consumers are ready to trade up
SalesOut claims that the tea category that is "really struggling" to return to pre-pandemic activity with 2021 sales down approx. 15% on 2019 YTD. "The number of buying customers active in the category is down 8%," adds a spokesperson. The firm highlights Standard Tea offerings as the most troublesome category area.
Ajay Singh of Premier Morley in Leeds stocks all the major black tea brands. "The majority of our tea sales are online, rather than in-store because we deliver," he says. "We sell PG Tips, Yorkshire Tea and Tetley. We're close to Yorkshire so we sell a lot of that and Tetley is also a bestseller."
Yorkshire Tea is also a top-seller for Nishi Patel of Londis Bexley in London, followed by PG Tips. "We stick teas with the higher end stuff," he says. "The cheap end doesn't sell - Euroshopper tea doesn't sell for us."
Bettys & Taylors of Harrogate states that the tea sector is worth £85m in convenience, and convenience stores should pay particular attention to standard black tea, which accounts for 70% of the tea sector [IRI and Kantar, 52 w/e 19th June 2021]. "Yorkshire Tea is a key driver of this growth adding £5.2m to the category in the total market," says Boulter. "Customers have been spending more over the last year and trading up so to meet this demand we suggest stocking a premium tea like Yorkshire Gold, our finest blend."
Tata's Walia also acknowledges the trend towards going premium. "Tetley is mirroring the journey consumers are taken on in the coffee category and making the trade up journey in black tea much more explicit to shoppers," she says. The firm recently introduced new look packs of its classic Tetley English Breakfast and Tetley Earl Grey 50s and is bringing out Tetley Gold Brew (rrp £2.85 for 75 bags). The latter is a sophisticated blend of African and Assam teas and has listings with Nisa and Spar. In addition, Tetley is launching a new range of Discovery teas.
From October, the brand will begin a new £2.5m marketing programme spanning six months.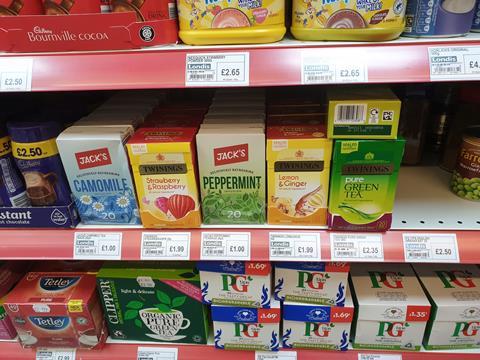 7. Convenience stores are missing out on the non-black tea opportunity
The grocery multiples best illustrate the opportunities for sales of non-black teas, claims Tata. "Here non-black everyday teas account for close to a quarter of all tea sales 24.4%, but this falls significantly in convenience to 16.3% and to just 8.8% in impulse, which indicates room for growth in this area," says Walia. "Particularly popular among 18-24s with 39% regularly choosing herbal tea and 26% a fruity brew, higher value fruit and herbal teas are good to consider. Volume sales here are up 7.2% across core grocery and up 3.5% in total impulse [AC Nielsen year to 19 June 2021]."
Nishi has latched on to the trend. "We do Twinings - green tea and elderflower etc. - eight variants," he says. "When people are looking at that range, they're happy to pay a premium for the higher end."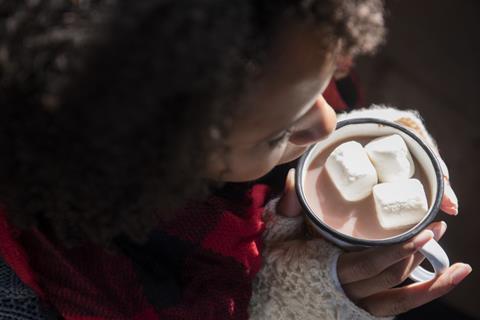 8. Hot chocolate had a strong 2020, but sales value is down on 2019
After strong growth of 15% YOY during the pandemic, the hot chocolate category within convenience is around 5% behind overall sales value compared with 2019 (SalesOut 2021 YTD). "Full recovery of the category is not quite there," says a SalesOut spokesperson. "However, the overall number of buying customers is up 2% compared to 2019, so more customers are in the category, but spending less.
"Branded products account for c.95% of total sales and whilst branded products are still by far the most dominant seller in the category, own brand sales have been very strong in recent times, +52% when comparing 2021 to 2019."
Mars Chocolate Drinks & Treats agrees that hot chocolate sales were especially strong in 2020. "Hot Milky Drinks was the fastest growing segment within hot beverages in 2020 with growth of 13%, predominantly driven by new shoppers and an increase in volume purchased, adding more than £21m in sales [Kantar – 52we 27th December 2020 – Hot Milky Drinks]," says general manager Michelle Frost. "The hot milky drinks category, which includes hot chocolate, accounts for £207m of sales with hot chocolate representing 66%, with an annual sales value of £137 million [ibid]."
Last winter, £1 in every £10 in hot beverages was spent on Hot Milky Drinks (Kantar – 12we 27th December 2020 – Hot Milky Drinks), demonstrating the importance of the segment to the wider category, claims Mars.
"Hot chocolate performed exceptionally well with Galaxy Hot Chocolate sales growing at 15.8% YoY [Kantar – 52we 27th December 2020 – Total Hot Beverages] with volume per buyer the key growth driver in 2020," says Frost. "Hot chocolate also appeared to be a top choice for many home baking recipes with more time spent experimenting in the kitchen."
Premium hot chocolate Green & Black's is also proving popular, having grown by 8.2% over the last year, (MAT Nielsen RSV July 2021), claims Mondelez International.