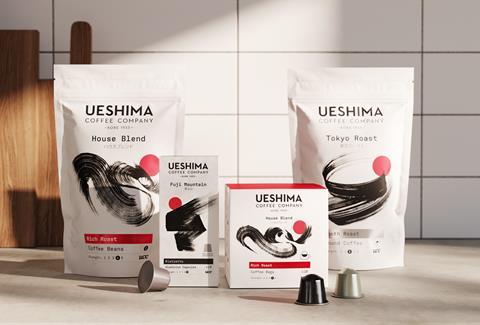 UCC Coffee Europe has launched a new coffee brand, Ueshima Coffee Company into the UK.
The Ueshima launch range includes beans, roast and ground coffee, Nespresso-compatiblealuminium capsules and coffee bags in three inspirational blends - Tokyo Roast, House Blend and Fuji Mountain. Available now online at www.ueshimacoffeecompany.com, further products will be added to the range in Spring 2021, with plans to roll-out the brand into retail and out of home. A phased launch in other European markets is also planned from late 2021 onwards.
CEO of UCC Coffee Europe Paul Molyneux said: "The Ueshima launch is a key move for UCC. We have capitalised on the rich experience of our Japanese coffee business to develop the brand; which having been honing its craft and expertise for over eight decades, has unrivalled heritage in Asian coffee. This is a single-minded launch that taps into the biggest growth opportunities in the market and will bring a new coffee experience to consumers who appreciate a distinctive cup of coffee.
"Japan is famed for its strong culture, rituals, craft and quality and globally, it ranks as the number one country brand. So, it's the ideal time to bring Ueshima - and its visually striking, authentic brand identity - to UK retailers and consumers."