Coca-Cola European Partners has announced that its entire Capri-Sun portfolio is now free from artificial ingredients, following the reformulation of its Capri-Sun No Added Sugar range.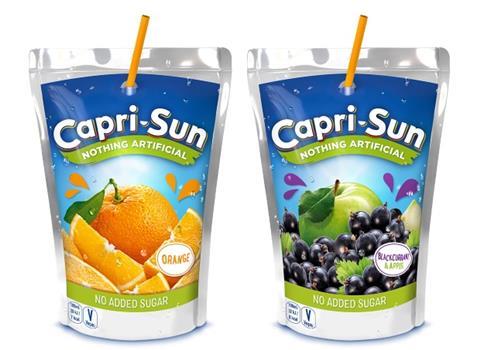 Capri-Sun No Added Sugar will now include stevia, a plant-based sweetener in combination with natural fruit sugars. The Capri-Sun No Added Sugar Nothing Artificial range includes Orange and Apple & Blackcurrant.
This shift will be supported by a £6m marketing campaign later this year, spanning television and social media, as well as in-store materials to help shoppers navigate the kid drinks fixture.
Vice president of commercial development at Coca-Cola European Partners GB Simon Harrison said: "Our research has shown that shoppers are confused at point of purchase and are concerned about the sugar content and artificial ingredients in kids drinks. Capri-Sun's move to nothing artificial will help simplify the shopping experience whilst still delivering the same great fruity taste that families love and that has become synonymous with Capri-Sun, the number one kids' drinks brand in GB."