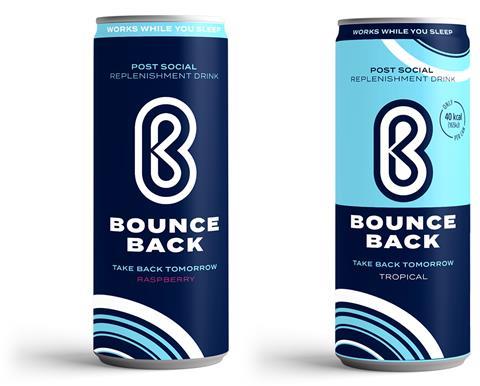 Replenishment drink Bounce Back, which is designed to be drunk before bed after socialising, has launched in the convenience channel. The product has been heralded as the "first ever post-social replenishment drink" by its two biochemist creators.
They claim that the drink's science-based formula of 17 vitamins, minerals, and amino acids work with the body's natural restorative processes, to help alleviate the stresses of an active social life, so that consumers can "take back tomorrow".
Ingredients include choline to support the maintenance of normal liver function, Vitamin B12 which contributes to the reduction of tiredness and fatigue, Vitamin B6 which helps maintain normal energy levels, Vitamins C and E which assist in the protection of cells and oxidative stress - and finally zinc and selenium to help normal function of the body's immune system. The lightly sparkling drink is available in Tropical and Raspberry flavours with the former containing just 40 calories per 250ml serving. A single can has an rrp of £2.49, while a 12 can multipack has an rrp of £21.29. A four-pack (rrp £8.99) will be available from January.
The company recommends users replace the usual glass of water before bed if you have been out, with a can of Bounce Back. "Down a can and seize back tomorrow!" urges the firm.
Dhruv Trivedi, Bounce Back drinks co-founder and biochemist said: "After oversleeping due to a late night out socialising, I missed an important meeting. I was annoyed with myself - and thought I wonder how many opportunities are lost across the world, because people stayed out too late the night before? Instead of getting angry with myself, I thought hey, let's see if I can put my biochemistry training to good use and come up with a solution. Hence Bounce Back was born!
"We wanted to create a range of drinks that was tailored to give specific functional benefits, not a generalistic health drink. We saw a gap in the market and our customer research showed that there was a need for a post social drink - so that is what we have launched first."
Co-founder Vandana Vijay said: "A good social life, especially at Christmas-time, can be hard on the body! So, we are launching Bounce Back now to support overnight replenishment, which is often needed during this busy festive season. With our background in biochemistry, we spent years researching to find just the right combination of replenishing nutrients. Finally, after 59 versions, we perfected our winning formulation. Bounce Back is the first step to our growing range of overnight wellbeing drinks – based on science – to support your body's natural restorative processes."