As the weather heats up, vaping brand Blu has launched a new marketing campaign to raise consumer awareness of vaping and encourage adult smokers to switch this summer.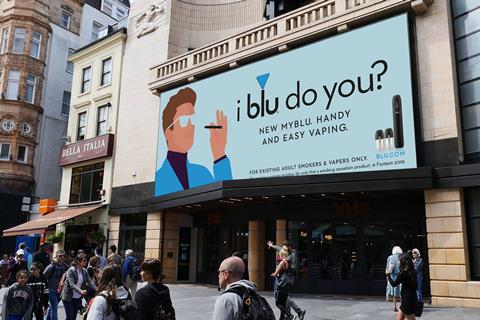 Running from now until September, the campaign uses a variety of different formats, including store proximity, roadside, large format digital, bus and taxi wraps as well as full motion billboards, in a bid to capitalise on all outdoor advertising opportunities available.
"As the weather warms up, more people are out and about socialising," Pete Blackman, brand planning manager at Blu UK, said.
"Smoking often plays a part in these summer occasions and we want to take-over those social moments and put Blu front of mind."
Featuring straplines, such as "i blu do you?", "you blu too? who knew?", and a modern graphic illustration style, the campaign seeks to engage city smokers with Myblu as a less harmful alternative to cigarettes.
"Vaping culture has grown rapidly in the UK, with many vapers considering themselves to almost be in the know on something new and different and as a result, part of a special club," Blackman added.
"This campaign plays on that idea by creating a unique language and identity that resonates with vapers, while making the club open to everyone looking to switch."
Alongside the outdoor advertising, Blu has also collaborated with brand experience agency, Hyperactive, to develop a strategy to further normalise vaping at social occasions.
The integrated activations will run at various sponsored events, UK festivals and venues across the UK this summer. Blu has also secured a number of partnerships with "leading venues across the UK," to launch new indoor vaping permissions.
"With growing scientific evidence in favour of vaping and a focus on encouraging consumers to switch, this is a big move for Blu as the first major vaping brand to secure partnerships, including pro-vaping indoor vaping policies, with venues of this calibre," Blackman said.
"With a heavy presence of outdoor advertising and brand activations taking place across cities nationwide, our aim is to get the nation to stand up, take notice and take action by switching to something better with Blu," he added.