Vaping brand Blu has launched an improved Golden Tobacco flavour for its closed system (pod-mod) device myblu.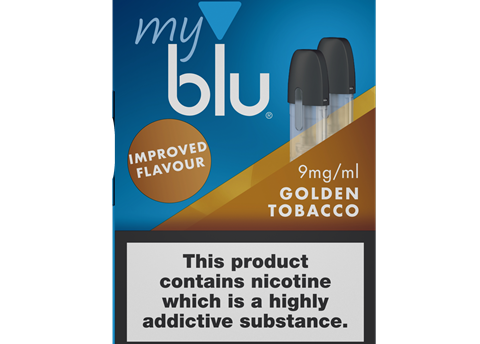 As tobacco flavoured e-liquids continue to drive sales, Golden Tobacco now has "notes of caramel and nutty flavour tones" which Blu says has performed "exceptionally well" in consumer testing.
The flavour will be rolled out to stores over the coming weeks and available in both myblu core and Intense Liquidpod variants, which feature nicotine salts to closer replicate the sensation of smoking a traditional cigarette.
Chris Street, head of trade marketing at Blu UK, said: "We're always looking at ways to strengthen our flavour portfolio using the latest in vaping technology to deliver innovative products that respond to rising trends.
"This is why we're launching a new and improved Golden Tobacco flavour to complement our existing myblu range."
The myblu Liquidpods and Intense Liquidpods have an rrp of £5.99 for a pack of two 1.5ml Liquidpods.
The myblu Intense Liquidpods are available in the following flavours: Golden Tobacco, Tobacco, Menthol, Strawberry Mint, and Blueberry.
The myblu standard Liquidpods are available in the following flavours, including zero, 0.8% and 1.6% nicotine strengths: Golden Tobacco, Green Apple, Mango Apricot, Cherry Crush, tobacco, Eucalyptus Lemon, Ginseng Ginger, Café Latte, Bourbon Caramel.