With family budgets being squeezed, retailers are finding it increasingly important to strike the right balance between price and quality.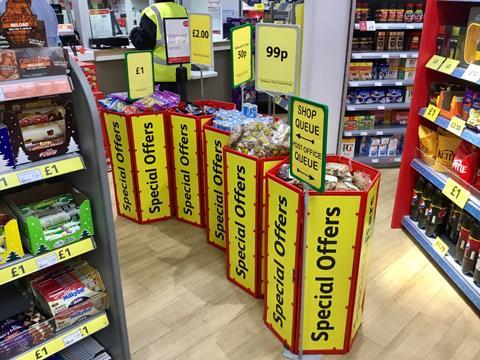 There was a time when people used to look down on the serial bargain hunters, sticking their noses up at those who opted for a budget own label, or timed their shopping visits perfectly to hoover up all the products in the reduced-to-clear section.
However, the continued rise of the discounters Aldi and Lidl, coupled with the ever-growing pressure on family finances, seems to have encouraged shoppers to drop their prejudices and accept more value-focused lines.
From food-to-go meal deals to chilled multi-buys, independent retailers have a number of tried-and-tested tools to succeed in this arena and appeal to the price-savvy, but few are as reliable for c-stores as pricemarked packs (PMPs).
In fact, research shows that PMPs can help retailers improve the perception of value, increase speed of sales, and heighten customer trust in their business (Nielsen Total Coverage Latest MAT w/e 3 November 2018).
HIM's Future of Convenience 2018 found that 50% of shoppers say PMPs reassure them that they are not being overcharged.
Megan Harper, store manager at Londis Culverhay Stores in Cricklade, Wiltshire, believes PMPs are an obvious must-stock for independents who are looking to compete on price.
She says: "I think PMPs work really well for convenience stores like ours because customers in the local community do look out for the best deals.
"The good thing is that the products are usually exactly the same as the plain packs so they offer better value without compromising on quality."
Megan tends to stock price-marked packs right across her store. However, her main focus for them is on sharing bags and sweet treats which she says deliver the greatest gains from being sold as PMPs. "We always try to have the big pricemarked sharing bags in stock," she points out, "and we are really lucky with Londis that we are able to get a good supply from all the big brands.
"I think customers expect us to be good value and sometimes don't realise that in some areas we are cheaper than the nearby Tesco in town. Once customers see the price on pack, and know that it isn't going to change, they are more likely to trust and want to support their local store."
Jeremy Peters, head of category & insights at Burton's Biscuit Company, thinks c-store retailers are wise to recognise how important PMPs can be for the convenience channel.
"The market for pricemarked packs remains hugely important for the impulse sector," he says, "with many shoppers looking to PMPs as a source of value.
"PMPs of bestselling brands also provide customers with the quality assurance they are seeking. Biscuit shoppers are impulsive, so utilising PMPs to drive impulse purchases is a great way to boost retailers' profits, too."
He adds: "Manufacturers need to ensure their bestselling skus are available as PMPs, so that retailers can stock up and capitalise on the impulsive nature of categories such as biscuits, and the increased rate of sale and profit that we know PMPs deliver."
And it seems that it's not just sweet products that benefit from being pricemarked. Monisha Singh, shopper marketing manager at Kepak Consumer Foods, believes PMPs in the food-to-go category can be just as lucrative.
She says: "Price-sensitive shoppers are looking for value for money so they are reassured when they see market-leading food brands available in pricemarked packs. More than one in five shoppers are more likely to buy a product if it is pricemarked (HIM).
"The price sensitivity shown by shoppers is set to continue and retailers will continue to benefit by offering pricemarked packs. Those products such as Rustlers that are backed by sustained heavyweight marketing support will have even stronger appeal."
Grab and grow
McCoy's Muchos, the new crescent-shaped folded tortilla crisps from KP Snacks, has been launched in 80g packs, pricemarked at £1. Smoky chilli chicken and nacho cheese join the regular 180g sharing bag range in PMP grab bags.
Beyond pricemarks
Jeeta Bhadal, owner of One Stop Woodhouse in Leeds, says that being part of One Stop means he doesn't offer pricemarked packs, but says that it doesn't seem to put him at a disadvantage in terms of offering value for customers.
"As long as you keep on top of your promotions and keep a close check on how competitive your pricing is, then you can still attract customers who are on a budget."
Tempt them with Cadbury's Dairy Milk Oreo Sandwich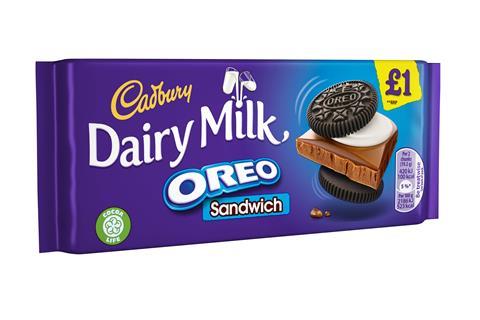 Cadbury is hoping to help independent retailers drive sales of confectionery with the launch of a £1 pricemarked Cadbury Dairy Milk Oreo Sandwich bar.
The pricemarked product comes a year after the standard Oreo Sandwich bar was introduced in February 2018, and has since driven retail sales value of £3.2m.
The Cadbury Dairy Milk Oreo brand as a whole is now worth £48m in the UK (Nielsen Scan Track to 8 September 2018) and is continuing to grow by 17% (Nielsen MAT to 16 June 2018).
Lyndsey Homer, junior brand manager for Cadbury Dairy Milk at Mondelez International, says: "We've been extremely pleased with the success of Cadbury Dairy Milk Oreo Sandwich, which has not only won awards, but has also helped drive incremental sales across the category.
"Retailers should take advantage of the new £1 PMP bars, as we hope to see them secure the same success and drive even more sales within the category."
The new 92g pricemarked bar has been designed to stand out on shelf and will be supported with brand investment throughout 2019.
It is available to c-store retailers in cases of 15.
Power of promotions
Most convenience store retailers will look to offer a range of deals and promotions in store. Simon Biddle, owner of Biddle's Spar, in Redditch, Worcestershire, thinks special offers are a good way to appeal to the price-savvy and encourage impulse buys.
He says: "If most customers see a product on offer, and think it is a good deal, then they will buy it straight away. Of course, you get some people that shop around in lots of stores to find the best deal, but the younger people especially are more likely to buy promotional products on impulse."
However, Simon argues that the average c-store needs to do more to appeal to the cash conscious than just filling their stores with wall-to-wall promotions.
"The consumer is smart," he asserts. "Most retailers need to keep their prices at a sensible level for as long a period as possible, especially on the essentials such as a loaf of bread and two-pints of milk.
"We always have these priced at 99p. If you have the price of these products right then you can drive basket spend and footfall, because customers are more likely to have the perception that your store is good value."
For Megan it is multibuys that chime with her cash-conscious shoppers. She explains: "We have a lot of elderly people come into the store and they don't have the same level of income to spend on food. That's why our Discover the Choice 'two for £5' ready meal offer works for them.
"At the moment, we've also got fajitas and peppers on promotion together as well. These kind of meal offers change every few weeks, so it keeps things exciting. Lasagne is a particular favourite in our area."
The Cricklade store also offers similar value in the freezer, with promotions targeting larger families who need a dinner and dessert for the night.
Megan adds: "Our frozen deal usually includes a meat, a side and a dessert and costs about £5. The products included in the deal are really tasty and it is popular with customers who just don't have time to cook."
Jeeta believes you can target the time poor and those after value in one go by offering some competitive meal deals.
He explains: "Customers are definitely concerned about price and often don't have time to cook at home. About 70% of everything we sell is sold as part of a promotion or meal deal.
"Our offers at lunch and for the evening occasion bring people into the store and it is vital that people have that choice in their c-store. If you have an effective pricing structure then it really helps sales."
And Jeeta believes convenience stores can boost sales with their own promotions, too, running cross-category offers that give customers a discount for buying a pack of beers or a bottle of wine with their evening meal.
He adds: "We find that most customers buy a drink of some kind with their dinner anyway, so it makes sense to do combo deals with those types of products.
"Of course, you have to remember to mix it up and have a regular rotation of products that are on promotion together, so that the deals always have the greatest effect."
Thomas Bennett, trade marketing controller at Global Brands, thinks cross-merchandising between different categories is key for retailers who want to appeal to the cash-conscious.
He says: "Ensuring that products on great offers are merchandised well together can be the deciding factor between a customer making a purchase or not. If a shopper is cash conscious, they're more likely to gravitate towards displays of offers as they're seeking better value for money.
"Flash sales are a great way to drive interest, too, with the start time frame of the offer adding to the excitement. Positioning these on aisle ends and off-shelf space can increase awareness and drive sales."
Robinsons Fruit Creations debut in pricemarked packs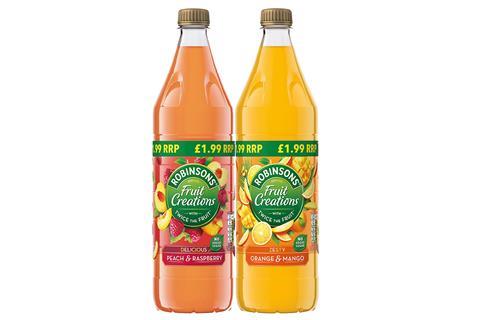 Britvic is rolling out Robinsons Fruit Creations into the convenience channel in £1.99 pricemarked bottles.
The 1ltr fruit squash range is available in two flavours – orange & mango and peach & raspberry – with the launch being supported by special trade offers.
With twice the fruit content of regular squash, Robinsons Fruit Creations is designed to be an everyday premium drinks option for adults.
The brand is now worth more than £20m in retail sales value, making it the biggest soft drinks launch of 2018 (Nielsen Scantrack, Total Coverage, Value Sales, 52 w/e 29 December 2018).
The Robinsons Creations PMPs will also sit alongside a new 'two for £2.50' deal for the Robinsons core range, running across the brand's 900ml apple & blackcurrant, orange & pineapple, tropical, orange, and summer fruits flavours.
Trystan Farnworth, commercial director for convenience and impulse at Britvic, said: "The launch of the pricemarked packs comes at a perfect time as the range is back on TV until March, meaning the product is front of mind for shoppers.
"The Product of the Year accolade (Consumer Survey of Product Innovation for the Soft Drinks category, Kantar TNS) just further cements what an incredible launch Robinsons Creations was, and just how successful it has been across the past year."
Strategy is key
Making sure that products are competitively priced shouldn't always mean having to compromise on quality, however. Simon says he has put a lot of effort into balancing quality and value in his food-to-go range, which is made fresh in-house using local ingredients. In fact, so successful is it he chooses not to stock a massive range of chilled ready meals.
He explains: "Customers have confidence in our food to go products. They are competitively priced, but I think people also recognise that the fresh taste is worth paying for.
"It is all about giving customers a choice and options to suit their budget. I do stock some Spar ready meals, but it works better for us to push our own range."
For Balbir Kular, co-owner of Eggborough Village Store & Post Office in Goole, East Yorkshire, it is important for him to offer competitive pricing right across his store. "We don't want to give people any reason to go to some of the nearby discounters such as B&M," he says, "so we offer as many grocery products and household items as we can at £1.
"They don't necessarily need to be pricemarked to grab attention. As long as we keep our prices consistent then customers will come to us out of habit, because we are both local and cheaper than the competition."
Appeal to the cash-conscious with flavoured milk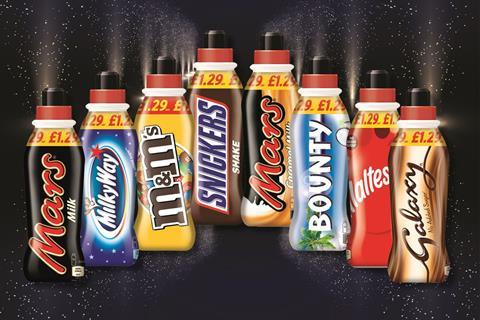 Michelle Frost, general manager at Mars Chocolate Drinks and Treats, thinks the retail market is moving towards everyday low prices, so she is encouraging retailers to stock pricemarked version of products such as flavoured milk.
She says: "Our PMP range continues to prove popular with retailers and consumers alike. We hope that our skus will encourage even more consumers to enjoy their favourite confectionery in a milk drink.''
Mars Chocolate Drinks and Treats' nine-strong range of milk drinks is available in a 350ml pricemarked bottle top format (£1.29 PMP). Variants include: Mars; Galaxy; Mars Caramel; Milky Way; Bounty; Maltesers; Snickers; and M&M's Peanut.
For those consumers who want a milk drink at home, the range also includes a 702ml pricemarked bottle of no added sugar Mars Milk (£1.69 PMP).
Flavoured milk continues to deliver sales for retailers, up 11% year on year and worth £360m 
(IRI 52 w/e 29 December 2018 Total Market, Defined Flavoured Milks, Value Sales).
The category within convenience is outperforming the market as a whole with 14% growth and a value of £149m.
Chocolate flavoured milk remains the most important segment for convenience, growing by 13% year on year with a total worth of £45m, giving it a market share of 30% (IRI 52 w/e 29 December 2018 Convenience, Defined Flavoured Milks, Value Sales).