From vegan and American to low & no sugar, we've got the lowdown on all the trends impacting indies & symbols.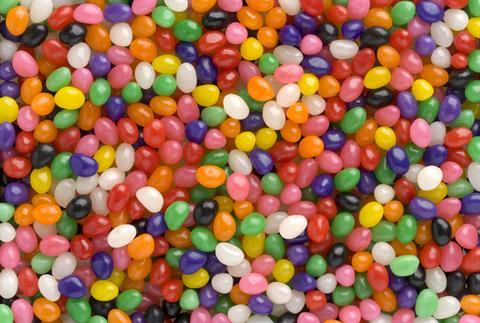 1. Sweets account for almost a quarter of overall confectionery sales in symbols & indies
Sweets are showing impressive growth, according to Haribo. "Total Confectionery reported a 0.7% increase [IRI Total Confectionery, Value Sales, 52 wks ending 21/2/21, Symbols & Independents], whereas sweets outperformed this at +2.2% and now account for 24.2% of all confectionery sales within this channel [ibid]," says trade marketing manager Claire James.
Bestway Wholesale notes that sugar bags are the largest sub-category, showing +11% growth in indies & symbols (Nielsen, I&S, 52 Weeks, 27th Feb 2021). Trading director Kenton Burchell claims that the top five products in the channel are Haribo's Tangfastics, Starmix and Supermix, Maynards Bassetts Wine Gums and Drumstick Squashies.
Bags are a big deal at Tara's Londis in High Wycombe. "Bagged confectionery in general we're doing very well on," says owner Raaj Chandarana. "Half way through lockdown we had slat walls and I kept it clear to improve ambience. A member of staff said to put hooks up. We put up bags of Haribo and Squashies, it does look messy, but it's making us money."
He also claims to have seen a rise in snacking in recent months. "In my area a lot of people have less money and they've switched to marijuana rather than alcohol. When they get the munchies, they go to their local shop."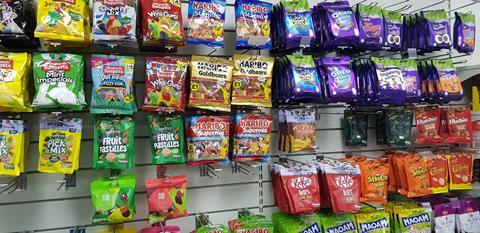 2. Medium confectionery bags added nearly £14m worth of sales in the last year
Sharing bags continue to be the largest pack format within the convenience channel accounting for over 60% of sales (IRI Marketplace 52 w/e 27 Dec 2020), states Chewits.
"Medium bags have delivered growth to the channel, adding almost £14m of sales [IRI Marketplace, Medium Bags, Value Sales, 52wks Ending 21/2/21, Symbols & Indies]," says James, adding that Haribo accounts for over 31% of all sales in this format. "For every three bags of sweets any competitor SKU sells in the channel, both Tangfastics and Starmix sell more than four [IRI Marketplace Sweets, Unit Sales, 52wks Ending 21/2/21, Symbols & Independents]," she says.
Bags of Haribo are a good seller for Nisa retailer Mahmood Saleem, along with the One Pounders range from Golden Casket. "In the summer, we always stock extra because gummy sweets always go well," says the owner of Ardeer Services in Ayrshire.
Formats that were more suitable to at-home occasions, like sharing bags, gained popularity, notes Mondelēz International, which saw its bags grow 2% during the last year [Nielsen Mat value 26.12.20].
Online ordering is propelling the bagged segment even further, claims Valeo Snack Foods, advising retailers to maximise e-commerce opportunities where possible. "Higher online purchasing is predicted to continue, which will impact the category as it is less impulsive than in-store shopping and will favour larger sharing and planned formats compared to on the go singles," says marketing director Russell Tanner. "Multipacks of sugar confectionery have grown 14.2% in value in the 4 weeks to 18/04/21, while hanging bags have grown 4.1% [IRI]."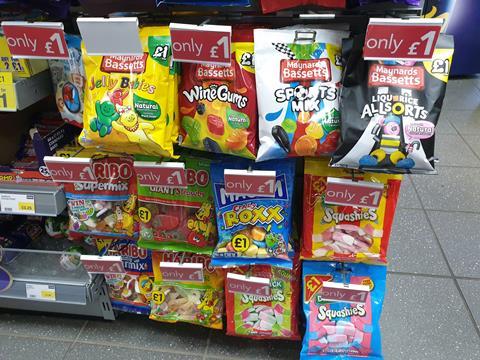 3. The top 20 PMP bags sell five times as many bags as their non-PMP equivalents
Haribo claims that pricemarked packs (PMPs) remain a key purchase driver. "Within the Symbols and Independents channel, the top 20 price marked bags sell five times as many bags as their non-price marked equivalents [IRI Marketplace, Top 20 Price Marked Medium Bags vs equivalent Non PMP, Unit Sales, 52wks ending 21/2/21, Symbols & Independents]," says James.
PMPs are "critical", according to Raaj, but he is interested to see suppliers experiment with higher price points. "I'm waiting for someone to increase from £1 to £1.10 or £1,20," he says. "It will still work - look at poundland doing stuff for more a pound. People get it."
Good value for money proposition is a key area, as shoppers struggle to manage budgets through challenging economic times following the coronavirus pandemic, states Valeo Snack Foods. "Everyday low prices will become an even more important factor with economic pressures on consumers due to become more onerous," says Tanner.
Mark Walker, sales director at Swizzels, says: ''Value-for-money confectionery continues to be a hugely popular choice for shoppers, particularly as financial circumstances have changed over the course of the pandemic." The firm's Squashies range is available in £1 PMPs and this summer sees the Squashathon campaign give shoppers the chance to win daily prizes throughout July and August.
ADVERTISEMENT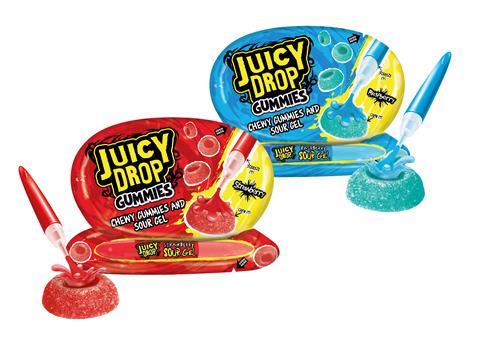 A juicy opportunity for sweet sales
With an impressive 160% value growth*1 Juicy Drop Gummies are the perfect premium Kids Sugar line to boost your sales! Make your kids confectionery aisle one to remember with this unique and customisable product. Fill the sweet sanded gummies with the sour gel giving kids their perfect mix of sweet and sour in every bite! Juicy Drop Gummies are available in two delicious Kids favourite flavours – Strawberry and Raspberry.
Don't forget to stock up on the rest of the products from the Juicy Drop brand growing at +122% *2. Juicy Drop Pop – hard candy lollipop with sour gel, Juicy Drop Chews – delicious chews with a sour gel pen and Juicy Drop Blasts – mouth watering chews in 6 flavours packed full of sour powder!
*1 IRI Data EXT 12 week data to 18/4/21
*2 IRI Data EXT Value growth 4 weeks to 18/4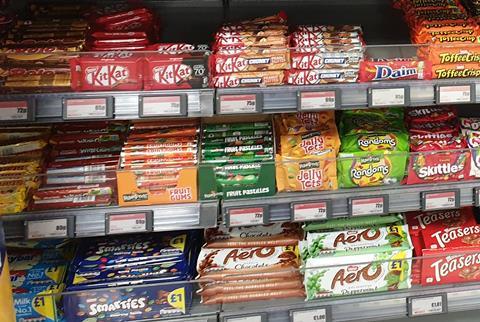 4. Single serve sugar confectionery will be further impacted by the increase in working from home
"With increased working from home [WFH] predicted to be one of the long-term consequences of COVID-19, this is likely to continue to curb the purchase of sweets and gum for consumption at work and on-the-go," says Valeo's Tanner. "It will particularly impact the purchase of higher-value single-serve formats in favour of larger, more economical ones (Mintel, 2021)."
Single serve sugar confectionery is still earning its place at Tara's Londis. "Sometimes I think 'forget about the 50p packs of Wine Gums, Polos, Fruit Pastilles etc' because it's quite old fashioned', but they still sell well," says Raaj. "If the data says people want that from my store, then I'll keep it. I put Metcalfe's rice cakes by the till and extended our protein bars to try it out to encourage healthier snacking . There just wasn't as much demand - it wasn't as impulsive as the sugar."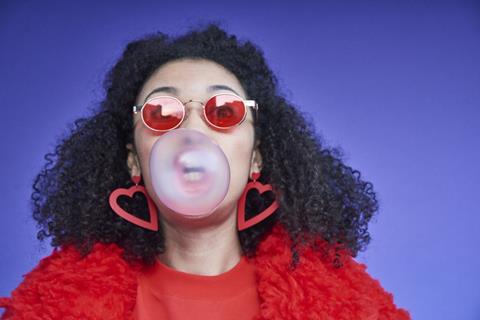 5. Retailers must ensure their offer appeals to the new wave of younger shoppers
Tanner urges c-stores to ensure they make their mark on younger shoppers. "16-24s have turned to treats more than older groups, in line with this demographic also being the highest users of sweets (Mintel, 2021)," he says. "With this in mind, retailers should ensure they are stocking product that is recognisable and appealing to Gen Z."Valeo recently rebranded Fox's Glaciers to appeal to younger audience.
New products are very important to this audience, claims Bestway. "Within Independent and Symbols stores with the increased footfall following Covid younger shoppers demographic increased," says Burchell. "Therefore stocking the latest NPD is key to attract and maintain these shoppers."
Raaj concurs: "When you talk about the younger generation - you have to talk social media and Instagram - people want the latest products and they want it on Snapchat."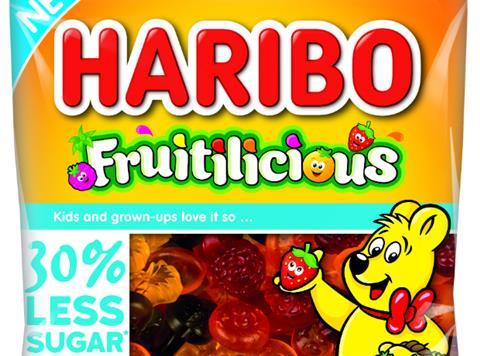 6. Reduced sugar options sell better than sugar free SKUs in indies & symbols
Whilst there are over six times as many active sugar-free SKUS as reduced-sugar SKUS, it is the reduced-sugar options that sell best in the channel, states Haribo. "The 19 active reduced-sugar products account for 43% of sales, while the 118 sugar-free products account for the remainder," says James. "Within symbols and independents Haribo Fruitilicious is the number one reduced-sugar brand with sales of over £715,000; this is 35% of all reduced sugar and sugar-free sales and over 80% of all reduced-sugar sales in the channel [IRI Marketplace, Symbols & Independents, Value Sales, 2020]."
Raaj claims that these types of lines perform well at Tara's. "We stock [sugar free] Fruitella, [reduced sugar] Fruiticilious from Haribo. Both do really well," he says.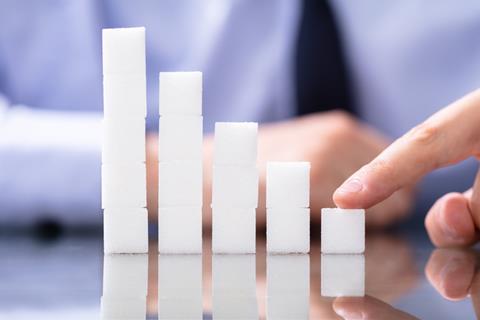 7. The HFSS legislation is likely to boost low and no sugar lines
The HFSS (High fat, salt, sugar) legislation due to come into force in 2022 will see restrictions on promotions, store displays and advertising of HFSS products, like sweets, and many believe this will spark a surge in healthier lines.
Mahmood says: "The new HFSS legislation coming in will mean that you can't have PMPs and advertising so then maybe we'll see new [low and no sugar] products."
Bestway also expects to see more sugar free NPD coming through. "With 'Reducing Sugar' being one of the main priorities for consumers, suppliers will look to fulfil this need," says Burchell. "In order to ensure that they sell as well as their sugary counterparts retailers will need to highlight these in store."
Retailers need to be aware of the growth in sugar free products, notes Hancocks. "We now have over 80 lines and predict this is an area that will continue to grow," says marketing communications manager Chris Smith.
C-stores must tighten up their ranges ahead of the HFSS legislation, advises Chewitt's McDermott. "With reduced promotional activity and fewer till point locations, the main confectionery fixture will need to work harder in attracting shoppers to purchase," she says. "Now is the time to review the range assortment and ensure the top selling brands are represented and minimise any duplication in product format and flavours, whilst also ensuring your offer reflects latest consumer trends."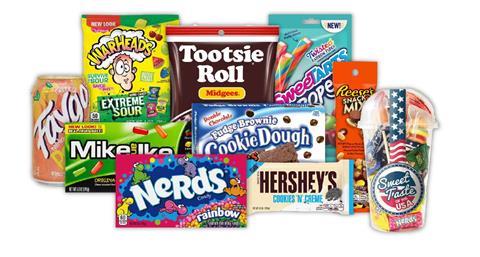 8. A growing number of c-stores are flying the flag for American sweets
"Over the last 12 months we've seen a notable increase in demand for American confectionery," says Hancocks' Smith. "We have now launched a marketing campaign to raise awareness of Hancocks being the Home of American Candy. There are some big names among our partnerships including NERDS, Sweetarts, Laffy Taffy and Warheads."
Raaj claims that American sweets are much easier to source now than they used to be. "It's become more mainstream in the last couple of years, it's more readily available with decent margins and we can keep customers on their toes with a decent range," he says.
He claims that his sugar confectionery sales are "dominated by American confectionery" since he relaid his offer six months ago. "I made the decision to replace [much of] my sugar confectionery with American lines. Not a single member of staff agreed with my decision, but now we're smashing it. "
Despite the premium pricing, customers are happy to spend. "Kids who only had 20p to spend are now finding £1," he says. "We've brought in £4 bags Sour Patch and Jolly Ranchers and they are all doing well. It's triple the price point. The uplift in the category is outrageous!"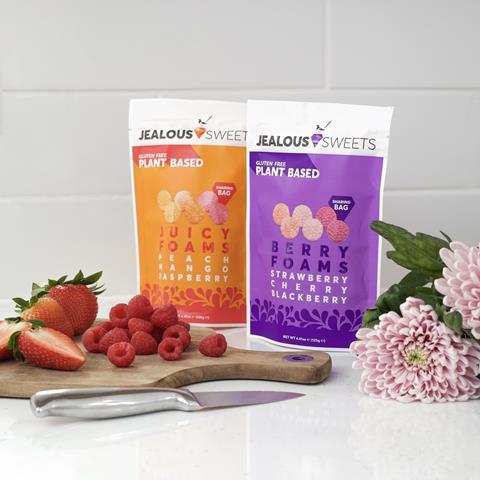 9. Vegan and vegetarian confectionery is becoming more mainstream
Vegan confectionery is growing year on year and we don't see this slowing down but actually building up more momentum, states Jealous Sweets. "We know consumers are looking for healthier and sustainably made products that are conscious about how they produce and behave in the world," says co founder Imran Merza. "Convenience stores have also realised that this area is growing and have started to pick up more volume and NPD to provide something new and different from the conventional players and boring choices." The firm has just launched a series of plant-based NPD including foams and sour sweets.
Chewits brand manager Sarah McDermott agrees: "The vegan trend shows no signs of slowing down, with consumers increasingly looking for gelatine free and plant-based ingredients, this is evident with the popularity of Chewits Bites, laces and twists which launched within the convenience channel in 2020, meeting this growing consumer trend."
Haribo is also adding to the mix with vegetarian Sour Sparks and Starbeams, Hancocks is also expanding its range with Cool Melon and Sour Raspberry & Lemon Foam Skulls, Strawberry Cheesecake and Watermelon Foam Sweets, and Banana Mini Ovals.
Raaj thinks there is still more work to be done in this area. "There's a lot of confectionery eaten by people that don't have gelatin," he says. "So many people come in and read the ingredients of the bags - I have a lot of Muslims in my area. There aren't enough vegetarian options. I have to have a separate Haribo Halal range."
He wants more suppliers to rethink their messaging. "Many lines are already vegetarian or vegan," he says. "They don't need to change their formula, but they need to put a symbol on the front. Half the world is Muslim and with people generally being more health conscious, they [suppliers] will see an increase in sales by doing this."
Valeo Snack Foods is doing exactly this. "Even though our recipes haven't changed, our newly rebranded Fox's packs have been updated to reflect the fact our recipes are vegan friendly," says Tanner. "In line with macro consumer concern for personal and planet health, permissible and inclusive confectionery, such as portion controlled packs and "better for you" formulations, as well as free from, vegan and vegetarian options, will continue to grow."