Premiumisation, sustainability and value all have an increasingly important role to play in 2021 when it comes to beer and cider sales.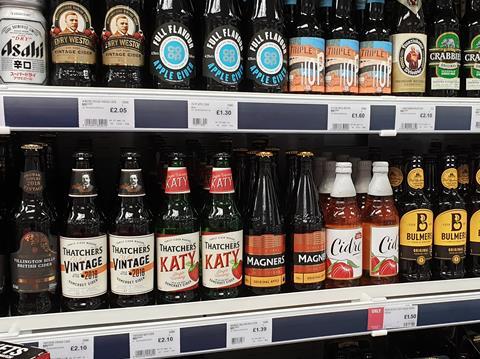 1. Indies and symbols punch above their weight with cider
Westons Cider Report 2021 shows that independents & symbols have a 1.2% share of total grocery, but a 5.4% share of total cider. "Independent retailers punch above their weight in terms of cider share, highlighting the importance of the convenience channel to the cider category," claims the report, which stated that symbol group retailers increased cider volume by 24.7% in the latest year. Going forward, the firm is confident that the convenience channel will retain a significant amount of these sales even when the on-trade reopens. "We expect that the ontrade will take some time to reopen, not only because of the restrictions but because of consumer attitudes," says Daryll Hinkman - head of business development. "We'd expect the convenience channel to hold on to a lot of the growth they've seen."
Head of marketing Sally McKinnon added: "There's been a 7% switch from supermarkets into convenience so a lot of the convenience movement has come from people migrating from supermarket shopping, as opposed to from pubs specifically. Convenience stores out-performed supermarkets by about 4% from a cider perspective so it was really nice to see them step up. Convenience has forged a really strong role for itself and has a huge opportunity to maintain that going forward."
David Sheppy, managing director at Sheppy's Cider concurs. "As lockdown restrictions ease and the hospitality sector reopens, convenience stores will still have the opportunity to capture the market of those who are cautious about returning to crowded pubs," he says, advising retailers to "tap into increased alfresco social occasions".
Calli O'Brien, marketing controller at Aston Manor Cider adds: "We believe the growth of cider sales through retail can continue once the on trade reopens in the coming weeks for many reasons," she says. "Consumers are likely to start feeling increasingly buoyant as lockdown eases. Celebrating 'little wins' and ticking off the dates as lockdown reverses and with this, outdoor socialising in parks and other outdoor spaces and importantly, gardens."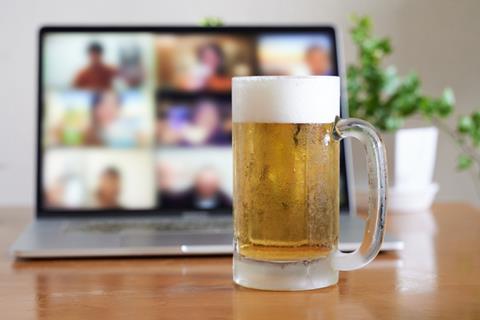 2. 2021 is off to a good start with over £200m extra spent on beer in the first two months
The first months of 2021 already indicate this will be a great year for beer, claims Budweiser Brewing Group (BBG) UK&I. "With restrictions still in effect and while the On-Trade remained at a standstill, category sales have grown +37% YOY [Nielsen 52 WE 26 December 2020]," says convenience sales director Jessica Markowski. "We have seen an additional £211.1m spent on the Beer category this year compared to the same period in 2019 [Nielsen Scantrack; 8 WE 27 February 2021],[2] and we predict demand will continue to rise. We are forecasting double-digit growth for the total beer category, compared to the last year of regular trading in 2019 (BBG Category Forecasting 2021). Within this, we predict significant YOY growth for Q1 and Q2, as the Off-Trade will continue to benefit from increased at-home consumption."
Beer is more important to the convenience channel than ever before, claims BrewDog. "With 55% of convenience shoppers spending £5-100 on alcohol per month and over half planning to buy beer in the next 30 days [YouGov Profiles 07-03-2021], there is a significant opportunity for convenience retailers to tap into new trends and changing consumer demands to build a rapport with their customers and challenge the multiples, specifically in craft beer," says head of customer marketing Alex Dullard.
Hannah Dawson, head of category development, off trade at Diageo is equally positive. "There is ample opportunity for retailers to continue driving sales through beer in the off-trade even once the on-trade reopens and as we continue to live with the impact of COVID-19," she says. She claims that Guinness accounting for 92% of total off-trade stout brand sales in the latest 52wks to the end of February 2021 (Nielsen, MAT w/e 27.02.21).
Daniall Nadeem, owner of Nisa Motherwell Road in North Lanarkshire, Scotland claims that beer has performed well, despite the challenges that covid posed. "It's always been a strong category," he says. "We focus on better sellers - Strongbow, Heineken, Budweiser and Redstripe - and providing them all year round."
ADVERTISEMENT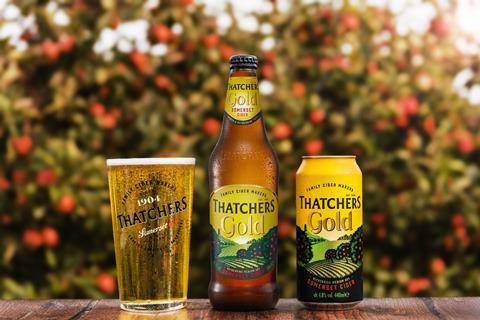 Tap into the opportunity of Thatchers Gold
Thatchers Gold is different. It stands out from the crowd for its refreshing taste and quality, backed by the heritage and provenance of four family generations running Britain's largest independent cider maker. With shoppers showing they are prepared to pay more for quality, Thatchers Gold has demonstrated outstanding value growth of +60% in the off-trade in the last 12 months*, more than any other cider brand.
Supported by a national TV, VOD and digital media campaign, Thatchers Gold is the premium apple cider your customers will be asking for by name this year, so let it help boost your profits. Crafted in Somerset from a blend of Thatchers' favourite classic apple varieties, including bittersweet Dabinett and Harry Masters Jersey, and the sharp, deep-red Porter's Perfection, Thatchers Gold is a refreshing medium dry, 4.8% cider with perfection in every drop.
Packaged sustainably in 4 and 10 can packs and 500ml bottle.
* Source: IRI value sales 52 w/e 27 Mar 21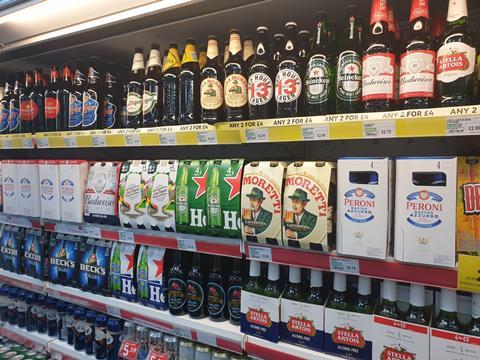 3. 62% of convenience shoppers happy to pay more for good quality beer
"Over half (62%) of convenience shoppers agree it is worth paying more for good quality beer or wine [YouGov Profiles 07-03-2021] and craft beer shoppers actually spend more when in-store [BrewDog/Dunnhumby, Jan 2021], so ensuring you are stocking your customers' favourite brands will help to increase basket spend," says Dullard. "Growing ahead of total beer, 14.4% of British households have purchased craft beer in the last 12 months [Nielsen Homescan 52 w/e 26/12/20]. BrewDog is the most top of mind craft beer amongst beer drinkers [YouGov Brand Index – Purchase Intent – Jan 2021]. It holds eight out of the top 10 craft beer SKUs [Nielsen Beer Scantrack MAT TY Value Sales Total Coverage to w/e 27/02/21], including number one craft beer BrewDog Punk IPA is the number one craft beer [ibid]. The 4-pack format is valued at £37.6m with a 26% share of all 4-packs, growing at +36.7% YoY [ibid].
BBG UK&I agrees that consumers are happy to part with their pennies for a higher quality drink. "Alcohol is an area in which consumers choose to splash out, with 52% of shoppers willing to pay extra for quality when buying alcoholic drinks to have at home (Kantar Alcovision; 2 ME 31 May 2020)," says Markowski. "Consumers' preference for known and trusted brands[6] was reflected in the performance of brands such as Stella Artois, which remained the UK's most valuable alcohol brand last year [Nielsen Scantrack data; 52 WE 26 December 2020]."
Kevin Fawell, off-trade sales director at Molson Coors Beverage Company says: "Premium brands are gaining more and more traction. Covid has accelerated this, with world beer, super premium cider and premium ale all growing ahead of the core category [Nielsen 12 weeks 30.1.21 Total Coverage]." He adds that the Aspall Cyder range chimes with this trend.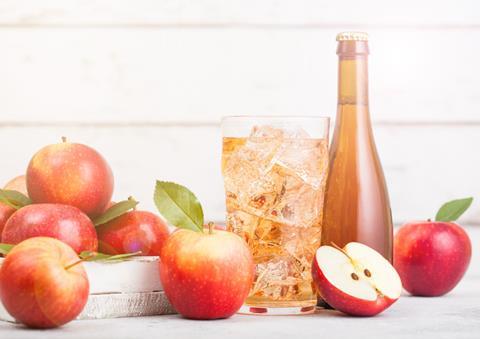 4. Independent retailers saw triple figure volume growth in craft cider
Westons claims that the growth of craft cider within convenience highlights the strength of the channel. "Growth is in triple figures, with independents seeing volume growth of 153.4% year-on-year," states the report. "Independents and Symbols undertrade in crafted cider in terms of share at 8.0% and 8.6% respectively (whereas in total market crafted share is 14.2%), so they are growing from a smaller base. However, if they continue to grow at these rates, we will begin to see the gap narrow. This can only further support price per litre in the convenience channel which is already averaging £2.40/L so £0.09 above total market."
McKinnon adds: "The biggest surprise [in the report] was how much they'd premiumised. We ourselves experienced massive growth on Henry Westons of 27% in the convenience channel, which was about 7% ahead of the market. The demise we're seeing in value amber and value white cider. If convenience stores can allocate that space to premium bottled offerings they could be in a really strong place moving forward."
Faraz Iqbal stocks Henry Westons and Thatchers craft ciders at Premier Linktown Local in Kirkcaldy. "Henry Westons has taken over from the large cider bottles we used to sell," he says.
Thatchers Cider concurs that premium is a major trend. "Trading up to premium has been evident throughout 2020, and that momentum will continue with shoppers prepared to pay more for quality," says off trade and export sales director Chris Milton. "The total cider and perry category saw sales rise by 24.1% by value in the last year (IRI w/e 27 February 2021)."
Thatchers attracted some 800,000 new shoppers to the brand in 2020 and contributed the highest value growth of all cider makers [IRI 52 w/e 27 February 2021)]. "Thatchers Gold, for the second year running, added more value growth to the category than any other cider brand – with value sales growing by +61.6% (IRI 52 w/e 27 February 2021). The brand now has more apple cider can shoppers than the market leader, and its 10 pack is a must stock with the highest volume growth of any cider SKU in the last 12 months (Source: IRI 52 w/e to 27 Feb 2021)," says Milton.
Sheppy adds: "Craft cider is a trend that convenience stores should keep on their radar. Craft breweries were among the hardest hit by Covid-19 lockdowns in 2020, however in line with the popularity of craft beer, craft cider is now what is peaking consumer interest."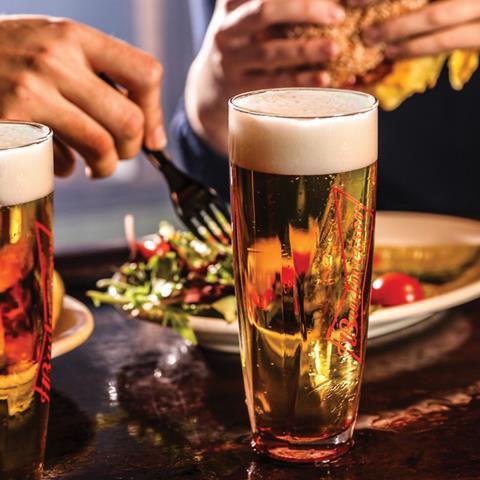 5. Three out of five beers are now consumed with food
"We have seen beer become a new staple at mealtimes, with three out of five beers now consumed with food (Kantar Alcovision; 52 WE 30 June 2020)," says BBG UK&I's Markowski. "As the average consumer is increasing their purchase repertoire for moments at-home (Kantar Worldpanel data WE 14.06.2020), retailers can appeal to a new audience through food and drink pairings. Ready-made bundles, such as beer and pizza meal deals proved popular last year and are a great way for retailers to maximise shopper spend."
Molson Coors' Fawell claims that premium beers also have a role to play in this trend. "We know that consumers have been recreating more special occasions at home, such as creating their own 'at-home menus' for more sophisticated meals at home while their favourite venues have been closed, and are looking for more premium drinks options to accompany these. Cobra, for example, has a distinctive character and smoothness that make it an ideal accompaniment for a range of different cuisines and a host of different occasions."
'Enjoying with food' is also a primary purchasing motivator for cider, according to Westons Cider Report, which states that seven in 10 off-trade ciders are consumed with food. "Cider has increasingly been consumed with food in the latest year – up from 66.0% of serves to 70.2%. "Formal meals have lost share (-2.6ppts) as these tend to be occasions at which you would invite other households," says the firm. 'Informal meals' with cider have increased from 26.3% to 30.1%."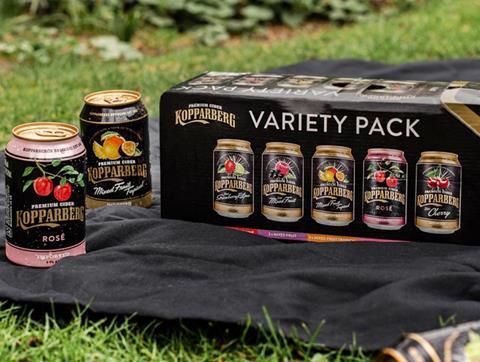 6. 10-packs of cider increased their value 50% in 2020
According to Westons cider report, 10-packs performed most strongly in the off trade, with value increasing by 50% vs last year, while multipacks larger than ten units saw a 31.6% increase.
"Larger pack formats have worked well in the last year and upselling on core lines, Gold and Haze 10-packs will be important for social gatherings as restrictions continue to lift," adds Thatchers' Milton.
Kopparberg has also picked up on demand for mid-size packs, releasing a 10x330ml cider variety pack (rrp £9.97) exclusively into the Co-op , which contains Rose, Cherry, Strawberry & Lime and Mixed Fruit flavours, as well as its new Mixed Fruit Tropical Cider, which is also available in four-packs and a 500ml bottle.
Brothers Drinks Co expects larger packs to remain popular. "With consumers shopping less frequently, we've seen an increase in basket spend and as a result a greater demand in larger pack sizes," says Nicola Randall, senior marketing manager. "We can expect this to continue this summer as consumers continue to host social occasions at home and at Brothers, we've introduced our fridge packs for our Wild Fruit and Strawberry & Lime variants, which include 10x330ml cans, as well as Red Apple in 10x440ml cans, to cater to this trend."
O'Brien adds that, as people begin socialising in gardens and outdoors with friends and family outside of their household, single-serve packaging, such as Crumpton Oaks Cider 10 can pack, can help them manage hygiene as much as possible.
Mid-size beer packs are also in demand. Diageo's Dawson says: "We have seen a growth in sales particularly of mid-size 10-15 packs, which have experienced particularly high growth over the past year [Nielsen Scantrack, data 27.02.21], but also four packs that are an accessible format allowing easy trial."
"There's been a switch towards bigger packs," notes Faraz. "The footfall was down during covid, so people were buying more less often. Now footfall is creeping back up bigger packs are still moving. Multipacks are always on promo, so your margin is limited, but it's about overall basket spend."
Daniall tries to focus on core range multipacks. "We like to keep a tight range eg Strongbow original and Dark Fruits in multipacks," he says. "We focus on what we know will sell rather than taking a gamble."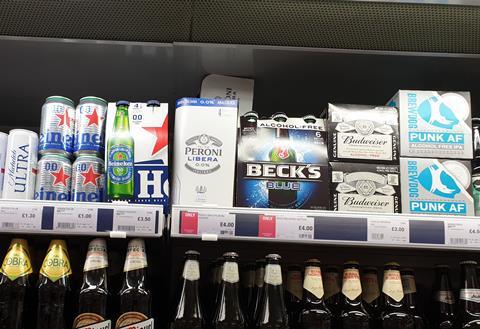 7. 75% of consumers are now aware of low and no alcohol beer, (+9pp YOY)
"Within convenience, the low and no category also remains a major player," says Sam Rhodes, marketing director, Asahi UK Ltd. "With low and no beer still a key segment of the overall beer category, recent consumer research has also found that 75% consumers are now aware of low and no alcohol beer compared to 66% at the start of 2020 [KAM Media – Low and No: The Customer Perspective, Jan 2021]. In addition to this, 35% of consumers have indicated that they are planning to cut down on their alcohol intake in 2021 [ibid], highlighting the need for retailers to ensure that high quality, low and no beers are included within drinks ranges alongside traditional beer and cider choices." Peroni Libera 0.0% was the first super-premium alcohol-free beer to launch to market and Asahi Europe International has pledged that 20% of its portfolio will be low and no focused by 2030.
BBG UK & I believes the number of consumers looking to cut down on alcohol may be even higher. Markowski says: "Almost a third of adults are putting a greater emphasis on healthy eating (Mintel: Attitudes towards Premium Alcoholic Drinks: Inc Impact of COVID-19 - UK - August 2020) and we know that over 40% of UK consumers plan on reducing their alcohol intake in 2021 (Kantar Worldpanel Mobile Survey; February 2021)." The company launched Budweiser Zero and Stella Artois Alcohol-Free last year and claims that both have proven a hit with consumers, increasing ahead of the total no-and-low market.
Fawell says: ""Low-and no-alcohol options remain a small part of the overall beer and cider category, but one that's in huge growth, with sales increasing in volume by 26% [Nielsen GB Total Coverage Value % Chg, 12 Weeks to 27.2.21]. We recently expanded our low and no alcohol portfolio with the launch of Doom Bar Zero, the UK's first widely available 0.0% ABV amber ale."
Westons Cider Report states that consumers now expect their local shops to stock no and low options. "No and low alternatives are no longer reserved just for big stores, and many shoppers will expect low alcohol variants, for apple and fruit," says the firm.
Milton claims that Thatchers Zero is the number one alcohol-free apple cider, with greater volume growth in last 12 weeks than the number two and three brands combined, at a higher average price point (IRI 12 w/e 27 Feb 2021). "We're seeing a real boost to the category and Thatchers Zero has encouraged premiumisation, delivering shoppers to the category," he says.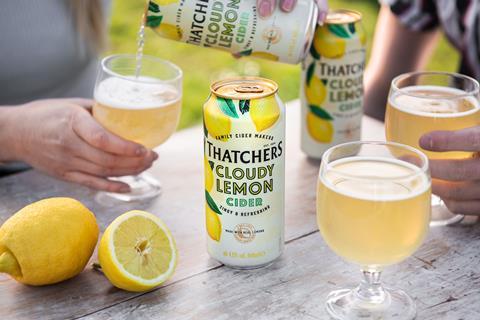 8. Citrus ciders have taken 6% of the premium fruit cider volume share
Citrus fruits are adding a fresh twist to cider, according to Molson Coors Beverage Company, which launched Rekorderlig Watermelon Citrus last year. "Citrus ciders stormed the off-trade in 2020 and have already taken 6% of the premium fruit cider volume share, contributing to 22% of value growth to the category [Nielsen, Total market, Dec 2020]," says Fawell.
Thatchers Cloudy Lemon also landed in Spring 2020. "The 4x440ml pack became the number one new product SKU of the year, a truly refreshing change for cider shoppers," says Milton. "Now also available in 10-pack, Cloudy Lemon appeals to consumers who love fruit ciders, younger than the average cider drinker. (Source: Value sales IRI 52 w/e to 27 Feb 2021)."
The drink was one of two citrus products, along with Rekorderlig Watermelon Citrus, featured in the top five new product launches in Weston's 2021 cider report. "This more refreshing taste profile likely serves as an interesting counterpoint to a market dominated by darker fruits and berry flavours," states Westons. "There are still limited options in the market in terms of citrus flavours so it will be interesting to see if 2021 brings further new entrants."
In fact, new citrus lines have already made a splash with the March roll out of Rekorderlig Pink Lemon cider.
Brothers is also adding to the citrus mix, with a new Pink Grapefruit variant joining its top-selling Cloudy Lemon flavour. "In the cider category, we've seen innovation drive continued interest in the category, and provide consumers new avenues for exploration,"42% cider drinkers express an interest in more unique flavours and this rises to 49% amongst women and 48% amongst 25-54s [Lightspeed/Mintel 2020]," says senior marketing manager, Brothers Drinks Co. Nicola Randall.
Meanwhile, Heineken UK is getting a slice of the citrus action with Old Mout Watermelon & Lime, which contains the same 4% ABV as the other Old Mout variants. Supporting the launch will be an extensive digital media plan on Facebook, Instagram and YouTube throughout the summer, as well as support for the trade with bespoke POS launch kits.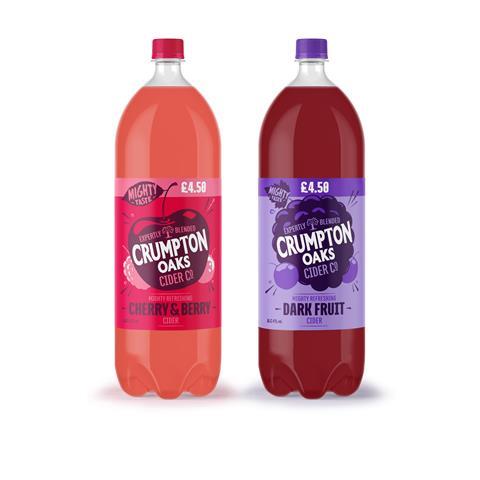 9. Value is vital with 70% of consumers are paying attention to prices
"According to Kantar [Covid Barometer, Sept 2020], consumers are planning for tough days ahead," says O'Brien of Aston Manor Cider. "70% of consumers are paying attention to prices … so retailers need to make sure they are offering choice. While the premium end of the category sees strong growth, based on the GFK Consumer Index, value is key as consumers brace themselves for a recession." She claims that Crumpton Oaks Cider has had a particularly successful year with growth of 14% YOY (IRI data to 27th December 2020) driven by symbols and independents. "This is due to more consumers shopping locally and being more price conscious," she says. The brand recently unveiled a Cherry & Berry four-pack and 2L PET, as well as a Dark Fruit 2L PET, all carrying a £4.50 pricemark.
Value is a key focus for Diageo. "Sales of price-marked bottles are growing by 8.5% - making up 45% of total convenience sales [Nielsen Scantrack latest 52 weeks ending 16.05.20]," says Dawson. "Pricemarked packs continue to symbolise value for money in the eyes of consumers. Consumers are going to continue to look for value in their purchases, so we can expect pricemarked packs to continue to be a key sales driver in 2021."
Daniall agrees that offering value is vital. "Throughout the pandemic, like a lot of stores, we were faced massively with availability issues," he says. "Now that things are on a more level playing field and wholesalers are able to give back out those promotions that we were so badly craving eg Booker is now doing Budweiser on a special. The reinstatement of good promotions on beers and ciders really plays a massive part in sales you are going to be pushing."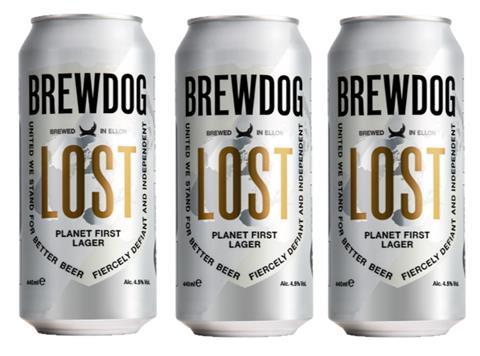 10. 70% of beer drinkers would be more likely to purchase a beer made in a sustainable way
"Sustainability is a priority for all categories, with 67% of UK consumers saying sustainability is important to them when choosing food & drink, and 70% would be more likely to purchase a beer made in a sustainable way [YouGov BrewDog Commission Survey – Beer Drinkers – Sept 2020]," says Dullard. "This presents a huge opportunity for the category. With 40% of the population drinking once a month or more [YouGov BrewDog Commissioned Survey- UK Adults – 2020], there is the prospect that a sustainable beer offering will not only drive existing frequency but could also potentially grow overall penetration.
In 2020 BrewDog became the first Carbon Negative beer company, meaning it takes twice as much carbon out of the air as it emits. "With sustainability a crucial issue for shoppers, retailers should consider this when choosing which brands to work with," says Dullard. This April, BrewDog is introducing the world's first carbon neutral beer brand – Lost Lager.
Faraz agrees that there has been a shift in consumer interest in a product's environmental impact. "People are more aware of sustainability, they do mention it with our beer kegs and the fact they are refillable," he says, though he has yet to see this interest filter down to canned and bottled beers and ciders.

Sarah is Deputy Editor for conveniencestore.co.uk.