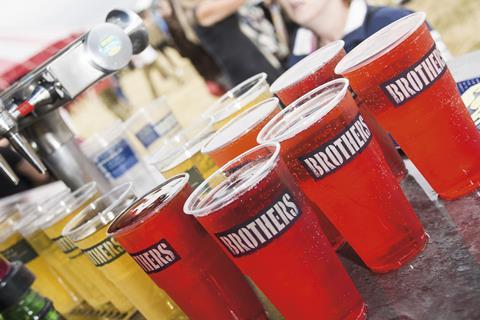 Brothers Cider, has announced it will be at over 50 events as part of this year's festival season and connecting with over 1.3million festival goers. The cider brand will be pouring at festivals and pop up events, bringing high-quality experiences to those in attendance across the summer with a new state of the art mobile bar.
Brothers will be at events such as Made Festival at Sandwell Valley Country Park, Witcombe Festival in Gloucestershire, Kisstory in London, Detonate in Nottingham, Lakefest in Hereford, Tokyo World in Bristol and Bath and West Country Festival, plus many more.
The cider brand is synonymous with the festival season, as Brothers was first introduced to consumers at Glastonbury festival in 1995 before working its way around the festival circuit before entering stores and outlets in the on and off-trade.
As consumers start to gear up for this summer's festivities, Brothers also launched their own social competition, giving followers the chance to win a 'Festival In A Bag', including: a two-person tent, sleeping bag, sleeping mat and water bottle.
Nicola Randall, senior marketing manager at Brothers said: "Festivals are part of our DNA at Brothers and the prospect of returning to the events this year and connecting with consumers is tremendously exciting. This festival season is set to be one of celebration and people coming together again, putting our brand at the heart of these experiences will not only allow us to provide a great experience to festival goers but drive affinity with the Brothers brand. Research suggests that the public are more eager than ever to return to live events and we can't wait to welcome them back and bring them a season full of fun and flavour."
This announcement follows the launch of Pink Grapefruit, Honeycomb and Cloudy Lemon in March and Toffee Apple Alcohol Free in May.