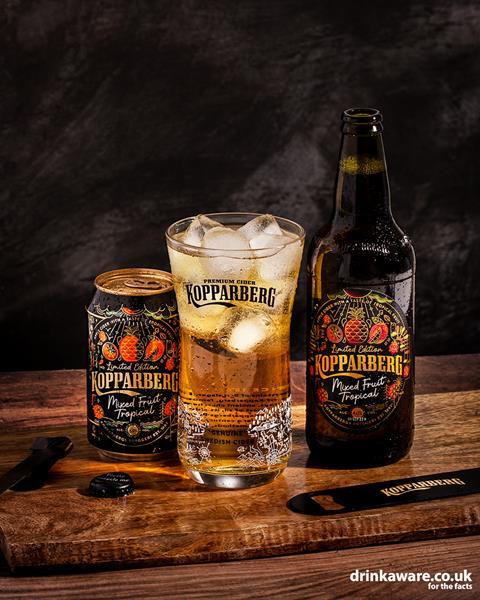 Mixed Fruit Tropical Cider is the latest addition to Kopparberg's portfolio. The new flavour features pineapple, passionfruit and mango and is available in the brands' first ever limited-edition bottle and can design. The drink will be available from the Co-op, as well as nationally through wholesale and Cash & Carry channels. A 500ml bottle has an rrp of £2.05, while a 4x330ml can multipack has an rrp of £5.
In addition, Kopparberg will be releasing a 10x330ml cider variety pack (rrp £9.97) exclusively into the Co-op group from April 22nd, which contains the new Mixed Fruit Tropical Cider, Rose, Cherry, Strawberry & Lime and Mixed Fruit.
The decision to introduce a tropical variant to the range comes as tropical tastes lead flavour trends across drinks categories (IRI, Carbonated Drinks, MAT To 26/07/20).
The pack design features line drawings and vibrant colour pops, bringing to life the carnival atmosphere of the tropics, in a style true to the brand's Swedish roots - a look that the firm believes will appeal to the brand's Gen Z audience.
Rob Salvesen, head of marketing at Kopparberg, said: "We're famous for delivering premium fruit refreshment in all of the original flavours you'd expect from the brand, whilst also keeping close to the latest trends in the drinks industry. This new variant, based on a surge in demand for tropical flavours, is a twist on our hugely popular classic Mixed Fruit cider, which is already synonymous with summer. Partnered with our very first limited-edition bottles and cans, we know that this new variant will define that first sip of a truly unforgettable summer."