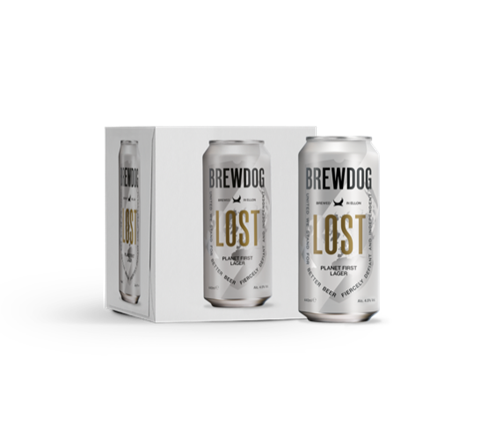 BrewDog has unveiled its new carbon-neutral Lost Lager.
The German-style Pilsner (ABV 4.5%) will be available in a 660ml glass bottle (rrp £2.20), 4 x 440ml (rrp £5) and 10 x 440ml (rrp £12) can multipacks through wholesale channels from mid-April.
Lost Lager is brewed using wind power, a third less water and would-be waste bread in the malt bill. For every multi-pack of Lost Lager sold, BrewDog will plant a tree in its 'Lost Forest' as part of a 'Buy one, get one tree' initiative.
Supported by an overall £6m investment, the launch will benefit from a £2.5m ATL campaign kicking off in April, comprising of online, social and OOH activity, as well as product giveaways and the launch of the brand's 12,000+ hectare Lost Forest, in Scotland.
Head of customer marketing at BrewDog Alex Dullard said: "Sustainability is becoming a crucial priority to shoppers. However, despite 92% of people wanting to live a sustainable lifestyle, only 16% are actively changing behaviour. It is therefore the responsibility of brands, like BrewDog, to help consumers act more sustainably.
"With 40% of the population drinking once a month or more and 70% more likely to purchase a beer made in a sustainable way there is the prospect that a sustainable beer offering will not only drive existing frequency but could also potentially grow overall penetration – this is a huge opportunity. We believe Lost Lager can help to not only grow the category, but also help consumers be more considered about their purchases.
"We also know that craft lager hugely over indexes with first time craft buyers, indicating that Lost Lager is the perfect introductory SKU to help customers broaden their craft beer repertoire."