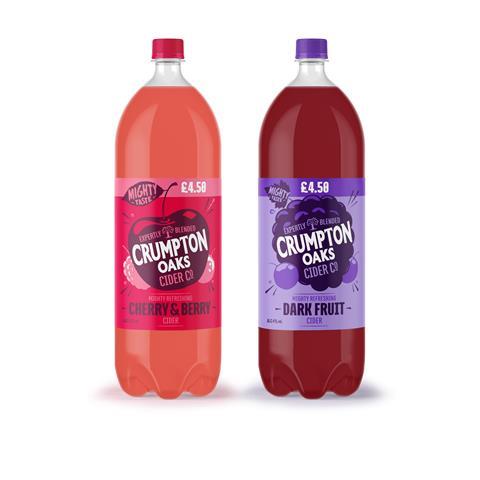 Crumpton Oaks is expanding its range with the launch of a Cherry & Berry offering and a Dark Fruit variant in a larger pack format (2L PET).
Available in a 4 x 440ml carded can multi-pack (rrp: £4.50) and 2 litre PET bottle (rrp: £4.50), Crumpton Oaks Cherry & Berry Cider will roll-out alongside new Crumpton Oaks Dark Fruit in a 2 litre PET format, to offer more choice and value for money to consumers in both Minimum Unit Pricing (MUP) and non MUP areas.
Crumpton Oaks brand manager Alison Reilly said: "Crumpton Oaks has been offering consumers excellent value for money from day one with bigger pack formats and affordable pricing across our apple and pear range, and we're delighted we can now extend the brand into fruit cider, especially in the current economic climate.
"Cherry & Berry is a well-known flavour combination in soft drinks but completely new to the cider category. The cider market over-indexes with older consumers, but we know from our data insights that Crumpton Oaks is increasingly attracting a younger consumer. 28-34 year-olds also account for the biggest share in total fruit cider growth* which presents a huge opportunity for Crumpton Oaks – especially via innovative fruit flavours like Cherry & Berry."