An influx of vegetarian and animal-free lines entering the market means convenience retailers can meet demand for this phenomenal trend.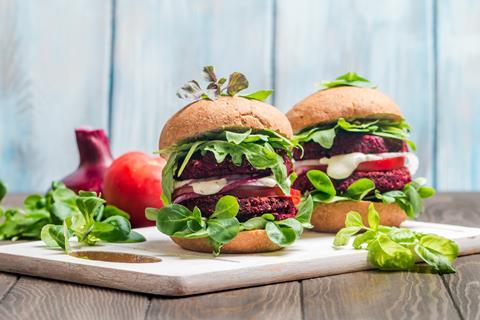 As your customers' Christmas indulgences recede into the rear-view mirror it's time to take stock of what your no doubt hung-over, bedraggled and newly-plump shoppers want for January.
For a growing number of people, it ain't going to be meat. And as all things animal-free hit the mainstream, Veganuary 2020 will be a chance for consumers to reset their diets around plant-based products. The number of consumers signing up to the Veganuary pledge in 2019 topped 250,000, up from about 150,000 people in 2018, and 2020 looks set to be even bigger (Veganuary.com).
Shoppers' veggie/vegan resolutions might not last the winter. Yet, as Alice Dolling, client support consultant at HIM reports, they make up a demographic that demands more attention in c-stores.
"Nearly a quarter of consumers say they eat less meat compared with six months ago, and a further 1.4% became fully vegetarian/vegan [in 2019]," she explains.
"Younger shoppers over-index in switching to become fully vegetarian/vegan, with 18- to 24-year-olds over three times more likely, and 25- to 34-year olds over twice more likely, to make the switch. The main culprit behind why is health."
So the demand is there, but how are stores tapping into it effectively? For Chris Shelley, co-owner of Shelley's Budgen's in Horsham, West Sussex, it's been an organic process. He first started investing more in meat-free chilled food early in 2019. Now he says that it's a key component of his offer right across the store.
"It's definitely a growth market and a trend we have to follow," he says. "I think the general awareness around meat-free eating is growing massively – and that's because of both health and environmental reasons. I also think most customers are genuinely becoming more conscious about what they buy."
For Chris, lines that signpost the category, such as Quorn, are very important. But it's not just in chilled, he's also extended vegan lines into bakery, too.
"We now do a Country Choice vegan sausage roll in bakery, which does okay for us," he says. "Obviously that comes from the fact that Greggs has already been through the whole thing of 'can you call it a sausage roll?' – and has created more awareness in the category. If a big high street name like that is doing them then we should look into it, too."
Country Choice's new six-inch pastry roll contains a Quorn filling. Supplied frozen in a ready-to-bake format, the rolls come in cases of 70 and have a shelf-life of four hours when stored in a hot cabinet.
Meat-free has been bubbling under as a consumer trend for a while, but for stores that wanted to get involved, lack of availability may have held them back. However, as demand has risen, wholesalers and local suppliers have increasingly got onboard.
"Booker now does a good range of vegetarian and vegan meals," says Chris, "plus, what we've seen is more local producers getting involved in doing vegan products. For example, we use a local producer for our pies and they're now doing a couple of vegan options for us."
This growing sector is creating some interesting bedfellows in meat-free. Two names normally associated with big, meaty fare launched meatless lines in 2019: Richmond debuted meat-free sausages; while Fray Bentos introduced a Vegetable Balti Pie.
The lines provide stores with an excellent entrée into the category. And Chris reckons that the best way to see if vegan and veggie works in your store is to go ahead and give it a whirl. "It's like other categories – you have to dip your toe in and see if it works for you," he points out.
Playing the field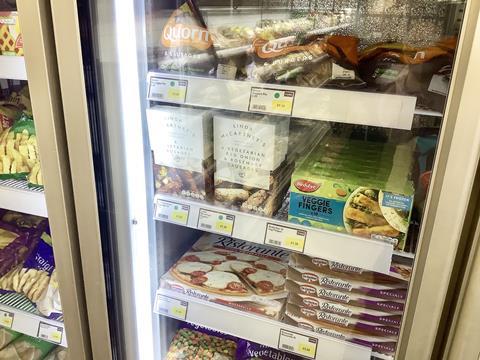 In 2020 health is about much more than low-sugar and low-fat content in food. Customers are often concerned with ensuring products tick as many of the 'free-from' boxes as possible.
"Free-from, in all its vegan, veggie, gluten-free, dairy-free, plant-based guises, will only continue to snowball in demand alongside escalating environmental concerns," says Karen Deans, managing director of premium frozen food supplier Field Fare.
"Any retailer not responding to it is not only missing out on a burgeoning category, and on reaching that crucial millennial and younger market, but is also in danger of presenting itself as out-dated and irrelevant.
"As an expanding market, free-from is also a hugely innovative one, with some very exciting npd delivering inbuilt differentiation potential to a retailer. Witness the Greggs vegan sausage roll phenomenon! On a smaller scale, our gluten-free pies and vegan burgers and pasties have similarly been reportedly creating destination shops out of those that stock them."
The company, which started 40 years ago, by selling scoop-your-own frozen food, now supplies a growing range of free-from lines.
Products include a Lentil & Vegetable Burger (rrp 99p), Proper Cornish Vegan Pasty (rrp £2.79), and Gluten Free Goats' Cheese & Roasted Vegetable Pie (rrp £3.45).
Giving the products good visibility is a must, though. Customers might not be expecting you to be going big on vegan, so it's essential you point out your range to them.
"It's a bit like gluten-free food," says Chris. "You have to flag it on the shelves. For instance, it's not always obvious that products are vegan or vegetarian from the packaging, so we have shelf-barkers to highlight them. That way customers can find what they need quickly."
When working out your healthy offer, it also helps to ask the experts. Sue Davies, assistant manager of the Cletwr Shop in Machynlleth, Mid Wales, describes herself as a "passionate vegan" (so much so that she's soon launching her own local vegan deli). She's better-versed than many in getting the vegan and meat-free offer right.
"We do an awful lot of vegan food because there's local demand and it always sells well for us," she says.
She advises retailers to remember that vegans aren't that different to traditional consumers. Like most people, they want to grab and go. "Vegans just want what other customers want from convenience," she says. "They're after something healthy that's quick and easy that they can eat on the go or take home for dinner. Just like the falafels in our chilled section – everyone loves falafels!"
Falafels aside, Sue's insights mean that she can push the boat out and offer vegan options that other stores might not be aware of. So among the everyday vegan soups and sarnies are more esoteric lines such as vegan haggis and even vegan black sausage.
Like Chris, vegan sausage rolls are a big hit for Sue. "The Snax to Go vegan sausage rolls we buy from Booker are just outstanding," she says.
"At £1 each they're the right price, and we seriously can't stock enough at the moment. They sell out virtually as soon as they go out."
They are a hit at Moira Dean's Premier at the Union store in Dundee University, too. "They do amazingly – even with non-vegan consumers," she says. "We only got a few in to start with, but we've had to up and up and up the delivery."
The sausage roll is one of many new meet-free lines Moira has introduced recently. "It's got so much easier to get these things now. Before, it was so hard trying to find these products," she says.
Lines range from vegan and vegetarian sauces from Tree of Life, to food to go. "Quorn, in particular, is a big brand for us," says Moria. "It's not just strict vegetarians or vegans who buy into it, either.
"It's like with our Urban Eat sandwiches; they're good meat-free options and people like them because they're delicious and healthy. We can't find anywhere to match the quality of their vegan and vegetarian ranges."
In fact, Urban Eat is a good barometer of how plant-based food to go is evolving. Taking its cue from street food (and perhaps those sausage rolls), one of the biggest emerging trends is 'dirty vegan': moreish meat-free comfort food often made using jackfruit as a meat substitute.
"In the past 12 months we have more than doubled the size of our vegan range and the requests from customers to expand our offering further are becoming more and more frequent," says Wayne Greensmith, head of category marketing at Urban Eat brand owner Adelie Foods.
"One of the standout innovations is the Dirty Jack wrap. Commonly used in South and South-east Asian cuisines, jackfruit has been trending, especially within the street food sector, as a popular addition to vegan/vegetarian diets. It is a common vegan alternative to pulled pork, due to its similar texture."
Another big brand in plant-based products is Alpro. "Plant-based is fast becoming a 'miss it, miss out' sales opportunity, with one in three households now regularly buying these products and sales worth £408m in retail (Nielsen Scantrack MAT w/e 7 September 2019)," says David Jiscoot, marketing director at Alpro UK & Ireland.
Tom Kerr, head of category at Alpro UK & Ireland, says: "There's a huge opportunity for independent retailers to capitalise on this trend, because about £1 in every £10 spent on plant-based food and drink is going through wholesale and convenience, with sales having risen by 34% in this channel in the past year alone (Nielsen 26 January 2019)."
So whether consumers are buying into plant-based, vegan or vegetarian for health reasons, ethical reasons, or they're just plain hungry, such lines could be just the thing to get shoppers in-store and buying more in 2020.
Raising the bar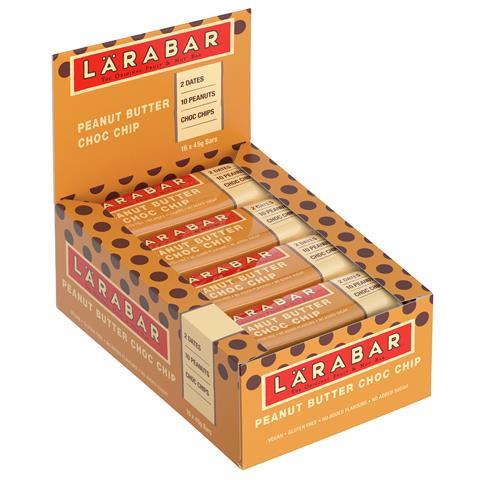 Launched to the UK in January 2019, Lärabar is aiming to expand the healthy bar sector further. But is there room for another product on the already-groaning to-go shelves?
Helene Henderson, UK brand manager for Lärabar, says that in the US the bars are the fastest-selling wellness brand in snacking. And some of that brand awareness is flowing across the Atlantic: UK awareness levels are already between 30% and 50%.
"There's a huge macro trend around health at the moment," says Henderson.
"People are now a lot more discerning about what they're putting into their bodies and more conscious of the links between food and health – which is pretty new.
"We also cater to so many needs: it's vegan, minimally processed and dairy-free. It also tastes delicious, so it's a dessert analogue."
Retailers already realise that healthy snacking bars are a great fit for convenience.
"We're seeing amazing results in convenience," says Henderson.
"That's because snack bars are an impulsive choice that's easy for people to pick up. More shoppers are looking for convenient ways to eat on the go – and that means something healthy, delicious and convenient."