Our Champions have adapted well to uncertainty in 2019, delivering for their customers while dealing with all the political twists and turns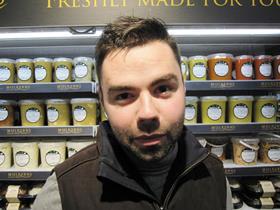 Thomas Magennis, Mulkerns Eurospar, Newry, Northern Ireland
For Thomas, the past 12 months have seen investment in food to go and ready meals to maintain loyalty.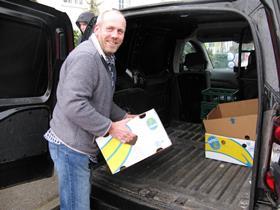 David Heritage, Barns Green Village Store, West Sussex
David says 2019 has been all about planning – maintaining sales while preparing for big changes next year.
Barry Patel, Nisa Local retailer with stores in Luton and Oxford
Barry has had the Co-op own label to drive sales this year and help him compete against nearby discounters.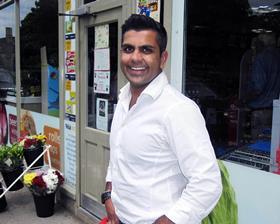 Harj Dhasee, Nisa Village Stores, Mickleton, Gloucestershire
Political uncertainty has meant the past year has been up and down for Harj, but stocking NPD has paid off.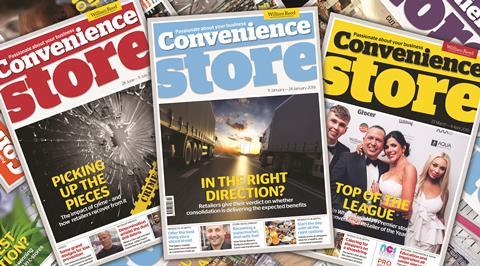 How has this year been for business?
Thomas: Business has been good, with positive year-on-year growth. Being so close to the border with the Republic, we have had to deal first-hand with all the uncertainty that Brexit has created. Thankfully, it hasn't deterred people from making trips over the border and the effect on shopping habits has been minimal. Fresh food is growing and is driving annual turnover up by something like 12–15%.
David: This year has been pretty steady. Our year-on-year figures are slightly up, which is always a healthy sign. Much of the trade depends on the weather – for example, the summer of 2018 was so good that it was hard to match this year. Turnover is around the same mark so things have been fairly consistent.
Barry: We are running on par with last year. Sales haven't dropped, in fact they have increased in some places, but wages and other costs are going up which has an impact on our bottom line. An Aldi and a Lidl have also opened up close to our two stores in Luton, but we haven't lost any trade to them. We've managed to maintain our point of difference over the competition.
Harj: We are slightly down on last year when you take into account inflation and overheads. It is tough because people are looking for bargains. Home delivery orders are increasing, which is good, but you have to keep finding more ways to make money to cover the costs.
How have you developed your store/s this year?
Thomas: We've created a grab-and-go area within our deli so people can pick up ready-made meals to have on the move. They are all pre-packed and the range includes things like chicken goujons, cheesy snacks and chicken popcorn. We've also been busy with our ready meals. This year we created a new healthy range called 'Eat Well, Feel Well' that has been very successful. It takes continual investment to get things to where they are today. These developments help to bring the business forward.
David: We haven't done a whole lot differently this year, because we are actually planning to knock down the existing store next year and rebuild it. This year has been about planning for what comes next with planning permission and shop fitting still to be determined. Our current site is very much a quirky village store and we want to preserve some of that while putting it in a modern format. The product mix will be similar, but with more chilled and a spacious feel. Our chilled range is something that we have developed this year and it has kept on growing so I can see the business sense in increasing things further when the store is rebuilt.
Barry: The Co-op range has done really well. We've also done lots more with our hot food area and coffee to make sure that we have something for people to grab and go at breakfast, lunch and dinner. Evening meals are something that we didn't used to offer, but we've taken the concept further and customers seem to appreciate it because sales have been good.
Harj: We have tried to become more productive and use staff in the best way possible, for example having people come in for the busy times in the morning, evening or lunchtime. There has been a lot of NPD this year and that has been reflected in our range. We had the American lines, including soft drinks and confectionery, which were big for a time, and the release of the Twirl Orange really took off. Any successful new launches complement our own-label offering from the Co-op, which has been another benefit for us this year.
What have been the main challenges of the past 12 months?
Thomas: Maintaining customer confidence and loyalty has been the main challenge. The area we are trading in is very competitive, with lots of independent stores as well as multiples and discounters. There is a lot to deal with, but we just have to make sure that our offer is right, because the retail market is always quick to change. We have put thousands, probably a five-figure sum, into the store this year, but because the projects have been planned and spaced out we are already seeing a return on investment.
David: The challenges are similar to previous years with staff costs only going in one direction and buying costs going up as well. Luckily, we don't have to pay business rates because we are in a village location, but our staff costs still put a squeeze on margins. Other retailers have moved into areas like vaping that offer higher margins, but it hasn't worked for us.
Barry: The main challenge is with staff retention. It is becoming more difficult to incentivise people to stay working. I can see the problem becoming even more pronounced over the next 12 months. It is a lot harder to replace staff now than it used to be. You have the added cost of recruiting and training people up only for them to leave soon after. This not only takes time, but it is also a big cost to the business.
Harj: The margins are really tight now and a lot of brands are trying to push pricemarked packs (PMPs) onto us that offer very little in the way of profit for our business. We've tried to steer clear of stocking PMPs wherever possible this year.
What were your expectations of 2019 and how has reality differed?
Thomas: We expected it to be a challenge with all that is going on with Brexit. We also invested in a revamp of the store three years ago so we thought the boost in trade that we got from that would tail off, but things are still going really well for us. I think next year is going to be difficult because we don't really know what is going to happen. We also have the added challenge of a new Spar store to run, which opened in November.
David: We come into every year with the same attitude and understanding, concentrating on what we can change for the better. There is always going to be something going on in politics that may or may not have an affect on trade.
Barry: We expected it to be difficult. However, we've managed to retain or replace staff quickly and deliver variety in our product range that stands out from others in the market. Our fresh butcher counter, for example, is popular and different from the competition. Other things like keeping our ATM free and absorbing the cost of card transactions is always challenging, but we have had to keep finding those extra margins so we can maintain our level of service.
Harj: We expected 2019 to be tough coming off the back of the World Cup in 2018 and the hot summer. There was a lot of sport going on and 2018 had a really good, positive vibe about it. This year has been more bogged down with uncertain politics and Brexit so it has been harder to match last year's sales.
How have shopper behaviours changed this past year?
Thomas: The plastic debate has been huge. We've been running a campaign on zero waste throughout the year. It commits us to making a small change every week to try to make our business as eco-friendly as possible and improve our carbon footprint. We've done things like getting rid of plastic bags for fresh produce and introducing an area for people to refill their bottles of washing-up liquid. It has been a good way to remind shoppers that we are listening and shows we are quick to respond. Another thing we've noticed is that people are moving away from cooking from scratch. It is part of the reason why we took some space away from our butchery to make space for more grab-and-go foods. Lots of people are opting to buy the ready meals that take three to four minutes to cook in the microwave.
David: We sell much less tobacco than we ever did before. I don't think this gap in sales has been filled by vaping, though. Take me and my wife Pippa, we used to smoke and then went to vaping and then quit altogether so I don't think vapes are the way forward long term. We've noticed this year that fresh food is even more important to customers – we sold a lot of fruit this summer and have a new range of curries in the store made by a local Indian lady, which has sold really well. We also sell far less regular bread than in the past because I think shoppers are switching to gluten-free alternatives or more premium options. For example, our sourdough loaf from a local baker has become popular.
Barry: More shoppers are becoming vegan and vegetarian, and those that do eat meat are looking for better quality. Many are also more health conscious, and the youngsters are looking for a quick alternative to cooking from scratch. Ready meals have increased as a result and seasonal events such as Halloween have also grown in popularity. You have to make the most of all these trends and get in early.
Harj: In the background people are thinking about plastic and health, but at the forefront their shopping habits are being dictated by Brexit. People are more conscious about their spending and we are selling more products on promotion than we are products at standard price, which only has a negative effect on your bottom line.
How would you sum-up this year in one sentence?
Thomas: This year has been successful, all about fresh and innovation for Mulkerns.
David: We've nearly made it through the year of transition.
Barry: The Co-op brand has helped us this year and customers have a different perception of our stores that we can hopefully carry on into 2020.
Harj: It's been a yo-yo year where we have had to be proactive rather than reactive, because there hasn't been any certainty about what is going on and that has forced us to keep looking ahead to what we can do in the future, when hopefully things will be more stable.
What has been your biggest learning from the year?
Thomas: Staff development has been a big thing for us this year. It is important that we learn to give people everything they need to do their job right and allow them to take on the responsibilities that are suited to them. We've spent more time on appraisals, which has helped the relationship I have with the team.
David: To hold your own – as retailers we have to do what we know is right for our store, which might not be the same across the industry. This year, we have taken the time to plan things out, which has been good for us.
Barry: The learning over the past year has been about keeping up our ties with the local community. We employ local people wherever possible and sponsor lots of charities through Making a Difference Locally. We donate quite a bit to help community football teams and hope to increase our support next year. Customers appreciate having that connection with local causes. This also comes from seasonal events like giving older locals a Christmas dinner.
Harj: To be more strategic with our category ranging. It is important to recognise that there are a lot of new launches out there that don't work and so we need to make sure that we identify those that are selling and those that aren't and get rid of the slower lines as quickly as possible, even if that means selling at a loss.
What has been the highlight of the past 12 months?
Thomas: The success of the business as a whole has been the highlight for me. We've won and been nominated for lots of awards, both in England and here in Northern Ireland. A proud moment for me was when I was named best store manager at an awards ceremony earlier this year. It means a lot for staff to be recognised for their work.
David: It's hard to pick one thing. I jumped on the bandwagon of the Twirl Orange like many retailers, which was a nice bit of fun for customers. It feels good when you can offer something a bit different and we've found more products this year that are well suited to our area.
Barry: The highlight has been keeping sales constant without losing trade to the discounters. We are keeping up our strategy of increasing profit margins by at least 1% every year so that we can cover wage costs increases.
Harj: Apart from the American lines and NPD, I have to admit that it has been tough dealing with all the uncertainty this year. That said, there is some really good stuff going on with retailers such as Mital Morar [Simply Fresh Foodhall] and it's exciting to see what he is doing with the convenience model in Manchester.