Demand for dairy-free milk and local cheeses makes the dairy and cheese category a fast-mooving market. Here's how to keep milking it.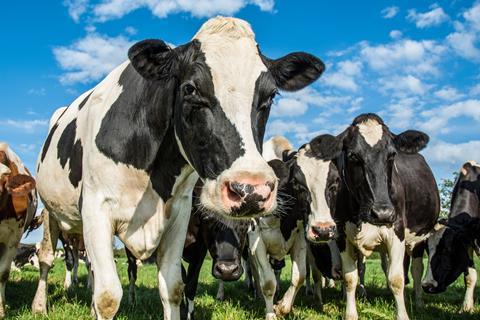 Ready to milk the profits from your dairy section? Then we've got some important moos for you: the sector is evolving fast. Cheese is going upmarket, suppliers are going local and vegans are (ironically) expanding the category and changing the game for everyone. Here's how…
Let's start with the basics (except they're not quite so basic anymore). According to Mintel, white milk is expected to suffer a 3.9% volume sales drop over the next five years, as it loses out to plant-based alternatives. Don't panic – traditional moo juice ain't out of the picture just yet (it still claims 87% of volume sales after all according to Mintel 2019), but this does mean retailers need to re-assess their long-term lactose-supply plan.
At Stuart Cordner's store in Comber Road, Dundonald, the big focus is on 2ltr bottles of semi-skimmed milk, which makes up the bulk of sales. But Stuart says that the real excitement is now coming from the free-from products that he has in stock.
"In cows' milk it's all about the 2ltr bottles," he says. "People are price sensitive, and that means we have to be competitive, or we miss out. We look around at the local area and make sure we're pricing it right. But for us, we're now seeing more growth in what people call the 'healthier options'."
He reels off a list of milk alternatives he stocks as proof, including almond milk, soya milk and the Lacto-free brand. "That's what all kinds of consumers are now choosing," he confirms. "It's where I feel things are really changing and where the action is – especially around Alpro products, which do really well for us."
The buzz around plant 'milk' is massive, with Mintel citing that 23% of Brits regularly drink it. It's certainly not for every customer, yet get it right and you can prise open the market for high-margin c-store free-from products, too.
There are barriers, though. One worry retailers have is that such products might cannibalise their everyday dairy stock. Yet that's not the view on the shop floor, in some stores at least. Moira Dean, from Premier Dundee University, acknowledges that her shop isn't exactly the norm. "We serve a really diverse range of students from all over the world," she says. "That makes our range a little bit different from the average Premier."
Different or not, she's seen one dairy-adjacent product really fly off the shelves: vegan cheese.
"When it was suggested to us we do vegan cheese we weren't really sure to start with," she admits. "But now we do block, sliced and grated – basically, all the formats. It tastes really good and it does really well for us. Plus, it doesn't take away from our usual cheese selection, either. It's a different offer and it brings in different customers."
Vegans and vegan-curious customers aside, she's also conjured clever ways to bring the dairy category, and the rest of chilled, to life for her young shoppers.
Showcasing stilton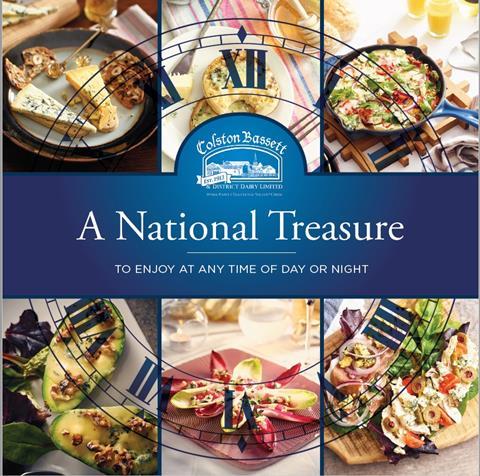 Colston Bassett Dairyis hoping to boost sales with pos that highlights Stilton's versatility as a 'round the clock' cheese. Its brochure showcases a range of simple recipe suggestions that incorporate the blue cheese into a variety of meals and snacks.
Several years ago, Moira had the bright idea of developing recipe cards to help Freshers cope with cooking for the first time away from home. "I used to be a chef so I used some of my expertise to create healthy recipes, including really basic things like cheese on toast and boiled eggs," she says.
"They're based around things the shop can supply, like our dairy section. The student body now puts them in the Freshers' Packs. And it's good advertising for us – it shows off our range to the students. They really like it."
It's natural that Moira included cheese in her everyday staples, as it's a standard ingredient in great British comfort food classics, like cheese on toast. Cheese is eaten by a massive 92% of Brits, while 82% nosh on it at least once a week (Mintel 2018).
Moira says that people these days are picky about their cheese. She adds that price still matters – yet that doesn't necessarily mean her students always go for the basic offer. "Although our customers are students they don't always go for what's 'cheap and cheerful'," she says. "For example, Cathedral City does really well for us."
Fickle flexitarians (who may be cutting out meat without giving it up entirely) might partially be driving the desire for decent cheese at c-stores. Mintel reports that many cheese eaters agree that replacing meat with cheese is more appealing than using a meat alternative.
Stuart certainly sees the upmarket appeal of local cheeses – and convenient formats – plus something for kids too.
"In Ireland there's a lot of demand for regional cheeses," he says. "We stock those along with continental cheeses and English varieties for a cheeseboard. It's also important to have the grated and sliced cheese as well as the block. People want convenience when they cook.
"Children's snacking is big for us, too. Parents want something easy for their kids so that means Lunchables and Strings & Things, which we've seen lots of advertising around."
Spreading the love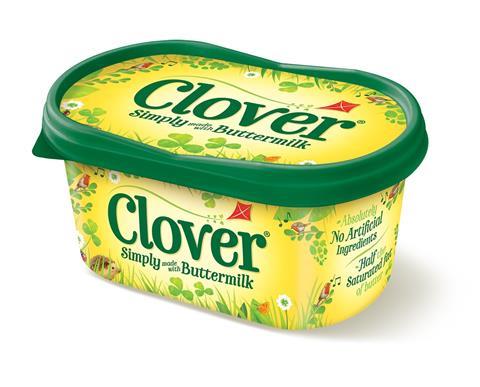 Earlier this year UK favourite Dairy Crest was acquired by Canadian company Saputo UK. So what's changed for retailers and consumers? On the surface of it, not much – although the brand is working hard behind the scenes to grow its business.
Today 29.8% of UK households buy Clover (Kantar Worldpanel 52 w/e 16 June 2019), often through c-stores. Its new Spread the Love campaign aims to recruit even more, through extensive advertising via YouTube and elsewhere online.
"Amidst today's conflicting advice on health, nutrition and 'good parenting' our Clover family audience are faced with daily worries about how to nurture a healthy and happy family," says Emilie Grundy, senior brand manager at Saputo Dairy. "As the first major spread brand with no artificial ingredients and two-time winner of Product of the Year we believe there's no need to compromise. In choosing Clover you can keep your family healthy while still giving them the delicious buttery taste they love."
Format matters too, she says, especially for time-poor c-store customers. As well as snacking formats, Saputo's Cathedral City has pioneered a 'Big Slice' product, offering 60% more cheese per slice (30% larger than standard slices).
To remind shoppers that a cheese sarnie is a simple-to-make food solution, Cathedral City Slices feature a sandwich inspiration design on packs.
A little luxury
Of course, dairy isn't just for the virtuous. Thick yogurts and c-store classics such as Yazoo have their place in the chiller, too.
"During the week we fill the chiller with healthy ready meals. Customers love them. But from Friday to Sunday people want the thick yogurts and dairy desserts. It's when we basically quadruple sales of products with fresh cream."
Earlier we pointed out that sales of traditional milk appeared to be down. Yet, there's one smart way that brands can win back market share: highlighting the white stuff's potential eco and local credentials. For example, Matt Hutchinson from Select Convenience & Post Office in Bents Green, Sheffield, has seen sales of one milk product soar 260% in the past year, namely milk in glass bottles from cherished local producer Our Cow Molly.
"Everybody loves Our Cow Molly, because they're a local company and people up here like to support each other," he says.
"The milk bottles have done phenomenally well – it's now one of our biggest USPs. The way it works is that customers come in and buy a bottle of milk for £1. Then, when they bring the empty bottle back to the store they can buy their next one for 89p, the same price as a plastic bottle."
Matt says that the scheme isn't just a hit because it helps the environment. It creates return business as customers come back with their milk bottles, boosting footfall. This could be a big win for c-store retailers in the future as it's the kind of scheme that the mults are too slow-moving to manage, and highlights stores as local-supporting dairy destinations.
Matt says that the key is having a supplier that customers can trust. "Customers really want to help out a local producer and they love the fact that they can go and visit the farm where the milk comes from. It's a name that everyone in Sheffield knows about."
Glass milk bottles direct from a local producer? Slightly more mature readers may remember that's how it was done back in the days when cheeky milkmen used to patrol suburban England.
Naturally, Matt's too young to remember all that. But by harnessing a helpful tool from the category's past, he's definitely helping shape its future.
Hint and tips for dairy drinks sales success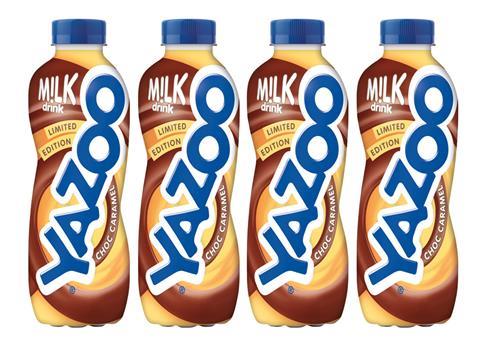 "There's a lot going on in dairy for retailers," says Wayne Thompson, marketing manager at Yazoo.
"You've got inflation on white milk, and also retailers having to make decisions on products such as almond milk and soya milk," he says.
To ensure success, Thompson reckons it's essential to "double-down on what works". And that means dairy drinks such as Yazoo. The product was made with the high-turnover c-store channel in mind, and limited editions also help boost the appeal.
"We're always looking at different formats and flavours – like our limited edition flavours," he says. "Our new one is Choc Hazelnut (out next April).
"For the last flavour we wanted to make it 'a hint of…' But this time we've dialled up the taste credentials. I can't say too much – but I can say that it reminds people of a liquid version of a certain hazelnut spread."
Thompson recommends popping Yazoo in the fridge nearest the door (whether that's soft drinks or food to go) to maximise impulse sales of the 400ml format.
He also suggests that, across dairy, neat and clean is the way to go. "Some c-stores I go to have nice clean lines and brand blocking – it's about doing it like the supermarkets," he points out.
"Others have 150 lines across three chillers. However, the risk is that it's confusing and customers can be overwhelmed. It might even look a bit messy. And if it's too messy customers start thinking 'okay – how long has that drink been there?' It's about keeping it disciplined. We can help retailers do that, and send them shelf-barkers and wobblers to keep their selection neat."