Larabar from General Mills, the vegan, dairy- and gluten-free fruit and nut bar, is set to drive sales and consumer awareness with the launch of a 'Let's Make Veganuary Moreish' campaign.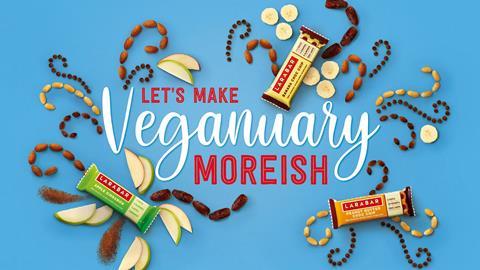 The activity will see the brand's plant-based product promoted through experiential sampling, social media, e-commerce, PR, shopper marketing and in-store promotion. The campaign is expected to reach 15 million people.
Made with six ingredients or less and containing no added flavours or sugar, the Larabar range is comprised of three flavours: Apple Cinnamon; Banana Choc Chip; and Peanut Butter Choc Chip, and is sold in singles (rrp £1.19) or a three bar multipack (£2.90).
Helene Henderson, new ventures brand manager at General Mills, said: "Making better choices throughout January isn't always easy – especially with the cold weather and post-Christmas blues.
"That's why at Larabar we want to make it the most joyful month of the year, and support shoppers in embracing a plant-based lifestyle. January 2020 also marks a year since we launched in the UK, and we're excited to have reached over £1 million sales since then (Nielsen October 2019)."