With the UK on lockdown, many will be seeking to spend as much time as possible in their own back gardens, with BBQs offering the perfect opportunity to dine out while staying in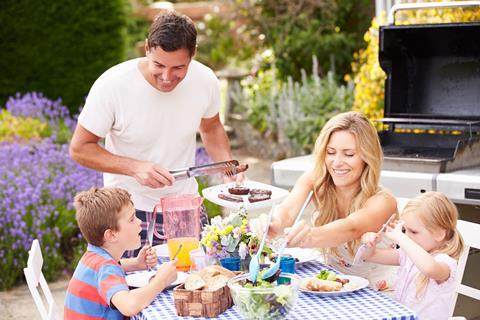 We all know that at the first sign of spring sunshine the nation collectively rushes out to dust down the charcoal, fire up the barbie and send the scent of sizzling sausages wafting across our back gardens. But now is not normal, and will we really fancy cooking up barbecue food during a pandemic?
Ironically for self-isolators, the sun has already put in an early showing this season. And in any normal year this would be all the inspiration shoppers needed to get barbecuing, as Steve Browne, general manager of the Food Division at the Heart of England Co-operative Society explains.
"Barbecue season can start as early as Easter as this gives people their first major break of the year and is the time when they might start to focus on their gardens," he says.
"Combined with the early spring – and subject to the British weather of course – this in turn leads to eating al fresco in the garden which I think most people would agree is always a highlight of their summers."
Calum Duncan from Crown Stores in Inverness agrees that now would normally be the right time to start merchandising the fresh meat and buns.
"Usually speaking we see barbecue season kick off around March and last all the way through to late August/early September," he says. "People just see the weather's good and come in to pick up their barbecue stuff."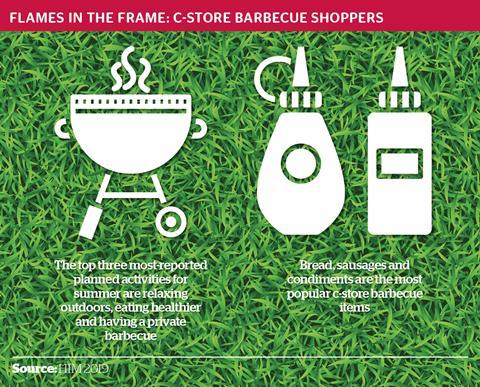 Of course, we now all know that 2020 will be very different. We're just not quite sure how yet. However, shut-in families, friends and couples are still going to want to get out in their gardens to eat this summer – whether they're feeling ill or not.
Younger households, in particular, are definitely going to be up for it. According to HIM, in a normal year 25- to 43-year-olds are most likely to have a barbie at home (HIM 2019). And for the foreseeable future they're not going to have a choice of venue anyway.
The one thing that might still stop them in their tracks would be lack of sun. Like most other seasonal categories, success in barbecue is tied to what's going on with the weather.
"Barbecue as a category can be very frustrating for a convenience store at the best of times," says Richard Inglis, owner of three Welcome Co-op stores in Southampton.
"You can look at the forecast and then get in loads of barbecue stock. Then it's solid rain for the weekend! Then you might have nothing in another week – and it'll be really sunny. It's just frustrating trying to gauge demand. Basically when the sun shines it's what people want – it's really impulsive."
Whatever happens with the weather, it's fair to assume the barbecue occasion will be a smaller affair than usual this year. But one thing won't change: nailing down the key components that signal the category.
Here's where developing a sizzling core offer counts – and whatever foodie trends come and go the essential components of British barbies aren't going to change.
According to HIM bread, sausages and condiments are the most popular barbecue items at c-stores (HIM 2019). There's also space for products that save customers time and hassle too. For example, of consumers who are planning on hosting or attending a barbecue or picnic, half are looking for time-saving methods such as ready-to-grill seasoned meats.
"Whenever I think of a barbecue I tend to think of family barbecues – and that's what's going to be happening a lot this year," says Richard.
"That means you need all the things that the kids are going to like. So it's about fresh sausages, good burgers – staples like that. Also buns and salad too. It's very important to have a good selection of those basics."
"Food-wise there is always high demand for fresh meats such as burgers, sausages, steaks and chicken, as well as a demand for frozen meats also," confirms Browne.
"Burgers and sausages, in particular, always do well as they can easily be enjoyed indoors or out. Fresh fish can also be a winner."
Get grilling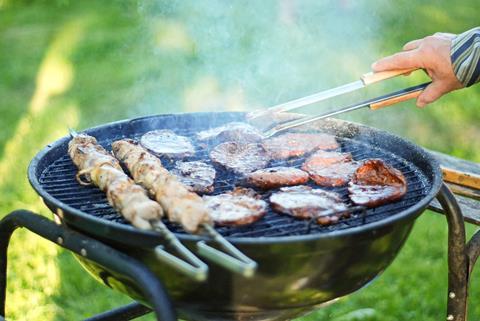 Florette is predicting that BBQs may well increase in frequency during lockdown. "With some people being confined to homes and gardens we may even see an uplift in barbecuing as the weather improves, although these will not be the large social or family gatherings they once were," says national wholesale manager Kerry Holmes. "Mid-week BBQs may become more commonplace as a result where people look to spend more time in their gardens."
Traditional choices are often best. HIM reports that most shoppers are looking to recreate "classic" barbecue flavours in their back yard [HIM 2019].
Yet there's room for some foodie flex as well. Some 57% of men and 51% of women are looking for interesting and exotic flavours in their meats that go beyond your standard banger (HIM 2019).
"In general people are becoming more adventurous with their barbecues – it seems that anything goes these days with even pizzas making an appearance on the grills!" says Browne.
Despite this, Richard points out that if you have customers with conservative tastes, this isn't the time to foist something new on them.
"I don't think it's quite the time to be getting into pushing grilled halloumi or anything like that," he says. "I'm not saying that wouldn't work, just get the basics right first."
By its very nature, barbecue is all about fresh food. Yet Richard says that offering a decent selection of frozen meats can be a good standby when everything else has run out.
"Co-op does a good range of frozen meat for summer," he says. "It's not 100% ideal but barbecue is definitely an impulse occasion so it's better to be able to offer people those than give them nothing at all."
Join the bun fight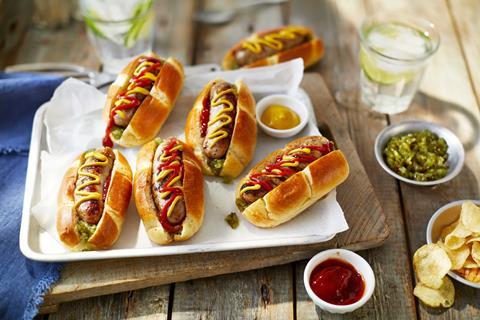 Tastes are changing when it comes to barbecue buns, according to Brioche Pasquier. "What we served at barbecues used to be so simple," says retail sales manager Charlotte Hulbert. "[It used to be] a salad, a few beers and lots of meat. However, times have changed, and even though meat is still an important element of the offering, there are plenty of other tastes and diets to take into account."
Different tastes demand a more upmarket take than standard buns. Brioche buns have signalled gourmet burgers in restaurants for a while now, and they can do the same for your customers' humble barbies too.
"Think beyond the standard burger bun," says Hulbert. "Head instead for some more up-to-date versions. A simple, quick way to give a barbecued hot dog an on-trend gourmet twist is to offer brioche rolls. The light sweetness and soft texture of the brioche complements barbecue flavours perfectly and they are conveniently sized to hold the sausage."
Younger consumers care about the appearance of a bun as much as the taste so it looks good for Insta, which is worth bearing in mind if you want to win over young wannabe influencers (and their parents).
With continual exposure to social media and the trend of sharing pictures online, consumers are looking to re-create and share their dining out experiences at home," says Jeremy Gilboy, founder of St Pierre Groupe.
"St Pierre's premium brioche range delivers an authentic base to create an array of Instagrammable dishes."
Of course, once you've nailed your basics, then there may well be an opportunity to adapt your offering to meet current trends. "To date, and prior to the Coronavirus outbreak, Florette has seen consumer purchasing decisions being largely driven by the rise of healthy eating and sustainability trends, demonstrated by this year's 'Veganuary' movement which received over 400,000 pledges worldwide this January," says Florette UK national wholesale manager Kerry Holmes.
"Consumers are moving away from BBQs being typically a meat occasion, where products such as burgers and sausages are not just the sole focus. Instead, shoppers are now diversifying their options with more adventurous meal choices, and natural and fresh ingredients like salads proving more and more popular."
She believes that this trend will continue in the current climate. "In light of recent events relating to Covid-19, it's likely that while people are unable to visit gyms and advised to stay at home, they will be more conscious of their diet due to the limit on the exercise they can complete and want to purchase healthier products as a result," she says.
Saucy choices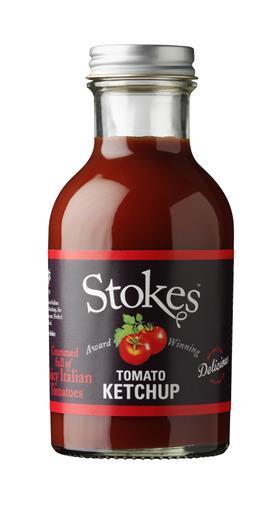 All the retailers we spoke to for this feature agreed that sauces are a must-stock for barbie season. Of course, many people want to splurge a big brand ketchup on their bangers. But there's also room for products with more foodie appeal.
"There are two trends we're seeing when it comes to barbecue condiments," says Rick Sheepshanks, founder of Stokes Sauces.
He maintains that Stokes' summer staples such as Tomato Ketchup, Real Mayonnaise and Original BBQ Sauce are always very popular when the temperature rises.
"[But] we're also seeing increasing demand for some of our more unusual condiments. For example, Stokes Bloody Mary Tomato Ketchup brings burgers to life and Stokes Red Onion Marmalade can really elevate a hot dog," he says.
"There's also Stokes Chilli Jam which works amazingly well with vegetarian offerings such as Halloumi kebabs or plant-based burgers."
Stokes' products can also be used as marinades – which gives them extra shelf-appeal.
"While some sales of barbecue essentials will fall off a cliff at the first sign of rain, condiments aren't bound by seasonality," he says.
"Stokes' barbecue sauces not only bring grilled meats to life, they can also be used year-round as marinades and stir-fry sauces. Positioning condiments alongside meal ingredients will help consumers to plan creative meals as they shop and stock-up on a store cupboard essential."
Regardless of the BBQ food they choose to stock, all the retailers we spoke to advised stocking some kind of disposable barbecue in order to take advantage of the impulsive nature of the occasion.
Another factor to take into account is ease of shop - customers want to get what they need from a c-store and run back out into the sun. Browne says this is where some canny cross merchandising really comes into its own. "Adjacent merchandising is a key tool during barbecue season," he says.
"Consumers are probably calling into our stores on the day they're planning their barbecues – or certainly not many days before. They want to be outdoors making the most of the weather and be out of our stores as quickly as possible. So we stock everything together to cover the entire mission so the customer experience is quick and simple."
"We also use clear, vibrant signposting to attract the customers' attention. And 'mix and match' offers are highly popular as they usually tempt customers to try something new."
Browne adds that the top accompaniments include salads and dressings, mayonnaise, condiments and drinks – from soft drinks to wines and beers, prosecco and gin.
What customers choose drinks-wise depends on their age. Unsurprisingly, 55- to 64-year-olds are more likely to spend more on beer and wine, while 35- to 44-year-olds go for cider and soft drinks (HIM 2019).
Meanwhile, if you're looking to expand into premium spirits or soft drinks this year Browne has one major tip: don't forget the ice. It's an essential that many retailers let run out.
To face the future right now many consumers and retailers alike might feel that they need a stiff drink. But like that burger that went down well but was undercooked, all things must pass eventually.
"In the light of recent events, anyone who has a garden or a balcony will be wanting to make the most of any fine days this summer," says Charlotte Hulbert, retail sales manager at Brioche Pasquier.
"In fact, a sunny day and a simple barbecue is likely to be more important than ever to us all."