Today's parents need to ensure their kids' lunchboxes are healthy and tasty. Help them get this right and you'll soar to the top of the class.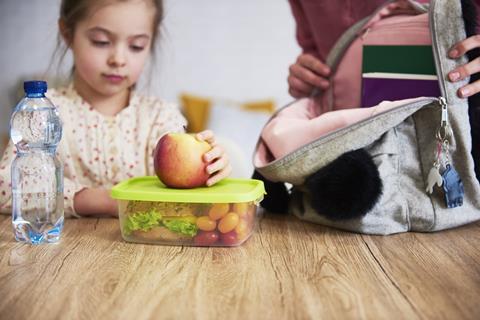 It's Sunday night and school tomorrow, and for parents up and down the land that means the weekly panic over what to put in their offspring's lunchbox for the week. What's healthy, what will get past the lunchbox police, and what won't end up in the nearest rubbish bin?
With an estimated 4.8 million kids bringing in a lunchbox to school (Children's Food Trust 2017-2018 report), the opportunity for c-stores at the ready with the answers is great.
The category's potential looks like increasing, too, as the government's rollout of Universal Credit is hitting the number of families entitled to free school meals, and increasing the number of bring-your-own lunches. As of January 2018, just 13.6% of school pupils were eligible for and claiming free school meals – the lowest proportion since 2001 (Department for Education: Schools, pupils and their characteristics: January 2018).
Anca Lazar, senior brand manager of Cathedral City Snacking, believes the squeeze will mean more families will be heading your way in search of lunchbox fillers.
"Lunchboxes continue to enjoy a resurgence," she says, "and with the number of children eligible for free school lunches set to decline, the lunchbox category is predicted to soar as more parents begin to look for cost-effective, nutritious and easy-to-prepare meal solutions for their families."
Where convenience stores can ace it is being there for those shoppers whose organisation isn't always A*. Ben McKechnie, managing director at Epicurium, says: "Many organised parents will stock up on packed lunch items at their weekly shop, however the convenience store needs to be prepared for those who aren't as organised, and those that inevitably run out of some part.
"Retailers need to be able to provide for this by offering a good selection of bars, bagged snacks, drinks, fruit and so on that will appeal to kids."
He acknowledges that filling the lunch gap isn't always easy for parents of today. "Staples such as sandwiches, bread, cheese and fruit are easy to get right, but since kids can be choosy these days about what they like, purchasing the perfect packaged snack becomes more difficult."
The pressure for parents to include healthy items, and strict school rules on what can and can't be included, only adds to the difficulty.
The government has been attempting to create clearer messages about how kids can eat healthily with the Change 4 Life 100-calorie snack campaign. It offers simple guidelines for responsible snacking, recommending a 100-calorie snacking cap for school children, with two snacks a day max.
Fresh face for cheese snacks
Kerry Foods introduced a new dairy snacking brand, Strings & Things, earlier this year, bringing together Yollies, Cheestrings and a new Cheeshapes range under one brand with a unified design.
The new Cheeshapes line features cheesy designs including funny faces, unicorns and pieces of fruit. It comes in two variants – Randoms and Icons – with an rrp of £1.50 and a promotional price of £1 per three x 22.5g pack.
The new shapes are designed to feature in lunchboxes or on-the-go snacking.
Marketing manager for Strings & Things Anna Moore says: "Cheeshapes is a truly innovative product with more than just a nutritious purpose; the shapes have wide appeal and encourage kids to use their imagination, and research suggests kids are going to love them."
The new-look range will launch with updated packaging and a £4.4m campaign.
Supporting activity will include TV, digital and in-store content taking place throughout the summer and during the back-to-school period.
Kerry Foods says the move is designed to attract a wider range of kids to cheese snacking.
Moore adds: "The Cheestrings brand is worth £49m RSV and is ranked kids' favourite cheese snack. Following such a successful year, we're excited to bring our kids' dairy snacking brands under one umbrella, which future proofs our brands and gives us a strong platform to launch innovation.
"Plus, the refresh will help amplify the brand's fun appeal across the category.
"The burst of TV support is perfectly timed for the summer and the back-to-school period when parents will be looking for a quick snack to keep children occupied during lunch and snack time. It's a great time for retailers to be stocking the product and the revamped range, as it will be front of mind for shoppers with the heavy support plan in place."
Health message
Gaelle Vernet, group brand manager at Bel UK, points out that consumers are progressively seeking out lunch options that are high in protein and low in carbohydrates and sugars. "However, they don't want to compromise on taste," she says. "In what was once an ocean of confusing mixed messages for parents, new public information campaigns offer clarity when it comes to purchase choices for healthy lunchbox items."
The message seems to be getting through, according to retailers. Mark Canniford, owner of Spar Loxton Road, Weston-super-Mare, reports: "We have seen a rather significant rise in sales of healthy food and drinks at our store recently – fresh fruit, yogurts, vegetables, the lot."
Harj Dhasee, owner of Nisa Village Stores in Mickleton, Gloucestershire, says health across all categories is something every retailer is seeing now, but he believes parents are more aware of it than ever.
"With a lot of schools not allowing chocolatey snacks or sweet things over a certain calorie content, parents are having to find alternatives their children still enjoy," he adds.
Cheese is a firm favourite at Kay Patel's five Best-one and Global Food & Wine stores in London. "It is one of those things that continues at a steady sales pace all the time. Cheese bites and cheese snacks do sell well, especially when kids are going back to school."
It's a similar story at Spar Loxton Road. "Items like Cheestrings or little cheese bites continue to be a favourite for parents for their children. I don't know if we've seen an increase in numbers, but they certainly do continue to sell well," says Mark.
The success of cheese could be because people are realising it can be a healthy alternative, according to Mike Humphreys, owner of Premier Kenninghall Stores in Norwich.
"As long as parents aren't giving too much to their children for lunch, there's no reason it can't be considered healthy," he says.
Kerry Foods marketing and category director Victoria Southern thinks cheese could be the answer for parents who are struggling with inspiration for lunchboxes. "A constant struggle for parents when packing their child's lunchboxes for school is attempting to create a nutritious meal while appealing to their sense of fun," she says. "Children are continually looking for ways to make food more entertaining, and lunchtime should be an opportunity for them to unleash their creativity and enjoy themselves in between school lessons.
"It's important for retailers to stock products that are both appealing to children and provide nutritional value that will incentivise parents to purchase new additions to their traditional lunchbox ingredients."
Cathedral City's Lazar concurs that cheese's nutritional profile stands it in good stead. "Cheese is well ingrained as a go-to snack in the home and more recently pre-packed convenient cheese formats have seen sales increase, as consumers look for convenient, portion-controlled alternatives to traditional snacks."
It's no surprise then that Cathedral City has been targeting the growing kids' snacking market with a range of fun and convenient products for kids' lunchboxes. Its junior choices span Nibbles, Towers, Shapes and Cheese & Toasties, which Lazar says "offers little ones an exciting way to enjoy real Cheddar, while reassuring mums that they are getting a 100% natural kids snacking product".
Vernet says Bel UK's cheese snacks hit the spot as they are within the recommended 100-calorie cap. She adds: "Mini Babybel and The Laughing Cow both deliver against these criteria, with 62 calories per cheese (Mini Babybel Original) and 42 calories per Original triangle (The Laughing Cow)."
The company's Babybel Mini Rolls also qualify. The spiral shape snack launched as Spirolls in January and is to relaunch as Mini Rolls. It comes in cases of 12, with each 85g pack containing five individually-wrapped rolls (rrp £1.99).
Adds Vernet: "With 33% of total food snacks chosen with health requirements in mind (Kantar Worldpanel Usage/Total Market 52 w/e 7 October 2018 vs October 16 Total Snacks/Health/Total Food), Babybel Mini Rolls display health-related messaging prominently on-pack, highlighting the new launch as free from added colours, flavours and preservatives."
Dairylea is aiming to grow the snacking kits segment with a new Streetfood sub-brand for its Lunchables range. Combining Dairylea with mini pizza bases and tangy pizza sauce, Dairylea Lunchables Streetfood Pizza are available in 65g packs now.
Ways to get more from lunchbox sales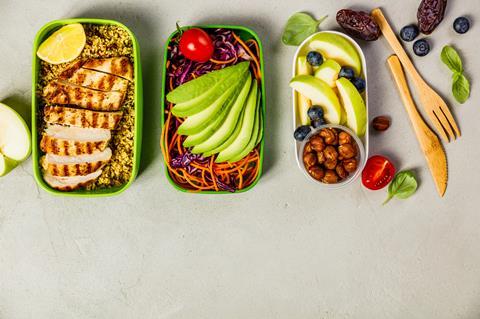 Mondelez International trade communications manager Susan Nash provides some top tips for making the most of the lunchbox opportunity:
Focus on the top-selling brands that shoppers know and trust to encourage impulse purchases and avoid duplication
Position the best-selling lines in the highest visibility locations on the fixture (central on the fixture, within the shopper's eye line) and increase product visibility by front-facing
Use manufacturers' POS to highlight key lunchbox products and new launches on the fixture to interrupt the shopper journey
Meet the demand for healthier lunchbox options with lower sugar and reduced fat variants of shoppers' favourite brands
Meet the on-the-go and lunchbox mission by stocking biscuit and cheese snacking lines with sandwiches and drinks
Convenience retailers can find out more on maximising their lunchbox offering by visiting: https://www.deliciousdisplay.co.uk.
The slice is right
Aside from cheese, another lunchbox stalwart is the sandwich. For Kay, the drive for healthier food has seen even the humble sarnie take a new turn with a step away from creamier contents.
"While we sell more pre-made sandwiches, we also do sell fillers to mums and dads for their kid's lunchboxes," he says. "The top sellers are ham, cheese and tuna, as I think they are kids' classics.
"It used to be more cream-based things like mayo and other slightly unhealthier things to put in sandwiches, but now the classic ham and so on seem to be up there, and I'm assuming it's down to the health side of it."
Ham is a winner for Harj, too. "Sandwich filler classics such as ham continue to be on top for us. I think kids like it simple and parents don't have to worry too much about the health aspect of ham."
Unsurprisingly, consumers' desire to be healthier is also impacting which breads they buy. Matthew Cullum, director of marketing at Allied Bakeries, says that customers are seeking out healthier alternatives to their usual loaf.
"A range of segments across 'healthier bakery' are in growth, including white and wholemeal blends and seeded. Health means different things to different consumers, so we are seeing a range of segments in growth across healthier bakery, including 50/50 bread that offers hidden wholegrain, and seeded breads which consumers perceive as offering both taste and health, sparking a shift away from wholemeal bread in particular."
Kingsmill 50/50 is the number one brand in the Healthier White segment, with a 63% share (Nielsen Scantrack 52 w/e 18 May 2019) and last September Allied added to the range with Kingsmill 50/50 Vitamin Boost, with two slices delivering significant amounts of seven vitamins and minerals.
Warburtons goes big on bagels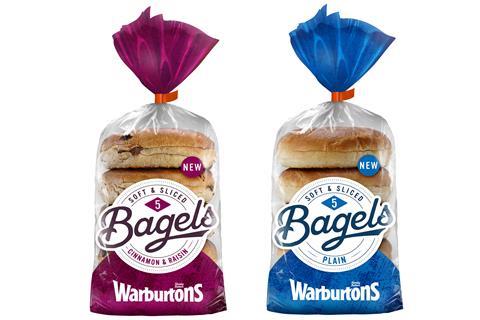 Warburtons is hoping for big things in the sandwich market with the launch of a full-size range of bagels.
Sold pre-sliced and available in two flavours – cinnamon & raisin and plain – the bagels complement the existing Warburtons Thin Bagels.
The bagels are boiled and then baked using a traditional cooking process to create a soft and chewy texture.
Warburtons innovation and product marketing director Darren Littler says: "We are delighted to be expanding our portfolio and helping to drive growth in the bakery category with such a high-quality product. Unlike most on the market, our bagels are pre-sliced making them really convenient for consumers.
"They also offer a great sandwich alternative, whether toasted or untoasted, and can be enjoyed with a variety of fillings.
"Alongside our popular Warburtons Thin Bagels, our new range offers a versatile snack and will be key in helping retailers expand their bakery repertoire."
The 80g bagels come in packs of five and are available now with an rrp of £1.60 per pack.
Fruit appeal
Another must-have in the lunchbox is fresh fruit, as Harj says parents are opting to keep it simple and stick to the classics. "For snacks, parents are after pears, apples, bananas and so on," he says. "Fresh fruit certainly takes top spot for us."
It's the same story for Mark at Spar Loxton Road. "We used to sell only packets of fruit and vegetables, but since we have started selling individual items, parents are picking up a few bits and bobs to put in their kids' lunchboxes to try to push the healthier image that's everywhere now," he says.
"We sell fresh oranges, several types of apples, pears, bananas and plums all individually, and they all seem to be very popular with the younger parents who seem to want them for lunchboxes."
Mike agrees. "The classics do sell well, like fruit and so on, as I think parents want to try to be as healthy as possible for their children's lunches. Veggie crisps instead of normal ones, anything from Eat Real sells well, the Bear range of natural products with no added sugar are popular."
Debbie King, Eat Real director of commercial sales and marketing, highlights the importance of tapping into the 'taste good, look good' trend, and offering healthy and free-from alternatives in savoury snacks.
"As increasing numbers of schools implement strict healthy living guidelines on children's lunchboxes, it's vital that packed lunch staples meet a wide range of 'look good, taste good' requirements," she says.
"Eat Real offers a range of gluten-free, lactose-free, vegan and kosher plant-based snacks which comfortably meet current consumer trends. Made from all-natural ingredients and free from all 14 declarable allergens, they include Hummus, Lentil and Quinoa Chips as well as the kids' Veggie Straws, ideal for younger children.
"The growing demand for free-from products that are suitable for kids' lunchboxes reflects the overall consumer trend for healthier snacking."
Brioche Pasquier aims at back-to-school shoppers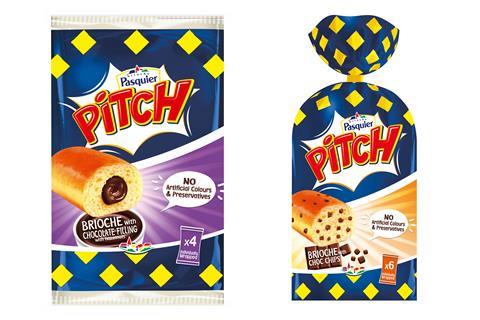 Brioche Pasquier is preparing for the back-to-school season with competitions and offers designed to engage both children and parents.
The campaign, which will centre around the brand's Pitch range and run until mid-October, offers families the chance to win a range of prizes including a Center Parcs holiday.
Each promotional pack of Pitch (available in packs of four or six) will carry a unique code and customers can see instantly if they have won a prize by entering the code on a dedicated microsite.
All the prizes are linked to the back-to-school occasion and include magazine subscriptions and book vouchers.
Consumers who want to collect codes through multiple buys will automatically receive a free lunchbox once they have entered five codes online.
Brioche Pasquier sales manager Matthew Grenter says: "We've run similar campaigns in the past with great success. Parents and children love the mechanism which allows them to find out online immediately whether they have won a prize."
Grenter adds that the products are especially suited to c-stores. "Our products have amazing longevity without the need for any preservatives, artificial colours or hydrogenated fats. They stay fresh on the shelf for up to 21 days, which is convenient for families and for retailers."
Snacks
Two in five kids' lunchboxes contain a bagged snack, with 12% and 19% (respectively) opting for a bag of crisps – still a more popular choice ahead of other savoury snacks (Kantar Aug 2018), points out Matt Collins, trading director at KP Snacks. He points out that 26% of lunchboxes contain crisps, popcorn, nuts or baked snacks (Mintel 2018).
Collins adds: "At KP Snacks we believe that snacks can be enjoyed as part of a balanced diet and healthy lifestyle. Retailers are giving more range space for lighter alternatives to meet this need, and we've been a significant part in this change.
"As well as reducing saturated fat and sodium levels by as much as 80% across our core range, we've also virtually removed all artificial colours, additional flavour enhancers, artificial sweeteners and artificial colours. The KP Snacks portfolio includes 29 products that are 100 calories or fewer per pack including lunchbox favourites Pom-Bear, Hula Hoops and Skips, Popchips and Space Raiders."
Mondelez International, too, has healthier options across its savoury snacking range. "Retailers should ensure their lunchbox snacks range includes some lighter options," says trade communications manager Susan Nash. "Ritz Cheese crackers have 50% less saturated fat – all without compromising the taste and quality that consumers love."
As well as low fat and low sodium, healthier also means low sugar to consumers, and Soreen marketing director Beth Brown believes sugar content is increasingly scrutinised by parents when choosing snacks. She points out that Soreen Lunchbox Loaves contain less than 100 calories a portion and have no reds in their nutritional traffic lights.
The solution from Burton's Biscuits to making sweet treats permissible for kids is to offer portion packs. Isabel Lydall, category and insights controller at Burton's Biscuit Company, says: "Shopper demand for more permissible options for lunchboxes continues to grow. Burton's is leading the way in portion-controlled biscuits, offering the strongest 'less than 100 calories per serve' range."
Mondelez International is also embracing portion control to gain favour with parents. "Cadbury Joyfills has recently extended its range with the launch of two smaller 75g packs – the perfect snack for the lunchbox occasion," explains Nash.
The new range (rrp £1 each) comes in two flavours – Oreo Vanilla Creme and Cadbury Milk Chocolate Creme – and feature the same wheat pillow biscuit and Joyfills fillings as the standard 90g range, which made its debut in the convenience channel last August.
Yogurt is a headline sweet snack at Spar Loxton Road. "Yogurts are the product we've seen the biggest increase in sales in for parents recently," says Mark. "I think it is down to the health kick. Parents don't want to be giving their kids a chocolatey cereal then send them to school with a lunchbox full of chocolate, so yogurt is a great alternative."
Mike adds: "It is all about yogurt, raisins and so on nowadays. It is the health trend taking over and now making its way into lunchboxes. Parents want to look after their kids and yogurt is not only doing that, but the kids enjoy it too."
Rosanne McDonnell, brand manager of Yoplait Kids, says yogurt is a great way for parents to ensure kids get their recommended amount of protein and calcium – all of which are vital for growing bones. "What's more, Yoplait kids' yogurts are good source of vitamin D, which maintains healthy bones, muscles and teeth," she says.
"Yoplait has a range of suitable lunchbox yogurts, including Frubes tubes and Petits Filous mess-free bottle. With no artificial flavours or colours, they offer a tasty yet nutritious treat that squeezes the fun into lunchtime."
When it comes to kids, though, yogurt and clean kids don't always go together, but McDonnell believes the brand's easy-to-open range may provide the answer.
"It's important to stock lunchbox-friendly formats that enable children to enjoy a tasty lunch without the food spoiling or creating a lot of mess," she says. "The Yoplait range includes easy-to-open Frubes. The improved format makes it easier and less messy for little hands to enjoy the fruity yogurt.
"The easy-to-open design is equipped with a pre-cut flap, enabling children to eat their favourite flavours without help from mum or dad. Our summer Try Me Frozen campaign encourages parents to freeze their Frubes packs, so their children can have a tasty alternative to ice cream during the school holidays."
Easy-to-open Frubes are available with an rrp of £2 (9 x 37g tubes).
Müller sets sugar reduction target for yogurts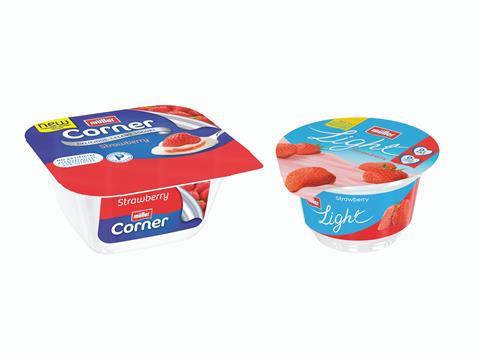 Müller is aiming to reduce total sugars across its Corner-branded yogurt portfolio by 25% by June 2020.
The dairy giant is hoping to exceed Public Health England's voluntary guidelines, which encourage the brand to lower total sugars across its range by 20% before August 2020.
Last month the company introduced a new recipe for Müller Corner, containing up to 9% less sugar, more protein and a thicker and creamier texture. Müllerlight was also given a new formula. It, too, features 0% added sugar and a thicker and creamier texture.
Müller has also reformulated its Müllerlight Greek Style and Müllerlight Fruitopolis yogurts using a 0% added sugar recipe.
The brand removed added sugar from its Müller Corner Strawberry flavour and Müller Quark Yogurt range last year and added Müller Corner Plain, the dairy company's first ever Corner made with unsweetened natural Greek style yogurt.
Müller Yogurt & Desserts managing director Bergen Merey says: "We're the category leader, and the significant challenge we faced was how to reduce sugar without ever compromising on taste.
"We've now got our best ever recipes, supported by our biggest ever marketing campaign, and this category-disrupting strategy is how we plan to not only meet Public Health England's voluntary targets, but exceed them."
Drinks
Of course, no lunchbox is complete without a drink to wash everything down. Harj has seen first-hand the sales opportunities when stocking the right drinks for the lunchbox occasion. "Fruit Shoots are the big sellers for us," he says. "It's a drink that kids love, and parents know isn't bad for them, so we know to stock them at the start of term. Juices still sell, too, in our store."
Indeed, just as in food, health continues to rule the way within the soft drinks category, according to Mark.
"In terms of drinks, healthy drinks are certainly on the rise," he says. "Healthy drinks for all ages, but for school children's lunches, for sure. We sell a few ranges, mostly bottled juices and cartons, which are very popular with parents.
"We also have seen an increase in parents buying milk drinks and protein drinks for their children's lunchboxes."
While milkshakes may not spring to mind when considering what healthy drinks to stock, Andy Howie, co-founder of Shaken Udder, believes the brand has a lot to offer within the market.
"Shaken Udder is a school-approved brand, making it a fantastic lunchbox choice. Packed with calcium, protein and vitamin B12, Shaken Udder is the perfect drink to give young minds a boost at any time of the day," he says.
"Earlier this year, Shaken Udder overhauled the recipe for its kids' carton range of milkshakes, unveiling a new and improved flavour. They contain less than 5% sugar, no artificial colours, flavours or preservatives, and are a good source of calcium and protein – great for growing bones. The portable cartons are the perfect option for parents looking for a nutritious, low-sugar lunchbox-friendly drink and help highlight the many health benefits of drinking milk as part of a balanced diet."
Shaken Udder Kids 200ml cartons are available in two flavours – chocolate and strawberry – with an rrp of 80p to £1.
Yazoo customer marketing manager Wayne Thompson shares Howie's views on milk drinks. "Back to school is a key occasion for milk drinks. Retailers that don't stock Yazoo are missing a trick. With its high milk, calcium, protein and vitamin B2 content, Yazoo helps to keep students fuller for longer," he says.
"Yazoo Kids is the perfect lunchbox filler because it has no added sugar and no artificial sweeteners, naturally rich in calcium and protein and a source of vitamin B2. It is low in fat, less than 100 calories per bottle, and available in chocolate, strawberry and banana flavours.
"The back-to-school period is also really popular for our original Yazoo 400ml product."
Capri-Sun on TV to promote health credentials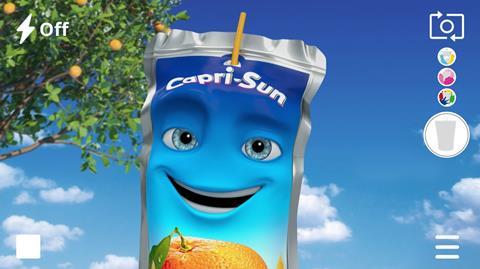 Coca-Cola European Partners (CCEP) is highlighting its Capri-Sun's brand's health credentials in a new TV ad campaign.
The marketing push is designed to position Capri-Sun as a leading juice drink for parents and kids and sees the return of brand mascot Sunny, posing for selfies and switching between different filters.
The 'No Filter' advert aims to highlight how all Capri-Sun products contain no artificial colours, flavours or preservatives.
The activity will run until the autumn/back-to-school season.
Simon Harrison, vice-president for commercial development at Coca-Cola European Partners GB, says: "We know that parents are increasingly scrutinising the drink choices they make for their families and are choosing products that are perceived to be more natural.
"The new TV advert highlights that Capri-Sun original is 'filter free' and contains no artificial sweeteners, colours or preservatives while maintaining the fun nature that the brand is famous for."
Water works
With a quarter (25%) of school children drinking less than one glass of water a day (Natural Hydration Council research), getting kids to stay hydrated can be an uphill battle, and bottled drinks offer a convenient way to encourage consumption.
"Water still remains a top seller for parents for their children to take to school," Mark says. "While it may not sell as fast as it used to, which is probably down to the publicity of the plastic reduction boom that is happening, there is no doubt parents will always look to send their child to school with a bottle of water in their lunchbox."
Harj agrees. "Water absolutely flies off the shelves for us when it comes to the start of term. Parents will always grab a bottle or two."
Nichola Grant, channel marketing manager at Highland Spring Group, says society's health-conscious parents are helping drive sales of bottled water for lunchbox purposes.
"Bottled water's calorie-free status, along with the omission of sugar, preservatives and additives, coupled with its convenience and refreshing taste, provides a healthy hydration option for parents wanting to ensure their children remain hydrated during school hours," she says.
"Plain bottled water is also versatile and available in still and sparkling varieties as well as various size formats, making it suitable for consumption throughout the school day or during after-school clubs. The increasing consumer and media focus on health, as well as the implementation of the soft drinks sugar tax last year, continue to be major drivers of product choice."
Grant also puts forward the case for sparkling water as a healthy alternative. "Over recent months we have seen a real trend towards sparkling bottled water, which is ideal for children looking for a little lift as part of their day," she adds. "Encouraging children to drink water isn't always easy, however plain sparkling water can play a crucial role here.
"A healthier alternative to fizzy drinks, plain sparkling water offers something a little different than plain still water, making the occasion a little more special will encourage children to drink more."
Whether it's a drink on the side, a midday snack or main attraction the sandwich, healthy and tasty seem to be the way forward within the lunchbox market. It could be time to revise your lunchbox range ready for the back-to-school rush and make sure your store is a class act for parents.