Soreen has brought back its range of Halloween loaf products to help retailers tap into seasonal sales this October.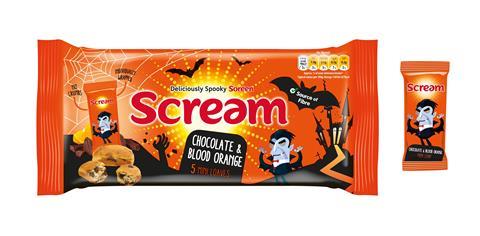 The limited-edition range of Scream mini loaves includes returning flavour Toffee Apple; and new variant Chocolate & Blood Orange.
Both lines come in a lunchbox format with themed packaging. The loaves are also individually wrapped for convenience and contain fewer than 100 calories.
"Back by popular demand, our Halloween range features a new Chocolate & Blood Orange recipe to delight our customers with even greater health credentials. Our updated recipe means that we have reduced our calories per bar to just 98 calories, as well as reducing fat to 1.9g, with saturated fat coming in at only 0.9g." said Bethan Brown, marketing director at Soreen.
"Retailers are now dedicating more space to Halloween in store and expanding their offering so we know this is a popular time and we can continue to refine and grow our range in line with this. As sugar and fat content in diets continues to be scrutinised, our unique offering of squidgy, delicious malt loaves that are healthier than sugary confectionery has widened our appeal with consumers and retailers alike."
The limited edition loaves are available to Nisa and Spar retailers with an rrp of £1 per pack of five.