Fibre is the new protein, according to fruit and nut bar producer Eat Natural as it extends its range with a new fibre-packed variant.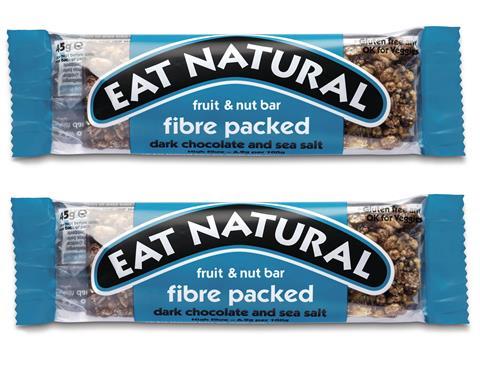 Fibre Packed contains 3.1g of natural fibre thanks to its key ingredients of figs, dried apricots, coconut, almonds and peanuts, providing 10% of consumers' recommended daily fibre intake.
Eat Natural co-founder Praveen Vijh said: "We all need to up our daily fibre intake naturally in order to keep our insides happy and healthy. The gut plays a big role in our overall health, so eating more fibre-containing foods has huge benefits."
He described Fibre Packed as "the most delicious bar yet". He added: "It's a generously proportioned bar, and it's naturally sweet, fibre-rich and unctuous thanks to the chewy figs; it's packed with sweet nuttiness thanks to the peanuts; it has an indulgent dark chocolate undercoat which balances out the sweetness of the dried fruits - and to top it all off we've added a touch of sea salt to bring some flavour balance into it. There's also some shredded coconut to add succulence and texture, as well as an additional fibre boost."
Eat Natural developer and nutritionist Ashly Volkert added: "We should all be eating around 30g of fibre per day as part of a healthy, balanced diet - but on average we're each eating just 18g. Given that each bar provides around 10% of your recommended daily fibre intake, simple additions such as this bar can really help up the natural fibre intake."
The bars will be available in multipacks of three 45g bars with an rrp of £2.