Brioche burger bun brand St Pierre has revealed a new look that celebrates its French heritage and reflects the quality of its bakery range.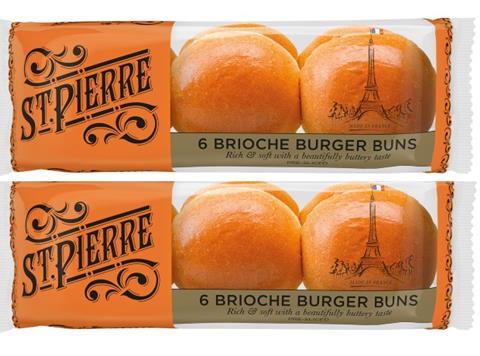 The refresh reinforces St Pierre's Parisian heritage, which is at the heart of the brand and which continues to inspire it to this day. The new look retains the eye-catching signature orange colour of the brand and introduces an Art Nouveau style script for maximum stand out on shelf.
Paul Baker, founder of St Pierre Groupe, explains: "Like all dynamic brands, the time comes when evolution is required. For St Pierre, we wanted to celebrate our rich French heritage and this brand-new look does just that. Whilst we realise that this refresh comes at a challenging time for both the industry and the wider world, with rebranded packs heading into stores from May we felt the time was right to share our news.
"We believe that whilst consumers are looking to buy comforting staple foods, it is also important to continue to offer them foods, like St Pierre, that allow them to elevate their everyday meals easily.
"When the time is right and we can all leave our homes, we look forward to sharing our future plans to support St Pierre in the wider category."
The launch of the brand refresh coincides with the start of the barbecue season. Whilst retailers may need to prepare for this year's barbecue season to look very different to previous year's, consumers will still be seeking a range of quality barbecue products that they can enjoy at home in their gardens and should be sure to stock accordingly. With its variety of authentic brioche products including light and buttery Brioche Burger Buns and Seeded Brioche Burger Buns (both pre-sliced for convenient use), St Pierre Group claims that its products are perfect for consumers looking to upgrade their barbecue meals.