Rama Varambhia rang the helpline complaining about a test purchase that took place at her shop, Snutch News in Leicester. At the time the couple (Rama and her husband Subhash) were having a coffee in their store with their local policewoman. A couple came in, a bloke who hung around the door, and a woman who purchased a £1 Scratchcard.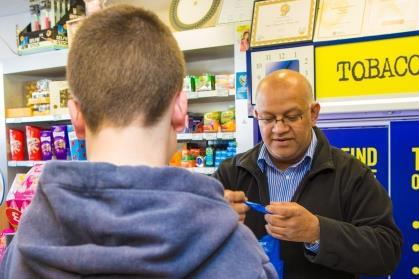 Then they said to her 'You have failed a test purchase'. The woman was 21. Rama says: "What's the point? He kept saying 'you've failed' and I said No, I didn't fail: she is 21. Then I said just take the machine. I told her to leave but she wouldn't. I said send me a letter and they said we will respond but they haven't yet. The copper, who thought it was hilarious, challenged them asking why have you sent in a 21 year old?" Rama also said that Camelot still mistakenly thinks the business has a full terminal and kept ringing up to give instructions about main games.
I put all this to Camelot and they responded: "We train, educate and assess National Lottery retailers in a number of ways to safeguard against underage sales and support retailers in selling National Lottery products only to those 18 and over. One of those ways is through our mystery shopper programme, which we've been running since 1999. It uses people who are aged 18 or over, but who look younger, to make sure that retailers are asking for ID where appropriate and not selling to anyone under the age of 18. The reason we use mystery shoppers over the age of 18 is so that we don't inadvertently cause retailers to commit a criminal offence.
"If a retailer fails on the first mystery shopper visit, they receive a pack with supporting advice to help them pass any future mystery shops. We then visit or contact the retailer by telephone to give feedback on the failed visit and provide re-training to staff on National Lottery age-related purchasing guidelines. However, it's worth noting that retailers who sell on three separate occasions to mystery shoppers may have their terminal removed.
"In addition to the above, we are looking into whether the retailer is receiving the right information about National Lottery games from our Retail Team, and hope to rectify any issues as soon as possible."
But before that response another division of Camelot wrote to the Varambhias accusing them of failing to co-operate. Their letter said: "A condition of the Retailer Agreement which you signed up to, states that retailers must not act in a manner, which is likely to be prejudicial to or affect public confidence in the security or integrity of the National Lottery."
They added that as a result of the concerns raised they would be immediately suspending the couple.
They also said: "The Security Investigator was unable to remove any Scratchcard stock due to your lack of cooperation."
This prompted a scathing letter from Subhash saying that the notice contained unsubstantiated lies. He pointed out: "During the test visit, a W.P.C. 6058 was present. When she questioned the probity of the test, Camelot walked."
He added: "The condition of our agreement which Camelot signed up to undertakes to provide support and care above minimum standard. Experience speaks otherwise. In our time we have received three written apologies."
And in conclusion he said: "We have disconnected the terminal and the unsold cards ready for your collection. TAKE NOTE, our storage charge of £5 per day will be levied with immediate effect."
Then a few weeks later, I got the following from Subhash which he labelled a 'Camelot Carry On': "It is now three weeks, despite Camelot's threats nothing is happening. I have dumped the terminal, and unused cards, in the yard. Exposes the integrity of Camelot."
Oh dear. I sent this on to Camelot and got the following reply: "In terms of your enquiry, I can confirm that we wrote to the retailer on 24 February explaining the suspension decision – and they then had seven days to appeal the decision. As part of the ongoing process, we have since reviewed the case and any further correspondence from the retailer, and are due to be getting in touch with them later this week.
"It's also worth pointing out that when National Lottery equipment is damaged through unauthorised removal, this is charged to the retailer."
It seems a lesson or two. I don't recommend contravening any of Camelot's rules no matter how daft they may seem at the time. They have better lawyers.

Jac Roper is editor for Convenience Store's Dear Jac column. If you've got a retail problem, call Jac on 020 8502 9775 or email: jac@roper-biz.co.uk.