Our C-Store Champions discuss how healthy eating is influencing what they stock and how they are tapping into this growing audience.
Raaj Chandarana, owner of Tara's Londis, High Wycombe, Buckinghamshire
Raaj has noticed increased demand for more healthy lines, and emerging categories such as vegan.
Jamie Keshwara, owner of Nisa stores in Cambridgeshire and Norfolk
Customers are demanding more Free-from and meat-free options from Jamie.
Kevin Hunt, of Lawrence Hunt Spar, based in Preston, Lancashire
Kevin says that assessing demand and controlling waste means he treads carefully with some lines.
Mark Cleary, owner of eight Spar stores in the Manchester region
Protein bars and healthy snacks are good sellers for Mark, although price can be a barrier to purchase.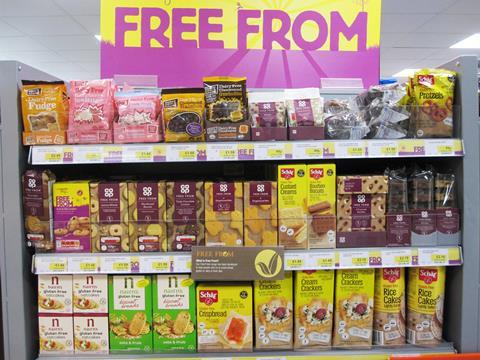 Have you noticed increased demand from customers for healthier foods?
Raaj: Customers are buying more healthy products and that is reflected in what we sell. Although the switch to healthier lines such as low-sugar or zero drinks is a good thing, it can be frustrating. The newer lines sell well, but it is hard to find space for them in the fixture alongside the usual best-sellers. It's going to be hard to manage and make room for it all, especially when demand peaks in the summer.
Jamie: I think everyone wants to be healthier because it makes you feel better from a personal level. My brother recently started producing snack pots for customers looking for a healthier option to have on the go. We've only just brought them into the store so it will be interesting to see how they do. They contain ingredients such as fruit, veg, chicken and egg. They are also made fresh, offering shoppers a good lunch alternative if they want to be healthy.
Kevin: We haven't been massively affected by demand for healthier products, but I am ready to change. It is hard because you have to balance stocking these types of products with the feedback you get from shoppers. Certainly from what you see in the media, the health trend is increasing.
Mark: I think there has been an increase in demand for healthy products, but lots of people still want the normal versions of a particular product. Take soft drinks as an example, plenty of people still seem to want to buy the full-sugar options.
Do you take an interest in broader health trends such as Free-from and meat-free?
Raaj: We do – the take-up of meat-free and gluten-free lines has increased in recent years. In our area, the demand for sugar-free foods is a big one. People are definitely more concerned about cutting down on their sugar consumption now. Gluten-free products also sell well for me and the category has been a big diet trend for some time.
Jamie: We have quite an extensive Free-from and meat-free range. We work with a really good supplier called Suma Wholefoods. They provide us with a lot of our alternative products including our vegan range. We have a 1.5 metre bay in the fridge and a similar section within ambient. Both are dedicated sections and have steadily grown since we first added them. When we first introduced the range we weren't sure how it would perform, but I soon had customers asking about the products and realised that the shelf was looking quite empty. Customers who are vegan are very loyal, too. Whenever we promote the range on Facebook it gets a lot of shares. More people want to know about these types of products now.
Kevin: Our supplier James Hall does offer a range of meat-free and Free-from products from almost every category if we need it, but it isn't something that we focus on.
Mark: Our range isn't the biggest but we do try to give people the option and have a good selection of gluten-free, vegetarian or vegan lines. With all these things, you have to have a good turnover in other areas to justify giving them selling space. It is still a niche market for us so we have to be sensible about the lines that we stock.
Do you have a dedicated section for healthier lines?
Raaj: We don't do dedicated displays because we just don't have the space for them. Whenever you go to roundtables of retailers the advice is always to create at least two metres of space for something like healthy products. If we had room then we would certainly do that, but instead we use signposting from our symbol that clearly marks on shelf what products are gluten-free, halal, vegan and so on. This POS works really well.
Jamie: Dedicated displays work better. For example, a vegan is not like a regular shopper where they can browse the whole store. They need to have a section where they can pick up alternative pastas, breads and sauces all in one place and know that the products are different. If you create an area like this then hopefully they will buy other things while they are looking through the display. Some customers will also be surprised by the size of the range if you have it all together, which helps them feel supported and encourages them to spend more.
Kevin: You have to create a dedicated section for these types of products. If you just put a few lines in here and there then they aren't going to have the same take-up. With any category, you want to make sure the products stand out.
Mark: When we have offers running we move some products to the front of the store, but we also keep a permanent range of healthy snacks in their own section of the store, next to chocolate and sweets. We've cut down on the number of confectionery lines we have to make room for these lines, which seems to have worked well.
What areas of your healthy eating range are you looking to improve?
Raaj: I think the industry has a long way to go with healthy products and there are areas that I would look to change. Kids' sweets is one such area, but my main gripe is that the supermarkets have access to a much bigger selection of healthy lines than independents. For example, if you go onto some of the wholesaler websites and type in gluten-free then you only get a couple of products popping up. I think suppliers and symbol groups need to give retailers the opportunity to stock different products and help them adapt by sorting out their online searches. They also need to make sure that all the new and trending innovations filter through to us.
Jamie: I want to improve everything. Hopefully some of the newer fresh lines will do well and we'll look to see what else we can add to the range going forward.
Kevin: It is hard to change the perception of an independent store when people expect to come in and buy more of the unhealthy products such as crisps and confectionery. It is easier for places such as M&S and Co-op to go big on healthy ranges, because people expect them to stock niche lines. We would like to offer additional lines such as sushi but it is something that is hard to manage in terms of demand and waste. Customers also don't want to waste time looking in different stores for the same product so we can't just do what everyone else is doing in this area.
Mark: It's difficult because things that work for some retailers don't necessarily work for others, so we don't want to focus on just one area in particular. It is all about trying to keep up with all the trends by going to trade shows, seeing what's out there in the trade press and talking to our wholesaler.
How do you promote these kind of products to maximise sales?
Raaj: We don't promote healthy products in the same way we do with other lines. We have our set promotions with Londis and we want to preserve our margins with these type of lines. There is little benefit in us introducing more and more deep-cut prices.
Jamie: You don't need to promote them in the same way as other products, because most people don't need to be incentivised to buy gluten-free or vegan products as they have made that choice, or have to have those products. Obviously, we try to price the products competitively and offer shoppers value where we can.
Kevin: It can be a challenge to get the offers right because you can't always be sure how many healthy snacking bars you are going to sell, for example. It is about weighing up whether to cut your prices, so the products retail for the same price as more unhealthy lines, or go for margin and sell less product. It all depends on demographics.
Mark: Price is a big factor for healthy products. More shoppers in my stores will buy the healthier option if it is the same price as the original, but it becomes more of a challenge when these kind of lines are more expensive. People say they want to eat healthily but quite often aren't prepared to pay more for it, especially if they are on a budget or have kids and a family to look after.
What advice would you give to stores which are looking to appeal to the health-conscious customer?
Raaj: Don't be afraid to shop around and ask other stores what they are doing and what works for them. It is important to take risks and try new healthy products to see if they work out. As retailers one of things we do best is talking. That's why it is so important to ask customers about these things and see what they want.
Jamie: It's important to have a good relationship with suppliers in order to get the products you want. Suma are a good example and have worked really well for us. As retailers we also look to symbol groups for advice because they can help guide us as to what products we should stock and which will work best for a particular area. Because we are with Nisa, we also have the option to use the products that come from the Co-op Group.
Kevin: Work with your group and supplier to decide what range will work for you and what kinds of products are available. It is worth doing the research to see how much space should be given up to healthy options. You have to look out for the right products and challenge your wholesaler if you need a particular line.
Mark: You have to get your range right for your particular area to make healthy products work. Retailers are the best people to judge what their customers like and what they will buy so it all depends on that. Healthy products are a growth area so even if it doesn't work out then it is worth giving a few things a try to see what takes off.
Products
What kind of healthy products are most popular?
Raaj: One range that has done especially well is Clearly Organic wines from Londis. They are organic and vegan, but also well priced, which helps make them popular with customers. We stock both the red and white variants and the label looks smart and eye-catching.
Jamie: Healthy fresh lines and snacking products have done well. Hopefully, my brother's snack pots will also take off. We are producing them ourselves because we don't have access to those kind of products in our supply chain. It can be difficult for convenience retailers to get hold of newer or niche healthy products because we don't have the same scale as the supermarkets.
Kevin: Healthy snacking has been more successful for us. I'm going to keep an eye on that trend as well as demand for fresh products.
Mark: We have extended our healthy snacking range, which includes nuts, bars and other snacks, because these products seem to be most on-trend. The protein bars are probably the most popular lines across all our sites. We stock a mixed range from three or four of the top-selling brands.
Trends
What do you think will be the next big healthy eating trend for c-stores?
Raaj: More customers seem to be following a vegan diet. It not only works for health but it also fits with halal eating, too. I see it becoming a much bigger market for retailers in the future.
Jamie: I think the vegan trend will continue to grow. I'm excited to see some of the meat alternative products in the supermarkets coming through to convenience. I'll look forward to stocking things like the Beyond Burger within our range.
Kevin: People are starting to realise that some products that are quick and easy aren't very good for them. Of course, everyone wants something convenient, and the growth in breakfast on the go has been massive, but more shoppers are paying attention to what goes into what they eat. Exercise is also an important part of living a healthy lifestyle so more people will realise this and that will affect the products they buy.
Mark: I think fresh and natural products will continue to grow in popularity. It is part of the reason why we are looking at bringing in freshly squeezed orange juice. Quite a few retailers have done well with the dispensers and customers prefer to know the product is fresh.