Healthy snack bar brand Kind is launching two variants - blueberry vanilla cashew and honey roasted nuts & sea salt - into independents this month.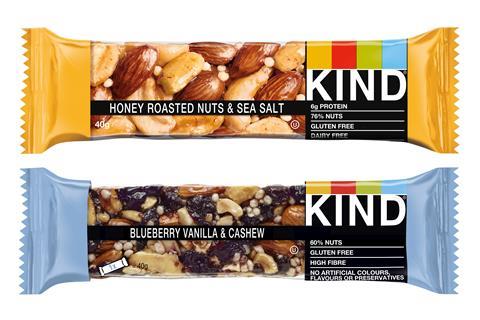 Sold in 40g singles with an rrp of £1.59, the snacks are designed to provide consumers with a convenient and nutritious snacking option made using whole food ingredients.
The new blueberry bar is made with a mix of fruits, cashews, almonds and a touch of vanilla. Meanwhille, the sea salt flavour features a blend of almonds, cashews and peanuts with honey and a sprinkle of sea salt.
John McManus, UK marketing director at Kind, said: "We're really pleased to be adding another two flavour options to our core bar range. At Kind, we're strong believers in providing a high quality product that uses nutrient dense ingredients, in their whole form as showcased in these two new additions.
"We believe our growth is a testament to the strength of our brand's ethos, making healthy, minimally processed snacks that never compromise on taste."
All Kind products are packed with protein, fibre and healthy fats; containing lower levels of sugar compared to the competition. Each bar in the range is gluten free with no artificial flavours, colours or preservatives.