The National Convenience Show at Birmingham NEC last week was buzzing with new product inspiration and lively panel debates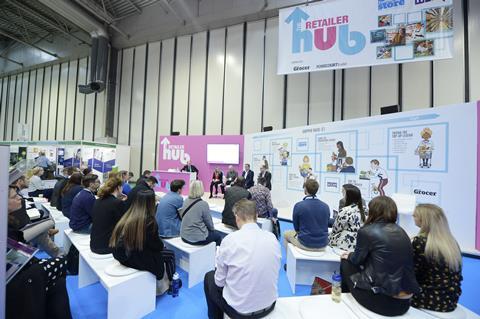 Solving the c-store plastic problem
Retailers and consumers alike were driven into plastic-reducing overdrive following the documentary Blue Planet II, noted the panel.
HIM account manager Sophie Lane said: "The plastic problem is one of those things we've known about for a while, but it's with coverage in newspapers and material like Blue Planet II that we've seen consumers moved to do something – the Blue Planet effect."
Mark Brill, VP sales and marketing at reverse vending provider TOMRA Collection, claimed 
"we are treating our oceans as a rubbish bin".
He went on: "We need a system where the public can guilt-free have their bottle of Coke or water, and a Deposit Return Scheme [DRS] can do that. There is work to be done, but it's nothing to be afraid of.
"I don't make any claims you will make money from this, but I do hope that under a well-designed system, you should have your costs covered."
Association of Convenience Stores head of communication and research Chris Noice highlighted the importance of DRS, but raised concerns over a manual system.
"We have huge concerns about manual systems, especially if you are a small store. A reverse vending is a better solution."
Fighting crime on the shopfloor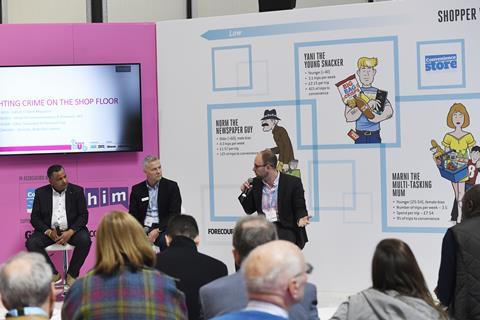 Crime against convenience retailers cost the sector an estimated £246m over the past year, according to the Association of Convenience Stores (ACS) 2019 Crime Report.
Paul Cheema, director of Malcolm's Stores in Coventry, said he had been in retail for over 30 years and the past two were the worst from a crime point of view. "We suffered two armed robberies last year, which left the business and my family down £42,000 in losses. But, put the money and the store to one side, the biggest impact is on the community."
ACS' Chris Noice added: "Paul's experiences are serious, but not unique. Reporting is very low, and when it gets lower the police say there are fewer crimes and the resources go down as a result – it is a vicious circle."
Nick Fisher, ceo of Facewatch and Forecourt Eye, pointed out that employing technology is one of the only options available to retailers. "You are better off aiming to prevent and deter crime on your premises than encouraging the government to go out and get another 30,000 police officers, because I personally can't see that happening," he added.
Snack to the future
Retailers must rise to the challenge of feeding "a nation of snackers", stated the panel.
General Mills sector controller Melanie Tucker said: "More than 90% of us are snacking at least once a day, and more than 60% snacking twice a day. Snacking is in growth by 8% and, in particular, more than 40% of people are looking for a healthier snack."
The main priority for consumers looking for healthier snacks was 100% natural ingredients, and their second priority was reduced sugar, explained HIM business development manager Kate Dunkley.
Tucker told retailers that how they segmented snacking was vital. She advised them to question consumer needs at any particular point in time.
Mondelez International trade communications manager Susan Nash added: "We see a dichotomy going on – sometimes people are looking for value, sometimes people want to trade up, so it's important to have a range that meets those needs. People have different needs, not only through the day, but through the week."
Avtar Sidhu, aka Sid, owner of Budgens Kenilworth, agreed: "You'll pick up on them buying different things at different times of day and that'll change through the week and especially at weekends where they are a lot more indulgent." He noted that there could be opportunities for snacking deals, alongside traditional meal deals.
Dunkley concurred that a snack and drink deal could help retailers to remain competitive. "If you look at the whole snacking market, the convenience sector is down 2%. Where we're seeing consumers migrate to is the likes of Prêt, Starbucks and McDonald's. Convenience needs to be able to compete with the likes of those."
Adapting to change
Core range is "absolutely vital", according to Martyn Parkinson, brand director at Premier. However, he claimed that every product must earn its space. "There is still a need for tins and packets, but what we don't need is six different types of peas. We've got to review the space and make sure that every single metre is paying its way."
Premier store owner Justin Whittaker conceded that he initially thought Parkinson was "absolutely mad" when he suggested reducing news and grocery and expanding into premium spirits at his store in Oldham. But the results showed spirits were 112% up and even grocery was 20% up.
Manchester Spar retailer Paul Stone also made some unconventional changes to cater for Chinese students at his Princess Street store. "Because we've got a young customer base who are health conscious they aren't buying a lot of bread, so we've cut back and added more Chinese grocery. The rate of sale justifies the expansion."
Londis retailer Peter Bhadal has also reduced traditional grocery at his Woodhouse store in Leeds. "We just wanted to engage with customers better, invest in areas of the store that are growing and take out slower selling lines such as ambient grocery," he said. "We expanded our food to go, took the tobacco out from behind the counter to make room for more spirits, and introduced more vaping lines."
Londis brand director Martin Swadling advised retailers to focus on making money from footfall drivers such as bakery, food to go and fresh, while also looking at new growth areas.
Meanwhile, Barry Patel, who owns two Nisa stores in Luton, has seen great success with vaping and sells 100 bottles a week. "We work with manufacturers to find out what people are moving on to," he said.
Rising trends: Vaping and CBD
With three million people in the UK now vaping on a regular basis, NCS 2019 was the place to learn about the latest trends.
"There's a real opportunity to take a category that is already growing and accelerate it," stated Juul Labs head of field sales Steve Lintott. "This will be driven by more simplistic-style products."
Juul was exhibiting its starter pack, which includes the device and flavoured Juul pod refills, while visitors to Vype's stand could learn about its new iSwitch and iSwitch Maxx devices that feature an innovative Puretech heating system.
Liberty Flights managing director Matthew Moden told retailers that the vaping market has "evolved pretty quickly" in recent years, with manufacturers moving towards pod systems and CBD (cannabidiol).
Birju Pujara, head of products at ReThink Products, said: "Lots of people shy away at the thought, but the main product in CBD is usually the hemp which is a plant-based substance that has been used in health products for many years."
Appy days
Mobile apps can boost business and potentially unlock a whole new customer base, revealed one panel.
Budgens brand director Mike Baker said: "Mobile technology for consumers and retailers is the future. It helps drive footfall, cash profit and attract new customers."
Justin Whittaker maintained getting people to visit his delivery app was the hardest part of its development: "We put a post on Facebook to direct traffic to our app. If you're not on social media you need to get on there, and get an app, because the scary thing is how easy it is.
"Instead of being able to deliver to 800 houses, now we've got a consumer base of 4,000 to 6,000. We've listed 300 to 500 top-selling skus and the average customer spend is £21 on the app, and we've even had one customer spend over £1,000 in total."
Changing tastes
The trend towards plant-based products is affecting shoppers' choices, and the opportunity for retailers goes beyond traditional product categories, claimed the panel.
"Changing tastes mean consumers are looking for things like healthy protein and low-alcohol options," said Blonnie Walsh, senior insights manager at HIM. "Whereas older customers see being healthy as cutting down on sugar and fat, younger people are much more looking at vegetarian and vegan diets as a way to stay healthy."
Phillip Banfield, founder and managing director of Venturefield, agreed. "The biggest trend for retailers is health and people being concerned about the products they are eating," he said. "My kids aren't even teenagers yet, but I'm amazed at how they study the back of packs to see what's in them."