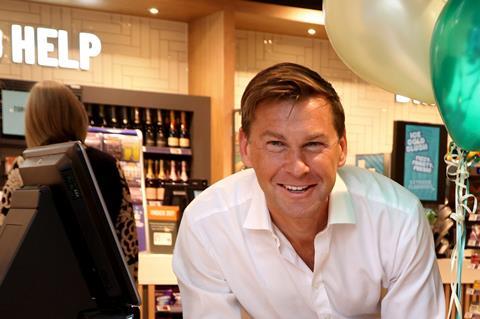 Long-time Budgens retailer Guy Warner explains why he has taken a new direction for his business by partnering with Morrisons.
The first Warner's Budgens Supermarket opened in the picturesque village of Broadway in 2006, before expanding across the Cotswolds as customers lapped up the group's dedication to top quality local produce. By 2016 Guy had purchased a sixth store, extending his contract with Budgens for another three years.
In 2019, he sold four stores to Midcounties Co-op, but had every intention of remaining in retail and staying with Budgens, setting his sights on a further three stores, one of which was Upton-Upon-Severn.
However, he claims that the symbol was lacking in range for a larger store and so Guy partnered with Morrisons as part of a new concept for stores over 3,000sq ft, called 'Together with Morrisons'. He has now changed the company's name from 'Warner's Budgens' to simply 'Warner's'.
Guy claims that range was the big driver for choosing Morrisons. "The store in Upton-Upon-Severn is 6,000sq ft and ultimately we needed a range that would adequately fit that profile of store. There isn't another bonafide supermarket for six or seven miles in any direction so we knew that the range needed to be one that could do the job and Morrisons was the partner that we felt best fit that brief.
"If I'm being really honest, I think since Musgrave sold the [Budgens] business to Booker, the range for bigger stores just hasn't been as strong. I don't think that's something that has been a surprise to us because Booker told us quite early days that 3,000sq ft and below was where ultimately they saw the range and for us with larger stores it made filling out the box with a credible range harder and harder."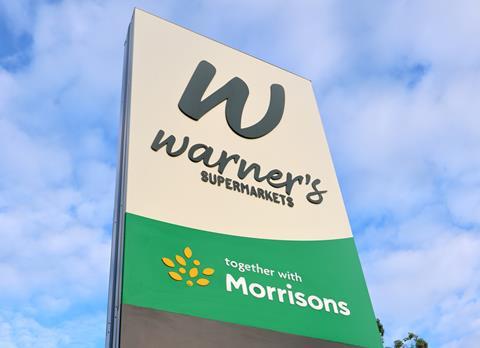 The strength of the Morrisons brand was another big draw. "Morrisons is one of the big four stands for supermarket. For us, the two things collided as a perfect partner proposition - we've got the brand strength of Morrisons and the range to fill a bigger store. As an independent, that was very attractive."
Warners has established itself as a champion of local produce over the years, and as part of the Together With Morrisons partnership, the store is able to stock an impressive range of local lines. "We weren't having to give up our DNA as it were, our independence and our championing of local food," Guy explains. "To me it was the best of both worlds because we were able to have the range and the brand of a very established supermarket, whilst being able to do what we do as an independent retailer with local foods, driving the USP and customer interest on things that you wouldn't typically find in a supermarket, which is where we've found great success in the past and why we're continuing to do it now. At last count we're working with 71 local producers and we've got north of 700 local lines in the store."
Although opening the store has been stressful, Guy is clearly delighted to be embarking on such an innovative project. "In the last week, there have been many points where I've been thinking 'what am I doing?'" he laughs. "But for whatever quirky and strange reason, I think that if you're into retail and convenience retailing, there is something you love about it.
"When we sold the stores I never thought that was it at all. I genuinely enjoy it. It has been a challenge for everybody over the last couple of years, but I don't think not wanting to retail has ever been something I've considered because I'm excited about the opportunities we've got."
He thinks that being associated with Morrisons will be especially useful given the current economic situation. "I think the partnership with Morrisons in a time when there is a cost of living crisis has strengthened our hand," he says. "Morrisons has the range and pricing credibility that I haven't had before and that is a positive in the environment that we find ourselves in overall in terms of the economics and inflation."
Whether Guy's existing Quedgeley or Tewkesbury stores will remain with Budgens is unclear. "We haven't really moved past Upton-Upon-Severn - we've been focussed on that store for the past 12 months. It's a store I've been looking at for almost 10 years in terms of location. It's very early days, we've been open six days, so we've not come out of what we've done in terms of headspace, let alone look at what we may do, but I know that the relationship we've got with Morrisons in that particular type of store is only for larger stores. The criteria as I see it is you have to be larger than 3,000sq ft."
Guy also has two more sites that he is set to develop: a 3,000sq ft site just outside Cheltenham, which he's looking to develop later this year into early next year, and a 4,000sq ft site in the Cotswolds. "They're new build sites," he explains. "The Cheltenham one is half built, the other is yet to be started." He declines to say whether the sites would come under the Budgens fascia. "We haven't got a plan for the proposition of those stores," he says.
But he is extremely positive about Morrisons' convenience offer and what this means for the sector. "Five years ago an independent really only had symbols to choose from," he says. "Today, we look at a world where, whether it's the Co-op, Nisa with the Co-op, whether it's Morrisons, or dare I say Booker where they're actually owned by Tesco, the independent actually is in a far, far stronger place."
He claims that the market shifts have opened up vast opportunities for independent retailers. "It means their ability to trade successfully in today's market is far more relevant and apt than it potentially would have been if we only had the symbol groups to choose as wholesale partners," he says. "I think more wholesale partners makes the environment more competitive, which has got to be good in terms of wholesale to us in the independent sector."
However, he claims that independents can only have successful partnerships if they maintain their own integrity. "Just having a retail partner is not going to magic your world right, you've still got to retail, you've still got to deliver that excellent customer experience, otherwise you're throwing away all of the unique selling points we have as independents."
He is confident that he has got the balance right at his new Upton-Upon-Severn store. "The feedback we've had early doors is that it is resonating [with customers] - the fact that they can come shopping and buy local foods along with their everyday stuff. It's not a matter of either or, people want both - they can pick up a packet of local sausages, but equally pick up a loaf of Hovis bread priced well and mix their shop up how they want to. That's what we try to do and I think what we're doing now is enabling us to do that more credibly."