The week before Christmas Gloucestershire retailer Harj Dhasee experienced the hellish scenario every retailer dreads when a member of staff tested positive for coronavirus. Of course the infected employee had to isolate, but Harj also had to send home anyone else they had been in close contact with, which proved problematic as he admits he had taken his eye off the ball when it came to staff social distancing. "We just started slacking to be perfectly honest," he says. "We'd got lazy with staff members social distancing.
"At first we were really hot on it - making sure everyone was working in bubbles; social distancing; when someone was working in an aisle they were the only person on that aisle. But it became relaxed and we all started taking it for granted and it's not until it actually affects you and your business that you actually think 'sugar!'"
Unsure of exactly what to do next, Harj turned to his retail peers for help. "The best person who gave me advice was Mital Morar from Ancoats General Stores in Manchester - he sent through everything I needed to do," he says. "He's been through it two or three times so he's come up with his own policies and procedures. Mital was absolutely brilliant - he explained I had to have everyone tested and get the store deep cleaned. He was a guiding light."
Harj arranged for the rest of his team to be tested, and organised a thorough clean of the store. Fortuitously, an effective way to disinfect the site was close at hand. "We helped our local village hall pay for a fogging machine, which sanitizes everything," says Harj. "The Parish Council gave us access to that so we closed the store that day and deep cleaned it and made sure we were fully prepped for the opening the next day."
Staff shortages
The advantage of having three stores was that Harj could switch staff around to cover shortages. "We made sure everyone who was working the next day hadn't had contact with the person testing positive. We were very fortunate, we had a couple of part-timers who were able to come in and do more hours. We also pulled staff from other stores. It was a bit of a juggling nightmare, but we just went through the whole process and got everything sorted."
"It sure gave us a kick up the backside!"
In total, three members of staff tested positive, and all have made a good recovery, but the experience motivated Harj to overhaul the store's approach to covid safety. "It sure gave us a kick up the backside! We are now a lot more proactive in keeping hands, face, space [front of mind]," he says. Harj has set up a number of procedures in order to reduce the risk of staff catching and spreading covid. "We've set up [staff] bubbles now and found different ways of working to limit our risk as much as possible," he explains. "We've split two of our assistant manager supervisors in half so there's a morning team and an evening team and we don't crossover. Before, being busy with delivery days and all the rest of it there was crossover."
He has since retrained staff in social distancing. "We've put all of those practises back in place - making sure that people are working away from each other, there's hardly any crossover of staff. When shift changeover happens, people are leaving, sanitizing their workstations and everywhere they've been, moving out of that section and stepping out into the yard before the other person takes over."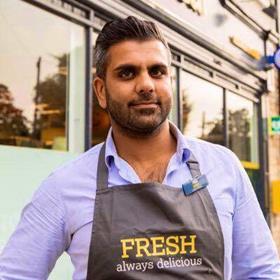 His actions have been well-received by his team. "The staff have started taking it more seriously, which is good. Obviously there were concerns and worries coming up to Christmas, but staff are happy with the way in which we handled the situation," he says.
He explains that he wasn't concerned about customers thinking badly of the store. "We weren't worried about having negative PR," he says. "We looked at it as a positive thing that we are acting as responsible retailers, as we'd had the scare we don't want to be causing the problem to be carried on, and we did everything correctly. We acted quickly, shut the store down. It shows reassurance that we were trying to do that."
Harj urges other retailers to take covid seriously and maintain social distancing in-store whenever possible. "My advice is not to start slacking. Give people areas and work stations that they limit themselves to. We're also now introducing a tick box sheet everyone ticks to say they've checked their temperature; they haven't got any symptoms; and they haven't been with anyone who could have. If they have a cough or sore throat, anything like that would be an instant 'do not come to work', and you have to let us know before your shift."
In a further bid to keep his staff safe, Harj is keen for them to have the option of getting vaccinated. He believes that retail workers should be prioritised for covid vaccinations, which is a view shared by many in the industry.
A petition calling for retail workers to be given priority access to the Covid-19 vaccine has been set up and currently has over 36,000 signatures.