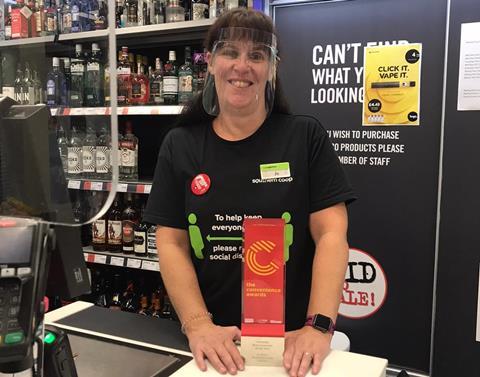 Unveiled at The Convenience Awards 2020, Jo Bate of Southern Co-op Lenham beat some tough competition in the category to be named Sales Assistant of the Year. The judges for this award were particularly impressed with how Jo has built up such a great relationship with the store's elderly customer base and how she brings a calming influence to every situation.
ConvenienceStore.co.uk caught up with Jo to discuss her win and how things may have changed since the virtual ceremony took place in September 2020.
Jo said she felt overwhelmed by her win. "I've never won anything before. I was so happy and excited and sometimes I'd wonder what made me win when all I've done is just doing my job which I love."
Jo explained how the store and Southern Co-op promoted her win. "My winning story went into the local magazine, the Lenham Focus, which was read by a lot of our customers who came in to congratulate me and they are still doing it now. There is also a poster in the window of the shop about my win thanks to the Convenience Store Awards and Southern Co-op told lots of colleagues in the business too as well as on social media. There were lots of lovely comments from my customers on Facebook."
While modest, Jo says her love for her job was probably what attracted the judges to her entry. "I think what set me apart was the fact that I do love my job and all the customers know I do. They always say I'm always happy and smiling and that's just because I love my job. It's made me like that because I live in the village where the shop is so it's easy for me to want to help our customers who, many of them whatever their age, have become my friend.
"I think I have the ability to get on with any age group. For example, there is a lovely lady who is 80, who I did her weekly shopping for her while she was isolating, and there's a young three year old lad, who wants to come into the shop every day with his dad to say hello to me and will only come to my till to be served."
Charity work
Not one to rest on her laurels, Jo has upped her charity endeavours in the community. "I love being in charge of our charity and wanting to raise money for them and do fun things for the customers to do that. This Christmas I raised £273 for our charity partner by doing a competition to win a Christmas hamper. It was so popular, we did two hampers. We also ran a 'guess the name of the elf' and a colouring competition for the children.
While she's a celebrity at the store, Jo insists nothing has changed for her on a day-to-day basis. "I will always be smiling even behind the mask and I'll always be there to help all our customers. Even though things have changed drastically with Covid-19, I will always be happy behind the till and probably even more so because for a lot of people, mostly the older generation, their trip to our shop is their only trip out that day or even week and so having a chat with me could be their only chat for a while. So I'll make sure their trip to our shop is full of chatter for them.
She encourages anyone considering retail as a career to give it a go. "If you love being with the public then this could be a good job to do."
So what's next for Jo and the store? "I'll just carry on what I'm doing and I'll carry on raising money for our charity."
If you think you could be the next Sales Colleague of the Year, The Convenience Awards 2021, brought to you by ConvenienceStore.co.uk, The Grocer and Lumina Intelligence, are now accepting entries. Enter here now.