Shopper trends are evolving as fast as ever, meaning retailers and symbol groups are having to revisit their whole offer to remain relevant and sustainable. Here we look at some of the latest versions of a modern c-store.
With rapidly changing consumer trends and shopping habits, a tide of new legislation and the inexorable rise of online shopping, the strategy behind store design and formatting is evolving with a new urgency in the convenience market.
But what are key building blocks that come together to create a modern store that is relevent to today's consumers? Firstly, the growth of food to go is well documented – HIM predicts that annual food to go sales in the convenience sector will increase by £500m in the next three years – while the likes of on-trend categories such as free-from are transforming from niche to mainstream practically overnight. As for grocery, with the multiple grocers and especially the discounters focusing on price, many retailers simply can't afford to compete on the mainstream offer, especially given the rising cost of overheads.
With so many factors at play, it is no surprise that the leading symbol groups and independent retailers are regularly updating their core models – depending on demographic and location.
Spar Scotland recently launched its first 'urban transient' store in Havannah Street, central Glasgow, with a strong focus on food to go and foodservice.
The store features Spar's Daily Deli range, with a fresh menu of food to go as well as a self-serve chicken bar from lunchtime onwards, plus hot breakfasts available for students to grab and go. There is also a substantial self-serve food-to-go offering, with a range of hot and cold products such as F'real milkshakes, Skwishee, Costa Coffee and Dots doughnuts. "We're looking at how we're formatting across the Spar estate," says Spar director of formatting Ian Taylor. "Grocery is becoming challenging in urban stores and foodservice is key for the transient mission."
Meanwhile, the Co-op Group, largely synonymous with a traditional grocery offer, is currently trialling an 'On the Go' concept store in America Square in London following the format's launch at Manchester Piccadilly station last year – with a second in the capital due to open in a couple of months.
To date the America Square store is performing above expectations, says Peter Batt, the Co-op's divisional managing director food retailer operations, south. "Our strategy is now to become the UK's biggest convenience operator – and food to go will be 40% of convenience growth in the next few years," he adds. "Our biggest competition in urban areas is now Eat, Prêt and other food-to-go outlets. We'll look to reformat existing urban stores on that basis."
In addition to the emphasis on food to go, the store also features extended ranges to appeal to health-conscious shoppers, vegans and vegetarians. "Historically it used to be sandwiches. But customers are looking for more than that, especially with the onset of free from and gluten-free," says Batt. "Now lots of people only eat twice a day – a mid morning snack or brunch, and lunch which could be salad or a falafel - something different to the core sandwich."
Simply Fresh ceo Tim Chalk says c-stores that update their offer to meet the fast-evolving market will thrive – otherwise, the alternative is stark. "On the evolving urban store, clearly the old mainstay of sales and footfall was cigarettes and media. With both declining, due to very different reasons, stores in the UK and indeed around the world are having to evolve their offer and most bets in every market are on fresh and ready-to-eat food," he says.
"The operational skillset and level of investment is very different, though, and takes a very different approach. However, I believe that those that embrace it will grow and prosper. Those that don't will slowly die, as like-for-like sales declines will strangle the bottom line in a rising cost environment."
Chalk points to Mital Morar's new Simply Fresh Foodhall in Stretford, Manchester as an example of where the market is heading. "It is an exciting combination of a convenience store and expanded seated dining with great food options."
With the coffee shop/ bar area accounting for 60% of sales, Mital describes it as a social space. "The advantage of having both sides of the business is that people gather here, have some coffee or a beer, and the retail space is just there," he says.
Paul Stone, who owns a number of Spar stores across Manchester, is also impressed by Mital's Foodhall – as well as the new Spar store in Havannah Street, Glasgow. "These things are top of my agenda. For stores around 3,000sq ft in size, it's all about foodvenience – the merging of foodservice, on-trade and convenience. We haven't done anything yet with on-trade, but when we relaunch our Charles Street store we might."
High-margin food-to-go products are also key, Paul adds, such as coffee, Tango Ice Blast and freshly-squeezed orange juice. "We make £800 per week on freshly squeezed OJ, on nearly 40% margins," he enthuses.
He has given more prominence to these self-serve food-to-go units in the front of store – and has completely removed magazines in his Princess Street store. "Only one customer commented out of 12,000 a week. We've put in ice cream in their place, and are about to put in F'Real milkshake and Tango Ice Blast. It is like a dessert area now."
Paul asserts that, if feasible, luring the premium customers is the way to go. "Anyone can give it away! My theory is that young customers don't drink much alcohol, so their beer money has to go somewhere else, such as on premium soft drinks and food to go."
Spar's Taylor says coffee and food to go should be located up front in urban stores. "The future is foodservice, and on trade. Shoppers can get their meal from a counter and sit down with a drink. You've got to have charging points too, as more people are working from home."
Dan Cocks, whose Premier Whitstone store is located on the north Devon/ Cornish border, has proven that the shift to foodservice also applies to rural areas. In 2017 he re-opened his store with a café and lounge bar, including barista and seating.
"It's been a journey of discovery over the past two and a half years. We've made it into a community hub, we've got a bar and seats," he says. "It didn't have the immediate uplift in trade we wanted, but sales have risen – and margins are much better. We went from a coffee machine to a barista which immediately triggered sales growth because we're making coffee as people want it. Retailers should really explore on-trade and coffee."
He believes the requirements of shoppers have changed – and that retailers need to completely revisit their offer. "People's lifestyles and behaviour have changed. Customers' tastes are becoming more discerning, whether you're in a rural or urban area," he adds. "Stores get stuck in a trap that they've got to stock everything. I don't have endless varieties of tomato sauce, I only have one now. But we've got to have margins."
A place for grocery?
The High Street still has a future if you give people what they want in the right environment, argues Mital. "So here [Stretford Foodhall] we have some everyday products but also premium, organic, vegan and refillables, and a social space."
Nick Kenworthy, sales director for South West Spar distributor Appleby Westward, adds: "There's an element of traditional grocery that's redundant. But it doesn't mean you replace grocery, you just make sure your range is appropriate to your consumers. Stores should offer the core elements of convenience and sweat the ones that'll make the difference."
Dan says products and categories are coming from nowhere to being convenience essentials within just a few years. "Free from has now become mainstream. It used to be niche, we stocked it before the supermarkets did. Now you've got to have it as part of your core offer. It's gone from specialist to a distress purchase," he says.
Bestway Retail, owner of the Bargain Booze, Select Convenience, Central and Wine Rack brands, is currently identifying what customers across its estate want as part of a three-month review. "I don't know if we'll end up with four or six formats, but we'll end up with a mission format approach," says chief retail officer Andy Cresswell. The review, due to complete at the end of August, will provide data-driven analysis of every store's customer base.
For Costcutter, data is fundamental. Its Shopper First programme provides retailers with data on their local demographic so they have the insights to adapt their offer accordingly. "With Shopper First we learnt to put shopper missions at the forefront of formatting," says director of marketing Sean Russell. "What we've proven is that retailers are able to grow sales by approximately 20% by focusing on missions for their demographic. If a retailer wants to profit they have to put insight and data at the forefront of their thinking."
For Costcutter retailer Peter Patel, Shopper First was about "drilling down" to the right offer for his shoppers. Located near Brockley train station in south London, his store focuses on grocery and meal for tonight – with some crucial points of difference – proving that independents can still cut the mustard with grocery, if tailored to the demographic and location. "We tried foodservice with Spar, but it was too labour intensive," he points out.
Last year, when Peter converted from Spar to Costcutter, he conducted a survey which revealed that both existing and potential shoppers wanted more local produce in both depth and breadth; promotions; and a more extensive vegan offering. These findings were supported by the Shopper First: Drive Five to Thrive insights, which showed that local shoppers do a top-up shop up to three times a week and are on the lookout for healthy, easy dinners with fresh produce.
The store was completely refreshed and remerchandised to create more space for fresh and chilled produce, a specialist BWS offering and a comprehensive vegan range, which he says the store has become well known for. He also supplemented his mainstream brands with beer and wine sourced from local suppliers.
Weekly sales are up by 34% and basket spend from £5.50 to £6.66. "We're following the trends: vegan, craft ales and plastic free, with the likes of loose fruit and veg and recyclable packaging," says Peter. "We've also just introduced a Dr Slush machine – we chose them as they're really big on Facebook.
"We're cutting back on tinned grocery and the traditional CTN part of the business – we've just cut back on magazines, reducing them from two bays to a spinner – and sales have even increased."
However prominent a store's grocery range, fresh is now the sales driver, as many retailers have testified. The Co-op's Batt says that the dominant customer feedback at the new On the Go store in London is that shoppers want "more range on the fresh side". In terms of ambient grocery and non food, the Co-op's overall strategy is to scale back. "We will absolutely cut back. Every facing has to justify its fixture. It's challenging on ambient but the reality is fresh food is so important."
Peter Patel asserts that plastic reduction will become increasingly influential to store formatting – and C-Store has reported on numerous retailers who have installed refill stations to accommodate rising demand in this area.
"There will be fewer and fewer packaged goods – it'll be more about refill dispensers for dry food and non-food. We're about to introduce Ecover dispensers in store," he says.
Selling milk in bottles is also a viable plastic-free solution – and a way to bring customers back to your store, Dan says. "Offering things like milk in glass bottles creates a link to your store as people return with their empty bottles. You need to be a portal – offer services such as dry cleaning, then people can come in, have a pint, buy a lottery ticket, get a takeaway, and so on."
Ultimately, diversification is the key, he asserts. "A local pub has just closed up the road – it goes to show that anyone doing only one thing is struggling nowadays."
Mital concludes on an optimistic note: "Conveneince stores are the lifeblood of the country, we just need to evolve them to give people what they want, how they want it."
Revisiting the back wall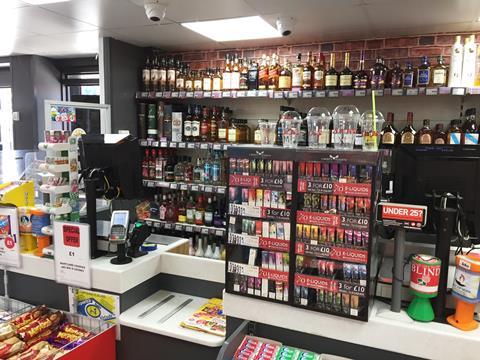 Spar head of format Ian Taylor says the behind-the-counter space is "one of the most interesting" aspects of store formatting, now that tobacco is increasingly being stocked in draws or overhead gantries. "It frees up the whole of the back wall," he says.
Manchester Spar retailer Paul Stone believes that vaping and premium spirits are the way to go in the behind-the-counter space, highlighted by LED lighting. "If you can put the other spirits on the shop floor, do it – sales will double, even if you have the odd bottle of vodka nicked," he adds.
Costcutter retailer Peter Patel recently put medicines on the shop floor with a positive impact on sales. He stocks premium spirits behind the counter, and is about to add vaping in the space where batteries are now.
However, Appleby Westward sales director Nick Kenworthy says the group has put vaping products on 'free flow' in recent store revamps so customers can "browse the products where they're not behind the counter".
This is clearly an area worth giving some thought to, and potential legislation on restricting the promotion of "unhealthy" foods could also influence what can be sold in the counter space.
Quench the thirst for plastic-free water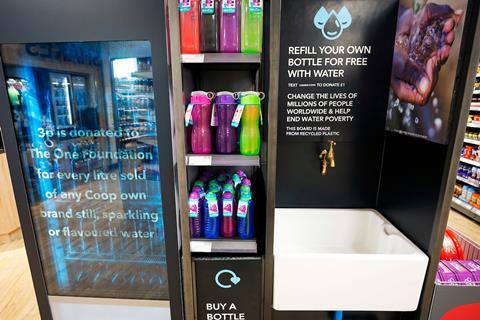 The Co-op Group's Peter Batt says that over a two-year period plastic has become a key issue that its members and customers are concerned about.
Its Manchester Piccadilly and London America Square On the Go stores have free water refill stations which have gone down a storm among shoppers. The Co-op is looking to further roll out the concept to other sites, starting at the upcoming Baker Street store in London, where the refill station will be front of store. "Our young customers are asking about sustainability all the time," he says. "We want to roll it out to a lot of stores – the challenge is about space."
Spar retailer Justin Taylor has also just launched a water refill station at his Somerset store, in a move he has described as "inevitable".