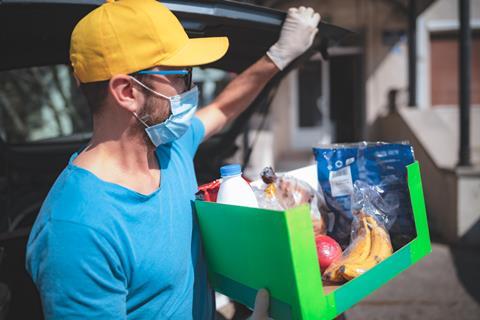 Delivery and staff safety remain two of the main focuses for convenience retailers as a new lockdown takes hold.
Lockdowns have been announced in all parts of the United Kingdom, resulting in school closures and people being urged to remain at home where possible.
Similar to the lockdown that began in March 2020, more people will be working from home and with reports that major multiple retailers were struggling to keep up with demand for deliveries, the convenience channel has to step up again. However, this time around, retailers say they are better prepared for this lockdown.
Simply Fresh in Inkberrow took to social media to explain to its customers how it is dealing with this lockdown.
Online delivery growth
Sunder Sandher of One Stop Leamington Spa in Warwickshire is one of the retailers focusing on deliveries during this lockdown. "I'll be concentrating on deliveries during this lockdown as they're already getting busy. We spread our delivery options across various platforms including Deliveroo, Uber Eats, Snappy Shopper and social media."
He's also introduced measures to protect staff such as closing an hour earlier than usual to give them more time to recuperate after a busy day.
Amrit Pahal of Nisa High Heath is another retailer who has been preparing for this situation. "We're on it but this time our focus is to promote calm stability and focus on our delivery service. We've put things in place for a huge surge in delivery demand and have extra drivers at the ready should they be needed."
Recent analysis from Lumina Intelligence reported that 70% of consumers intend to use online delivery services more in future. This has been driven by social distancing, with two out of five consumers citing this as the reason for using online delivery.
Staying at home
Not all retailers are experiencing a surge in footfall. Rav Garcha of Nisa Local Broadway in Worcestershire reported that it was very quiet in his store as people in his area remained at home. David Wyatt, owner of three Costcutter stores in West Sussex, said it would be business as usual for his stores. "We're basically in lockdown all the time regardless of what tier we're in so it's just constant management. You've got a shop you've got to manage with social distancing and hygiene measures in place for customers and staff, and it's important to keep consistent with that for everyone's safety."
Community support
Meanwhile Amit Patel of Premier Town Street Sandiacre has reinstated free lunches for school kids to help support those who may be struggling while the schools are closed.