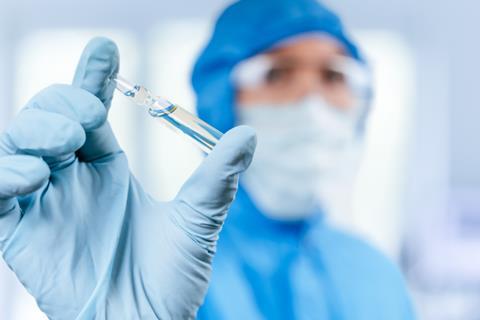 There is growing frustration within the convenience retailing community that shopworkers are not being given priority for the coronavirus vaccine.
Mike Worral, who owns Dallam Stores in Warrington, took to Twitter to voice his concerns, claiming that food retailers were "not frontline at all" when it came to receiving the vaccine. His views were backed by some of the UK's leading retailers including Amrit Singh of Nisa Local High Heath in Walsall, St John's Budgens owner Sid Sidhu in Kenilworth, Sophie Towers of Kibble Bank One Stop in Burnley and Sandeep Bains who owns Simply Fresh Faversham in Kent.
Wow! Food retailers and retail workers were and are front line to provide that very basic essential for living but when it comes to vaccine they're not front line at all!!

— Mike Sohal (@DallamStores) January 4, 2021
Mickleton Village Stores owner Harj Dhasee had to temporarily close the shop for a brief period last month due to staff members testing positive. "I think everyone in retail should be given the option for a vaccine without a question of a doubt," he says. "NHS staff should definitey come first and then it should trickle down to everyone who faces the public on a regular basis and if they want to be vaccinated they should be put on the priority list."
Retail workers trade union Usdaw is calling for the government to ensure that frontline retail staff are prioritised for vaccination and Covid testing, along with full pay and support for those who are ill, self-isolating or shielding. The union is also urging retailers to reinstate and reinforce necessary safety measures in shops and for customers to follow the rules, while giving shopworkers the respect they deserve.
Usdaw general secretary Paddy Lillis says: "Retail staff are working with the public every day and are not only suffering increased abuse, but are also deeply worried about catching Covid-19. That must be taken into account by the government when assessing risk levels and priority for vaccines and testing.
"We are calling on the government to ensure that retail workers and delivery drivers are given priority, because they provide the essential service of keeping the nation fed. We are also looking for support from the government, retail employers and the shopping public to help make food stores and deliveries as safe as possible for customers and staff alike."