With numerous convenience business models now centred around food to go, food safety training has become an even greater priority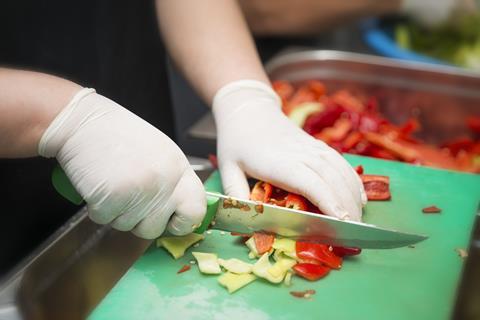 Food to go's meteoric rise has been central to the evolution of the convenience sector, and its success only looks set to continue as time-poor consumers head to their local shops for all manner of munchies, from sandwiches and samosas to pasties and plant-based protein patties.
Convenience, forecourts and 'other retailers' are already generating £2.9bn-worth of food-to-go sales, and this is expected to grow to £3.8bn in 2024, according to IGD research.
"Convenience and food to go are increasingly intertwined, as food-to-go success becomes increasingly critical to the prospects of most convenience stores," says Rhian Thomas, head of shopper and Food-to-Go Insight at IGD.
And as retailers expand their food-to-go (FTG) offering, food safety training has never been more important.
"The growth of FTG has meant retailers have had to re-evaluate in-store operations if they are looking to reap the benefits," says Louise Sui, managing director of CPL Training. "This means reviewing the type and level of training being provided to team members. Those who have responsibility for the preparation, storage and retail of food-to-go items need to be trained to the appropriate level."
Failure to do so could put the safety of your customers at risk, she warns.
"If you get into trouble and haven't followed the rules you will end up on the wrong side of the law"

Kay Patel, five Global Food & Wine stores, London
The FTG fixture at Kenninghall Stores in Norfolk includes locally-produced pies,sandwiches and sausage rolls, alongside a hot bake-off cabinet, and owner Mike Humphreys isn't taking any risks. "Without staying on top of it, your entire business can go bust. If you get into trouble and haven't followed the rules you will end up on the wrong side of the law," he says.
The pressure is also on for Kay Patel, who owns five Best-one and Global Food & Wine stores in London. "We have a café on site, so food safety is more critical here than ever. It is very important to keep on top of, because it is vital to not get it wrong."
Richard Inglis, who owns three Welcome Co-op stores in Southampton, agrees that training is central to his business. "For us, food safety training has always been an important part of our training processes. We have been doing one form of FTG for nearly 20 years now. In the past few years, with the recent food allergens cases in the news and courts, it has shown just how important an issue this area now is."
So just how exactly are retailers keeping their staff clued up?
"At the moment, my staff are doing the new Premier profile training," explains Mike. "It is a programme that has been issued to all Premier retailers that gives you food safety training, alcohol training and a couple more different programmes.
"Staff can go online or even do it via their phones and you have a record of it, which is great. It is a good course all round, as it not only trains your staff correctly on food safety and hygiene and so on, but it keeps a log of it for you.
"It covers all the basics and legalities of everything. It has only been available for a couple of months, though, but so far so good."
The training is being provided through a partnership between Booker and CPL Training. CPL works with both symbol groups and individual retailers across the sector.
"We offer various options when it comes to food safety training and we will work with a retailer to deliver the best training solution for them," says Sui. "From face-to-face accredited Food Safety in Retail courses, to tailored food safety and allergen awareness e-learning, we provide a wide range of blended learning options that will suit our customers' needs."
Like Mike, Richard also relies on his symbol group to assist with training. "We are lucky in that our franchise partner Southern Co-operative runs regular training courses for staff which are included in our franchise fees," he says. "All I have to do is pay for staff transport and their time.
"They normally run monthly courses, but will run an extra course if required. They really make the process easy and the courses are targeted at convenience stores, so I know that my staff are getting the best training possible."
Over in London, Kay opts for in-house training. "We choose to teach our staff ourselves, as we are capable of doing that here," he says. "There are a few key members of staff who deal with the bakery that have been out on and still occasionally go out on food hygiene and food safety courses, but that is largely the bakery team."
All on record
Aside from the obvious benefits of keeping customers safe from food-borne illnesses, food safety training also gives retailers peace of mind that they have done all they can should there be any problems.
"While it can seem like an effort, it is always worthwhile making sure that your staff and yourself have done all the appropriate training and that you have evidence of that," says Mike.
"Say you come across an issue later down the line, like you find something out of date, then knowing your staff have done the training means you know that 99% of the time that they are in the right. Training means they will do things by the book and correctly, and if you can prove that, then it stands you in good stead."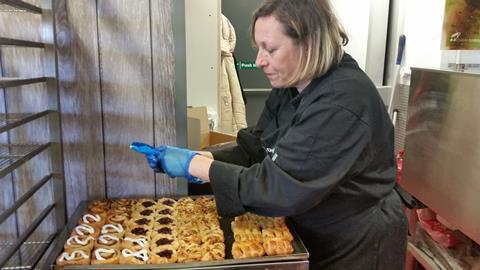 Richard claims that following best practice gives him confidence in the food his staff are producing. "I believe the need for good record- keeping has become more important than ever," he says. "Training is the one side, but now you really need to be able to prove that you have the records from a legal point of view."
In simple terms, you are making and handling a product a customer will be eating and you absolutely want to have confidence in your product. It needs to be of a high standard, as if it is not, it should not be on sale in any case."
Richard's efforts are clearly paying off as all three of his stores have laid claim to five-star Scores on the Doors ratings. "All of my stores have a perfect five-star rating and I would be seriously unhappy if we dropped below this at any time," he states.
"I really believe this is a key area that customers look at. Would you want to buy food for your family from a place with a one-star rating?"
Five-star billing
Mike agrees that a poor Scores on the Doors rating can spell trouble, but by the same token a strong score is a valuable asset.
"The scores on the doors are really very important," he says. "Customers seem to appreciate when a store is up there for food safety – they love it. We have a five out of five and we make sure everybody knows it by putting it front and centre on the door."
Sui concurs that a high score can play a critical role in helping businesses to win (or lose) custom. "It can improve your reputation, increase customer confidence and even be the deciding factor if a customer chooses you or a competitor," she says.
"In a study conducted by operations management technology platform Checkit.net, 61% of consumers said they wouldn't eat at any establishment that had a food hygiene rating of two or below. It reflects the quality of the product the customer is likely to receive."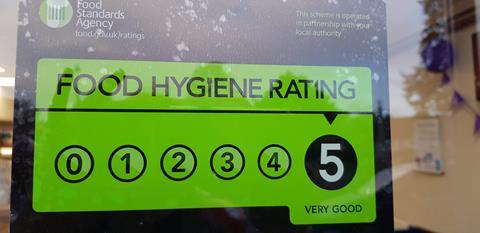 Kay is also of the opinion that good scores help give stores the edge over the competition. "If you do offer a range of food-to-go items in your store, then you're probably going to want to be signed up to Deliveroo, Uber Eats, Just Eat and so on, and they will want to display your food safety and food hygiene ratings on their sites," he says.
"In terms of customer importance and customer response, we display our ratings on the door to our stores. We are more than happy to do that, as we have all five out of five, with just a newsagent with a four."
Despite all the positives to be gained from food safety training, there are still hurdles to overcome. "The biggest challenge for us, and what I imagine a lot of other retailers face, is continuing to refresh and keep up to date with it," says Mike.
"Keeping what they've learned in the forefront of their mind is key for staff."
Kay also finds it tough to ensure everyone is up to speed. "In terms of challenges that we face, it is just staff turnover," he says.
"Where we are as a business, in terms of store size and so on, a huge staff turnover can be costly. It is time consuming to train staff, even if you offer in-house training like ourselves – to get into their head things like hot holding, how long you can keep certain things out and so on.
"We always make sure that one or two of our longest serving staff are available, as they are often the ones we choose to send on courses or just already know the most about food safety."
Sui urges retailers to remain disciplined with food safety training. "The majority of responsible c-store retailers are very good at having a food safety training provision in place. However, there is always the potential for things to slip."
There are several practices that can help to ensure you stay on top of things. "Completing a food safety audit is a great way to see if you have any areas that may require your attention," she states.
"Having a member of the team appointed to champion food safety is a great idea and one which has many benefits. They can ensure that processes are being followed, standards are maintained and can even assist in training team members. It may be that this person is trained to Level 3 standard so they can have a more in-depth understanding of food safety principles."
Richard is a fan of giving staff such responsibilities.
"Convenience store retailers can hugely benefit from appointing a member of staff to champion food safety," he says. "In our stores each staff member is given charge of set areas of the business, as well as their normal duties.
"We have always found this to be a good way to control store standards, the key is to put the staff member in control of areas they enjoy or have a passion for."
In conclusion, Sui states that food safety training is of vital importance to all convenience retailers. "It's not just about ticking a box to be compliant," she says. "Training will provide your team members with the skills and knowledge required to deliver the best standards and service to your customers. A safely-run and hygienic store will provide your customer with confidence in shopping with you."
Make sure you are ready for Natasha's Law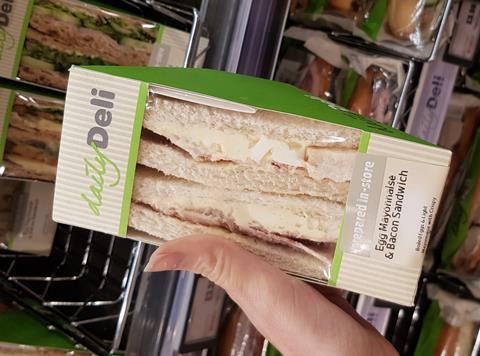 In addition to Food Safety Level 2 and HACCP training, retailers now need training in allergens in line with new legislation which will come into force on 1 October 2021.
Following the tragic death of Natasha Ednan-Laperouse, the teenager who died after suffering an allergic reaction to a Prêt à Manger baguette, 'Natasha's Law' tightens the rules around allergy labelling. Foods that are pre-packed directly for sale (PPDS) will be required to clearly display on packs the name of the food and a full ingredients list, with allergenic ingredients emphasised (for example, in bold, italics or a different colour).
As there is no legal definition, the current Food Standards Agency's interpretation for PPDS is that it applies to foods that have been packed on the same premises from which they are being sold. Food that can fall into this category could include meat pies made on site and sandwiches made and sold from the premises in which they are made.
It is expected that the customer is able to speak with the person who made or packed the product to ask about ingredients.
Further guidance is available at FSA website: food.gov.uk. For information regarding CPL's allergen awareness e-learning, contact CPLTraining.co.uk.
CPL Training

C-Store is on the search for the cream of the retail crop to enter The Convenience Awards, the all-new awards programme that celebrates excellence within our industry.
Taking place on Thursday 14 May 2020 at Exhibition London, this truly is an unmissable event in the retail calendar.
If you take pride in training your staff, giving them the tools to maintain high standards, improve your store's performance and take your business to the next level, then we want to hear from you. If you have a successful training scheme in place then why not put your store forward for Best Training Initiative at The Convenience Awards.
You can enter at www.theconvenienceawards.com. The awards are sponsored by a host of industry experts, including CPL Training Group.