It could be daffs by the door or a full-on floral tribute, but stocking flowers adds a welcome touch of theatre to the shopping experience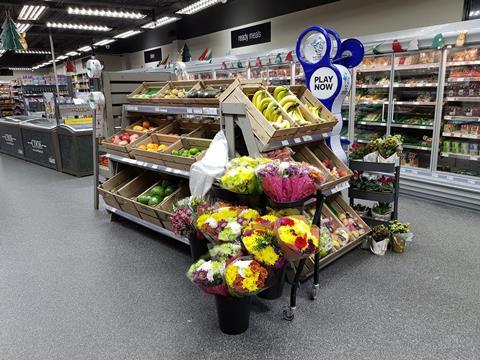 Whether it's to apologise, tell someone you love them, commemorate or celebrate, flowers often say it better than words. Their role as the go-to gift for pretty much any occasion makes them a must-stock for many retailers.
Raj Aggarwal stocks flowers at both of his Spar stores in Leicestershire and Sheffield. "People know they can stop here and get them for their mother, their loved one, the cemetery – people will buy flowers for all sorts of occasion. It adds a bit of theatre to the store and customers like it."
He concedes that they aren't especially strong sellers for him, but claims that their value goes far beyond the price tag. "We just make average sales, nothing to shout about, but it's another offer. Customers can come in and buy flowers, a greetings card and maybe pick something else up. It's the incremental sales that add to the basket spend."
Guy Thrower, owner of Throwers of Ludham (Costcutter), Great Yarmouth, started stocking flowers only in the past 18 months, and has no regrets. "Having flowers reinforces that you're a one-stop destination. People can get a card, a box of chocolates and a bottle of wine, too."
Flowers really brighten up Budgens Islington in North London, according to manager Ash Rham. "We get a great response on the flowers. As soon as you enter the shop you have the fresh smell. You get a good vibe."
Raj's flowers are delivered directly from Blakemore. "We used to use local suppliers from the wholesale fruit and veg market, but we've found that Blakemore has a fairly good offering. We have a standing order for two or three buckets every week," he says. "They're pricemarked, they have barcodes and all we have to do is scan the product."
As well as the added ease of buying flowers through a symbol group, Raj feels that he is able to offer customers more blooms for their buck. "You tend to get a higher margin by sourcing from the market, but what I've found is that the bunches have got smaller and smaller. Spar is able to negotiate a better deal so they'll have a set amount of stems per bunch, so it's consistent."
Raj prices his flowers at the lower end of the market, which he believes suits his customers. "Our flowers range from £3 to £5, which is just about right for the area." He claims that daffodils, tulips and chrysanthemums all sell well at this time of year. "Our best-sellers are a mixed bouquet for £5. There's a fair margin, about 35%."
Guy's flowers are also provided via his symbol group. "We were getting them from Nisa, but now they are from Flowers In Store, centrally billed by Costcutter."
He has opted for a three-tier pricing structure. "I tend to have one bunch at £3.99, one at £4.99 and one at £5.99," he explains. "You get customers right across the board buying flowers. The margin is quite good at 40%." He states that £4.99 bunches of roses are a best-seller.
Simply Fresh Alcester in Warwickshire uses a flower supplier who delivers direct to store, in addition to buying pre-made bouquets direct from the market. "We go down to the market at about five or six in the morning," says assistant manager Jeet Singh. The shop's two-pronged approach to sourcing means it can offer shoppers plenty of choice, giving them a USP. "We get more variety at the market. If a customer wants something different, we can get different varieties from the market – it keeps it interesting."
"The market flowers have a higher margin and the ones supplied directly to store slightly lower, but overall we get a 30-40% margin," he says.
Jeet is keen to keep prices reasonable, which he believes has resulted in strong sales. Prices start from £2 and go up to £10, with a mixed bouquet at £4 or £5 proving the biggest hit. "We have 10-15 buckets of flowers and sell between 50-100 bunches a week. Our weekly sales are £300-£400. We're slightly cheaper than the competition – everyone wants to make a saving these days – but the main thing is the quality."
Flowers are such a draw for Budgens Islington that the store has become a destination for all things floral. "One of our strong sections is plants and flowers," says Ash. "We sometimes take orders from customers for specific flowers and plants. We have regular customers who want particular types. In the summer we're really busy, and sometimes do deliveries. We supplied flowers for a funeral last year."
The shop gets its flowers and plants delivered direct from flower wholesaler Savin. Begonia and the dracaena are popular, claims Ash. "We receive our delivery on Friday. Savin knows what sells so we'll discuss seasonal orders, but it deals with the basic order."
Upon realising that it can't compete with the mults on standard flowers, the store decided to go down the specialist route. "We get special flowers – not cheap £2 or £3 ones, but a good bouquet, because we struggle to compete with Tesco or Sainsbury's on those," says Ash. "People who want speciality products come here."
He claims that people travel a fair distance to buy flowers from the store. "People come from Highbury Corner to get these flowers, and there are customers who know that we deliver on Friday, so they'll come in especially."
A mixed bouquet sells for £15-£16, while six roses are £8. Sales are impressive, with flowers and plants selling £2,000 a week on average in the winter and £5,000 in summer. The store makes a healthy 50% margin.
"It does help if you're in an affluent area, but flowers can work anywhere," claims Amar Ladwa, owner of supplier Flower Fate in Wembley, London, which supplies a number of MFG and Welcome Break forecourts. "Our prices range from £4.99 to £8.99 in normal periods. During seasonal periods, you're looking at £13.99."
The firm operates on a sale or return basis, and claims retailers can make 23-35%. "We use A1 quality flowers so in winter they'll last 14-16 days, and in summer months it's about seven due to the heat," he says. "We've tried many different varieties and just stick to the best-sellers – for example, roses, mixed bunches with chrysanthemums, carnations, lilies and roses, and bunches of lilies. Rose plants are also a good seller."
Ladwa recommends displaying flowers outside the store if possible. "They're an impulse purchase, so if you don't see them, you're not going to buy them. If they have to go inside then next to the entrance is the best spot," he suggests.
This is exactly what Budgens Islington has opted to do. "Initially, we used to have magazines at the front of the store, but we when we had our refit we moved magazines to the back and gave the space to flowers.
"Now as soon as you enter the shop you see flowers and you feel positive," says Ash. "Sometimes it looks like Covent Garden market! When we have seasonal flowers we cover a whole table with flowers and indoor plants."
Guy had to opt for a plan B in terms of product location because the store's air-con was threatening the quality of his flowers. "I have a three-tier stand of three buckets with different bunches in each. We did have our flowers right by the door, but because there's an air-conditioner there, it finished them off pretty quickly. So we now have them near the till as an impulse sale. They're not too far from our greetings cards either, which tends to help."
Of course, it's no good having the right flowers and a prime location if you don't give your flowers any TLC to keep them looking, well, as fresh as a daisy. "It's not as easy as just getting flowers into the store and selling them," says Ladwa. "The water needs to be changed at least once a week in winter, and twice a week in summer, because bacteria builds up."
Ladwa claims that Flower Fate reps take care of this for customers.
Raj ensures that his team understands the importance of ensuring the flowers are well looked after. "My staff change the water every day, check them over, and if they come in a bit wilted they phone Spar and they'll collect them."
Flower care at Budgens Islington is organised by the store's fresh food manager. "We also have a guy who does the cleaning who waters the plants and removes dead leaves and changes the water," says Ash. "In the morning after we've done a delivery and then when the 3pm shift starts they check the flowers."
They may involve a little more maintenance than your soft drinks or snack fixtures, but give flowers a chance and you may well find that sales blossom. "I wholeheartedly think it's worth giving flowers a go because it's not a huge amount of work involved and the margins are enough to soften up a bit of wastage," says Guy.
Raj agrees: "It's definitely worthwhile selling flowers. It's incremental spend so it adds to your basket – it's great."
TOP TIPS
Pointers for beginners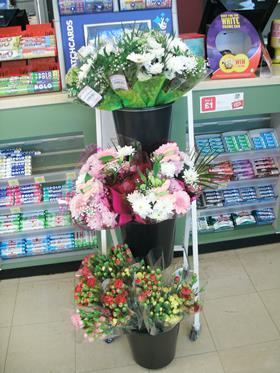 Start small: "Don't go too big, just start off small with a bucket with eight or 10 bunches. If you go big and get it wrong you can lose a lot of money."
Raj Aggarwal, two Spar stores in Leicestershire and Sheffield
Ensure you are displaying flowers at the correct height: "The way we work is to have the roses at the bottom of the display, if people move them to the top, you can't see the full rose. We keep longer bunches at the bottom and shorter ones at the top."
Amar Ladwa, Flower Fate, Wembley, London
Accept that a little wastage is par for the course: "You have to brace yourself for a bit of waste initially until people get the lowdown that they can find flowers with you."
Guy Thrower, Throwers of Ludham, Suffolk
Check your flowers daily: "We check our flowers at least once a day. If we know we have a variety that doesn't last long, then we check them twice a day. If you're going to do it, you have to do a proper job. Some stores just keep them in the bucket and if they don't sell, they throw them in the bin – they don't look after them everyday. When you do any business, you always need to maintain the product."
Jeeta Singh, Simply Fresh Alcester, Warwickshire
SEASONS
Make the most of seasonal opportunity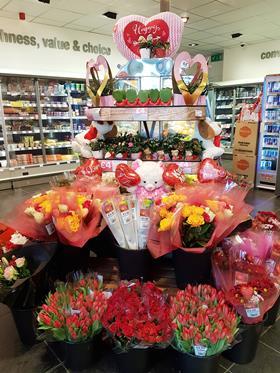 Seasonal flowers are big business at Raj Aggarwal's Hackenthorpe Spar store in Sheffield. "Mother's Day is the biggest day for flowers, followed by Christmas, then Valentine's," he says.
Organisation is key. "We have a pre-order for special occasions. We did the order a couple of months before Valentine's and we get them in at the last minute – three days before the event so that they are fresh."
He makes the most of seasonal flower sales by creating special occasion fixtures featuring flowers and complementary products such as chocolates, bubbly, and stuffed toys. "Spar Hackenthorpe is a 3,000sq ft store so we've got room to go to town on special occasions."
For this Valentine's Day, Raj ensured he offered a range of price points in line with his store's demographic. "We had £5 bunches of tulips, £3.50 for a single multi-coloured rose, and 10 or 12 multi-coloured roses for £8."
He claims that classic red roses wouldn't be right for his Valentine's shoppers. "If you go for a bunch of large red roses it's an arm and a leg. As long as you've got a good offer people will buy. We had single red roses and bunches of small red roses, as well as the multi-coloured ones."
He explains that shoppers spend more on flowers on Mother's Day and at Christmas than on Valentine's Day. "On Mother's Day and Christmas we'll have £15 bunches, whereas at Valentine's we limit it to £10. With Valentine's people will buy chocolates and bubbly, whereas for Mother's Day people will just buy a card and flowers."