Dublin is leading the way in convenience retailing. C-Store takes a tour of the city's stores to find out what the UK can learn from Ireland's best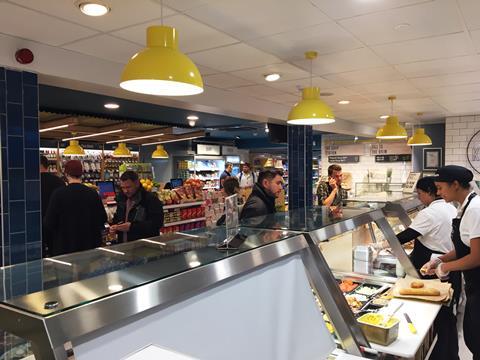 Progressive retailers often look abroad to pick up best practice and latest innovations. This isn't always easy given time and cost restraints, but one place really worth investigating is Ireland, and in particular Dublin, its vibrant capital city. The fact it is relatively close to home is an added bonus.

A number of store owners have participated in study tours in Dublin, and discuss the Irish convenience market in glowing terms. This isn't perhaps surprising given that the emerging trends in the UK - such as food to go and health - are fully established in Ireland. A recent HIM Research & Consulting report concluded that Ireland "over-indexes" on the food-to-go mission. "Indeed, the nation leads the way across this valuable mission and should be looked towards as a benchmark by chains in other European markets," the report adds. Its survey of Irish shoppers found that 48% cited food to go when asked what reasons they had shopped at a particular store in the past seven days. This compared with 34% in the UK.

The report also highlighted the demand for healthy products: three in four shoppers in Ireland "plan on following a healthier diet in the next 12 months", compared with just 57% in the UK. But these health and food-to-go trends are becoming more pronounced in the UK, according to a range of research, such as HIM's Future of Convenience report.

"UK retailers could do far worse than to follow the health trends in Irish retail," says Richie Bissett, HIM's 'man on the ground' in Ireland. "There is latent demand for healthy food, and operators that seek to serve this will reap the benefits."

Manchester Spar retailer Paul Stone agrees. "We're following the trends, just a bit behind," he explains. "But Irish independent retailers are streets ahead of their UK counterparts. They've really gone for the foodservice element and they're not afraid to employ the staff to man serve-over counters. Dublin retailer Thomas Ennis' food production is really, really good, for example. They also seem to be better at personalising their stores - but Irish consumers seem to trust independents more."

So to take a closer look at what's going on, C-Store recently hooked up with HIM's Bissett for a tour of some of Dublin's finest stores. And, as expected, these stores are big on food to go, fresh and health, and increasingly less focused on grocery. But also striking was the impeccable standards and the unwavering focus of the store owners, who are innovative, decisive and bold.
Spar Merrion Row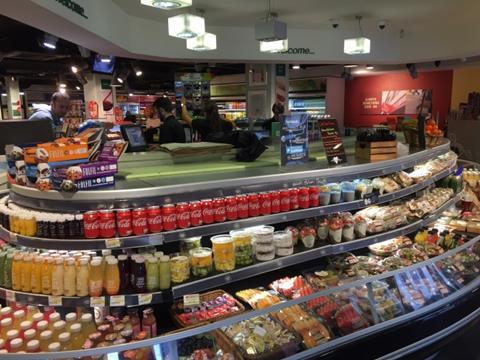 Independent retailer Thomas Ennis owns 13 stores in the Dublin area, of which seven are Spar, having opened his first in Merrion Row in 2005. The food-to-go offer in the Merrion Row store represents about 50% of sales and is "growing all the time". All products are prepared on site and sold under the Gourmet brand throughout the business. They include sandwiches, wraps, salads and bakery, and hot meals including pizza and pies. Thomas explains: "The food-to-go operation is operated completely in house so we can control the range and display. We have our own chefs and bakers who produce the food in the kitchen downstairs for all the stores."
He is passionate about providing quality products - "never buy cheap ingredients - if you buy cheap, you buy twice" - but concedes that it took him a few years to get fresh food right. "With fresh food you have to be patient. Food is cruel - if you get it wrong it can be very punishing."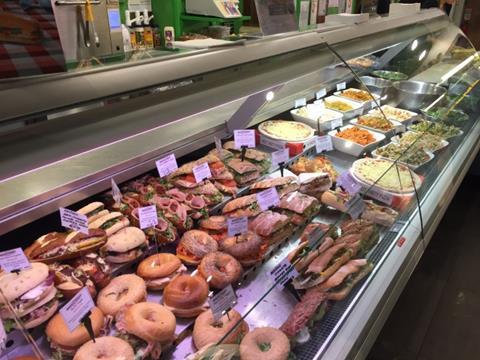 In Merrion Row the daily-prepared products appear in the on-site deli, bakery and circular counter 'island', which displays sandwiches, salads and wraps. The 4,500sq ft store also houses an Insomnia-branded sit-down café area.
Health is another part of Thomas' strategy, with a number of products in the counter island testament to this. Veg Out fruit & veg juice fusions, Turmeric Beet Shots and Ginger Fire Shots, and Fulfil Protein Vitamin & Protein bars are some of the items sharing the space with cans of Coca-Cola.
On top of the counter sits a basket of fruit which children are encouraged to dip in to free of charge. "It hardly costs me anything, but the kids need it," he says. For paying adults, loose fruit is displayed beautifully in wicker baskets on crates near the soft drinks. "We weren't displaying it properly before, but now the staff are displaying it right and sales have soared," Thomas adds.
Spar Gourmet, Lower Baggot Street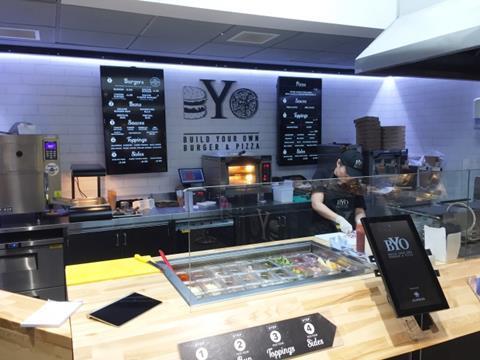 Down the road Thomas Ennis' 2,300sq ft Spar Gourmet store is even more food-to-go orientated - fresh food participation is nearly 70%. An innovative 'Build Your Own Pizza and Burger' bar complements the Spar Gourmet deli and an Insomnia bar with sit-down area. Breakfast is served in store from 6am. In fact, such is the success of foodservice - at the expense of grocery - that he is planning to remove the minimal grocery section altogether to accommodate more seating. "I can't give grocery away," Thomas says.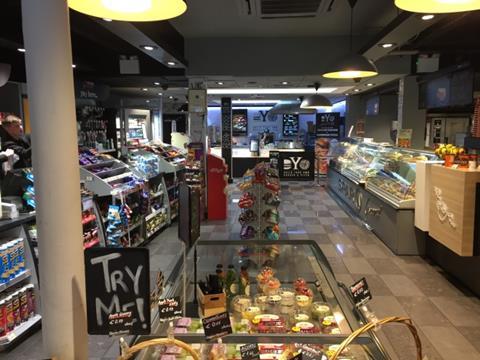 Sales at all his stores are growing, with Merrion Row's turnover up 6% year on year. "To be honest, we're mainly trading up because the economy is booming, but also because we do things differently and we offer great service," he points out. "There's no point hiring people who are not interested in a food environment."Tobacco is another fast-declining category, with Ireland ahead of the UK in terms of restrictive legislation: a display ban has been in effect since 2009, and a ban on 10-packs since 2007. As such, Thomas fills the gantry with impulse products, such as boxes of chocolate, and e-cigarettes.
In addition to getting the staff right, he offers the following advice: "Offer good branded coffee, focus on food-to-go and health, cut back on grocery, and people will come to you. It's about the boomerang effect: the trick is not to get people to buy now, but to get them to come back."
Centra Temple Bar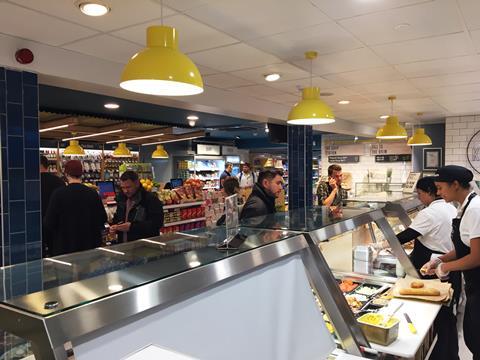 Paul Thornton owns two Dublin city centre stores under Musgrave's Centra fascia. In the Temple Bar store, a deli serves store-prepared hot and cold food, complementing a full barista offering under Centra's Frank & Honest premium coffee brand, and a self-serve F&H coffee station.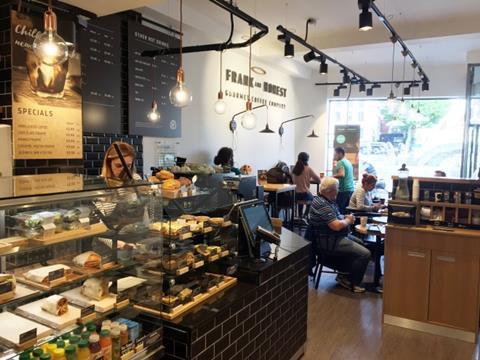 Paul recently revamped the 2,000sq ft Temple Bar store in order to introduce the F&H sit-down area and reduce the grocery offer from 10 metres to four. "Coffee sales are now £3,500 per week in Temple Bar. The Frank & Honest barista gives us the café feel, which you need in the city centre. It's top-end coffee."
All deli products are made in store every morning and represent 20% of overall store sales. Quality, availability and consistency is key, Paul says.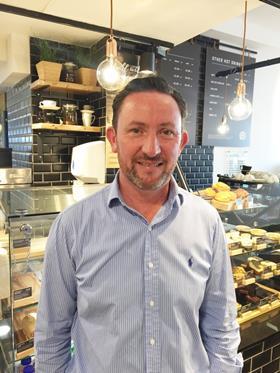 "We're moving away from the mass-produced sandwich market to in-store made products, including salads and wraps. We're trying to do the freshest and lightest products, and getting in to the 'live well' market," he explains.
The 'managed decline' of grocery is an obvious decision, Paul says. "Nearby there's a Tesco Express, an Aldi and a Lidl. The grocery market has gone for us. We focus on impulse and foodservice."
This "focus on the go" means that there's no place for veg in the store, but sales of fruit are thriving since Paul made an in-store adjustment. "We used to stock fruit in the fridge, but now we've put it in bowls on a fixture where people queue, and sales have gone up 50%."
Spar Dame Street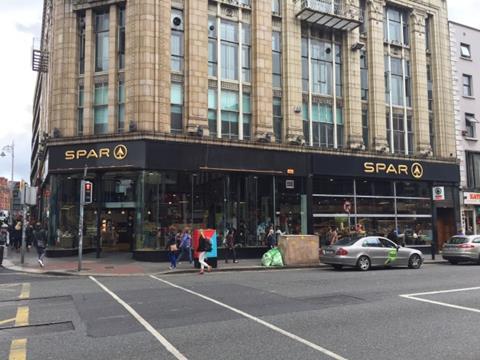 Spar Dame Street is an independent 24-hour store in the city centre, managed by Marjella Cafollas. The focal point of the store is the circular fridge, lined with sandwiches, salads and juices, and topped with healthy snacks. A separate chiller stocks sandwiches from the Delicious Food Company, a Dublin producer. "We're trying to get the sandwich company into the Spar system so it frees us up more," Marjella says. "We're allowed to source 11% of our stock outside the Spar system."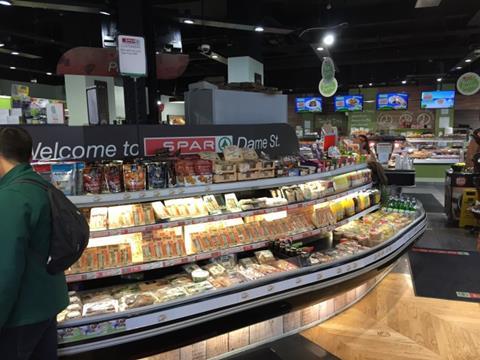 The 2,500sq ft store has undergone a similar evolution to the aforementioned sites. "Five years ago there was a lot of grocery, but it wasn't getting the margins. People only buy sugar once a week, but they buy sandwiches every day," says Marjella. The store has recently expanded its salads range and introduced sushi, helping to drive a 12% sales rise in the central chiller.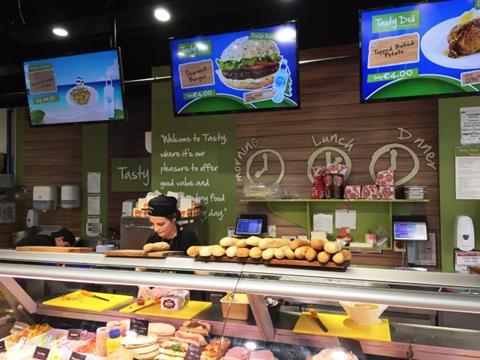 The Tasty Deli, which includes breakfast and salad bars, serves hot food such as burgers and jacket potatoes and freshly-prepared sandwiches 24 hours a day, and is always manned by three people. "It's the top seller, followed by coffee," Marjella notes. Coffee is supplied at the serve-over Insomnia counter, as is a range of 'sweet treats'.
A small grocery section, featuring breakfast cereals and other daily essentials, caters for students and tourists staying in self-catering Airbnbs and such like.
Fresh 'The Good Food Market', Camden Street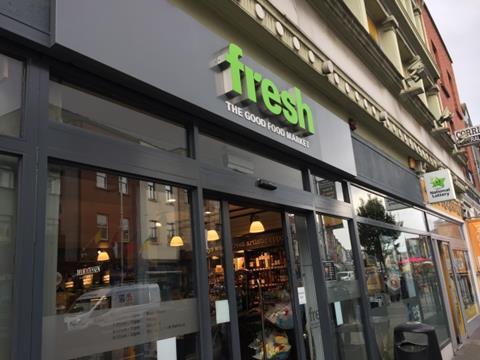 Fresh, which has five stores in Dublin, does what it says on the tin. The spectacular Fresh Kitchen was recently introduced in the Camden Street store, offering hot food served fresh at breakfast, lunch and dinner, including from Grill and Wok stations, a deli and freshly-made sandwiches and wraps. All products are prepared on site, which is "obviously healthier for margins but with it comes additional overheads," says marketing manager Shane Byrne. "In terms of sales, we would think it helps as the product range is fresher and tastes great as a result."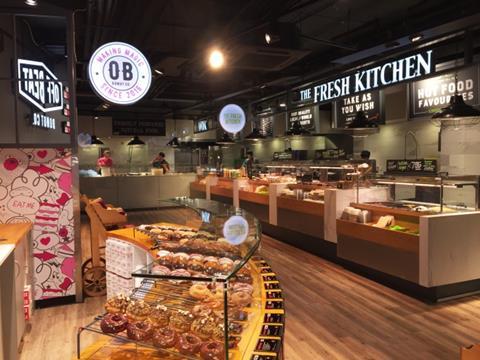 The Fresh Kitchen maintains customers' interest by continually varying its menus and holding regular themed evenings. "With The Fresh Kitchen, we can be adaptable, so we have themed evening meals such as Indian, Mexican, Chinese and so on. It's a great way to keep the range interesting and relevant. As new trends come on, we can work with our chefs to introduce new meal options. It's very exciting," Shane adds.
A wider range of health food, including protein bars and a 'Nutramina' fridge housing protein drinks, is on offer, while a wide selection of tastefully-displayed fruit and veg includes "fruit you can't get from Aldi and Lidl", points out manager Thomas Machal.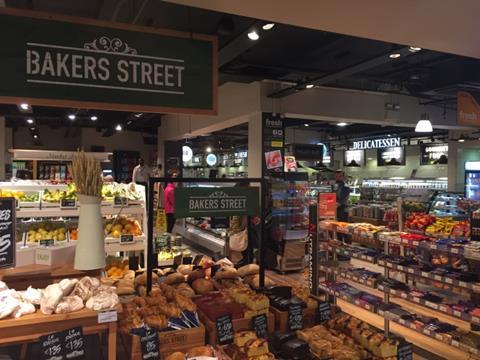 The 5,000sq ft store has undergone "a transformation" in the past 18 months, Shane adds, as it adapts to the increasing importance of food to go and food for now in contrast to "the traditional weekly shop". "Food to go and health have always been vital to the DNA of our stores. We were investing time and resources into these long before many other retailers. Having said that, other retailers have raised the bar and with this we need to be on our game," he says.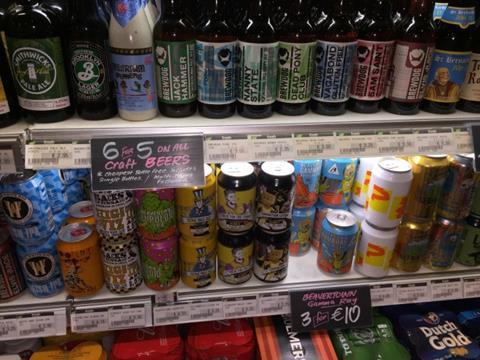 In addition to an eye-catching bakery and an Offbeat donut counter - "Dublin's best donut company" - the store features a unique and eclectic range of wine and, in particular, craft ales.
Shane neatly sums up the prevailing foodie culture in Dublin. "In general, I think there's a big emphasis on people becoming more knowledgeable and interested in food. It's almost comparable to fashion. Customers want to eat foods based on environmental reasons, political factors and trend influences. If you can adapt your product mix to suit your customers' mindset, you've a good a chance of driving sales the right way."
Londis/freshly Chopped, O'Connell St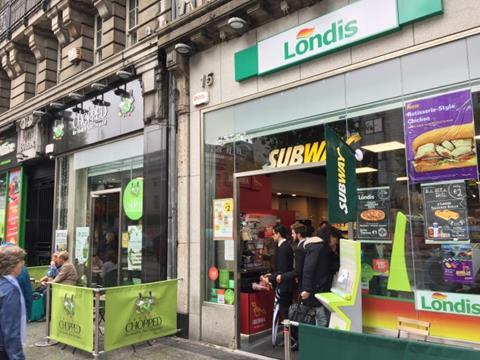 Salad is the buzzword at Londis on O'Connell Street. In November 2016 the store partnered Irish foodservice brand Freshly Chopped, introducing a serve-over counter and adjoining seating area, at the expense of the Insomnia operation. There is, however, a self-serve Insomnia coffee station near the entrance which "does the job," says manager Imran Ishfaq. "People don't need to sit down and have coffee," he points out.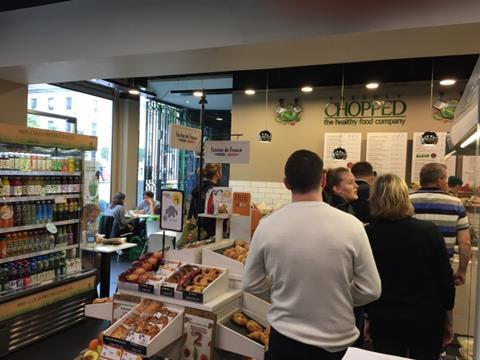 Freshly Chopped, which delivers a range of freshly-prepared salads, has gone down a storm. "Sales are up big time," says Imran. "It was inspired by the trend for healthy eating."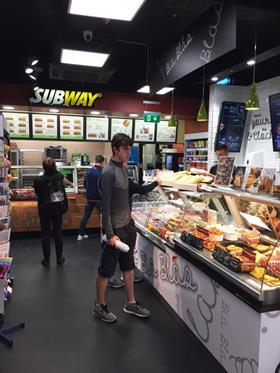 Those who don't want a salad-based lunch can choose from a Subway franchise and Londis' own-brand Irish deli Bia Blas, which serves sandwiches and traditional hot food.
The store, about 2,000sq ft, also majors on protein milk and bars, which account for 30% of the confectionery category. Fulfil protein bars were introduced last year, and Imran says they are flying out on a two for €5 deal.
The store is part of the Griffin Group, which has a number of stores across Dublin.