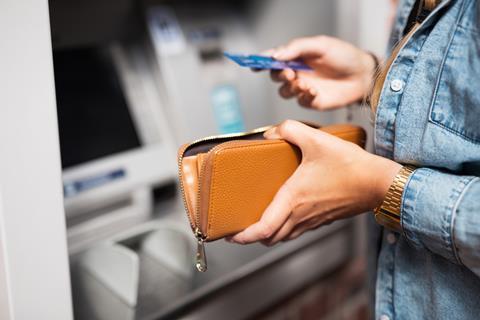 Measures to safeguard the public's access to cash have been welcomed by the retail industry.
Announced in the Queen's Speech, the Financial Services and Markets Bill aims to protect cash by ensuring continued access to withdrawal and deposit facilities across the UK.
Economic Secretary to the Treasury, John Glen said: "We know that access to cash is still vital for many people, especially those in vulnerable groups. We promised we would protect it, and through this Bill we are delivering on that promise."
Although more details on the Bill will be made available when it is formally introduced, its intention was welcomed by the industry.
Association of Convenience Stores chief executive James Lowman was "encouraged by the Government's commitment to protect access to cash".
"Cash is still an incredibly important way of paying for goods and managing money for millions of people, and convenience stores play an increasingly important role in being often the only provider of ATM services locally."
The Federation of Independent Retailers (The Fed) also welcomed the proposed action on access to cash.
National president Narinder Randhawa said: "We are pleased to see that the government shares the concerns of independent retailers around access to cash, business rates, crime and regenerating high streets and we urge it to tackle these issues with the energy and priority they deserve."
However, Randhawa did express disappointment at the lack of support for small businesses who are struggling amid soaring bills.
"This year has seen huge increases in overheads and operating costs, threatening local shops who are the beating hearts of their communities. We are disappointed that measures to help ease the burden on hard-pressed independent retailers have been missed out of the Queen's Speech and would urge the government to look at these as a matter of urgency."
Nick Read, chief executive at the Post Office, added: "In many places across the country, Postmasters already operate the last counter in town. We launched our "Save Our Cash" campaign last year precisely because millions of people and businesses rely on the ability to use and deposit cash daily. In the middle of a cost of living crisis, many more people will choose to control their household budgets by spending only what they physically have in their hands.
"We're pleased the Government has taken on board the main thrust of our recommendation to help guarantee access to cash, particularly in ensuring that the legislation addresses both deposits and withdrawals," said Read. "We look forward to seeing further details when the Bill is introduced. Two years after the legislation was first promised, there is no time to waste."
Marc Terry, international managing director for Cardtronics, also praised the new Bill. "The inclusion of access to cash as part of the Financial Services Bill is a huge step forward in the fight for protecting the public's access to cash. This is an essential opportunity for the government to ensure the UK's cash infrastructure is sustainable and secure, whilst also safeguarding the public's right to choose how they want to pay. The next focus should be to reinforce the importance of ATMs, including deposit-taking and recycling machines, as part of the solution."