Independent retailer Chaz Chahal has re-launched the home delivery service offer from his Simply Fresh store in Inkberrow, Worcestershire, with a new "buddy system," in a bid to better manage demand amid the coronavirus outbreak.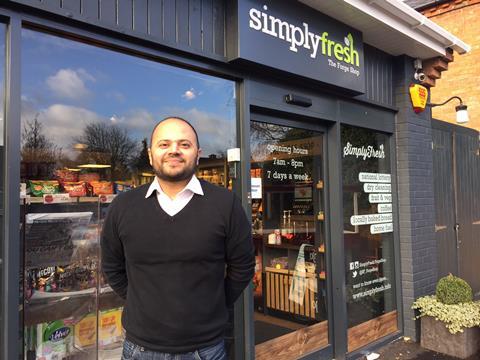 "We started offering home delivery a couple of weeks ago with the help of a team of local volunteers making the deliveries, but demand went through the roof due to Inkberrow's large elderly customer base," Chaz told C-Store.
"The service was in such high demand that it was becoming almost impossible for the in-store team to keep up with taking and picking orders for home delivery plus managing the shop floor and tills at the same time, so we had to totally re-think how we did things," Chaz told C-Store.
After "many hours of behind the scenes work" Chaz has now created a "buddy system" which has paired each of his volunteers with up to three local shoppers who require home delivery.
Orders for home delivery are now taken by the "buddies" who conduct one weekly shop on behalf of their designated customers, before delivering the groceries to their doorsteps.
Around 60 households in the local area have now been paired with a volunteer and each household now has an account set up with the store so no cash needs to be exchanged.
"It's very early days but the new system seems to be working well and eased some of the pressure on in-store staff, allowing them to focus on other crucial store operations," Chaz said.
Over the weekend Chaz also installed large home-made screens over each of his store counters, to help protect staff and customers from the coronavirus.
The large rectangular plastic screens are suspended from each of the store's ceilings with wire.
"Staff and customers alike are happy with the screens, they just make everyone feel that little bit safer and protected," he added.