Cash payments have plummeted in convenience stores since lockdown began, as shoppers favour contactless payments and make the most of the new higher £45 limit introduced at the start of April.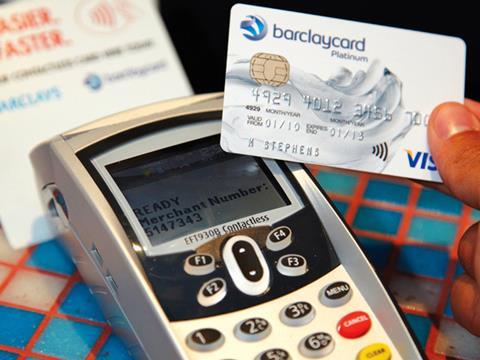 Dean Holborn, owner of two Holborn's stores in Surrey, said there had been a "huge increase in card payments since lockdown began and that the new higher contactless limit was proving "very popular" with customers.
"Our average basket-spend has soared in recent weeks so the contactless limit rise has been very welcome all round," he said.
"The swing from cash to card payments has been incredibly noticeable. Pre-virus I would have taken change to our Redhill store around three times a week, but I've not had to do that at all for five weeks now.
"We normally never have enough £5 notes but right now we are accumulating them.
"Everything has been turned on its head. I don't think we will ever see the demise of cash but right now, it's clearly not how people want to be paying."
Less than a month since the introduction of the new £45 contactless limit in the UK and Ireland, Barclaycard, which handles half of all contactless transactions in the UK, says it has processed over seven million contactless payments above the previous limit of £30.
The total amount spent on contactless transactions over £30 has already exceeded £264m and since the new £45 contactless limit was introduced, the average value of all contactless transactions has jumped from £9.28 to just under £14.
The average value of all new contactless transactions above the previous limit of £30 is just under £36.
Almost half of in-store transactions between £30 and £45 are now made using contactless and Barclaycard said it expected this figure to keep on rising as public awareness of the new limit continued to grow and as more businesses implemented the technology change on their card machines.
Sally Croft, co-owner of Croft Stores (Nisa) in Silverstone, North Hants said the change had been noticeable in her store.
"Far more people are now paying by card since lockdown began and the rise in the contactless limit has definitely been a popular change with many of our customers, some of whom had never actually used contactless before.
"Shoppers clearly feel that contactless is safer as stops them from having to touch a pin pad and it also speeds up the transaction process so they can be in and out faster. Faster transaction times are clearly a positive for us too as they help to keep the queues under control and we aren't having to handle as much cash as previously."
Deployment of the new contactless limit has been prioritised for retailers in key sectors, including grocery stores, bakeries, pharmacies and petrol forecourts.
Barclaycard said the higher rate of contactless transactions was helping to combat the spread of Covid 19 by allowing more shoppers to pay without touching card terminals or handling cash.
"It also helps reduce the volume of people in stores by reducing queue times, as contactless transactions are, on average, seven seconds faster than Chip and PIN, and 15 seconds faster than cash," Barclaycard said.