With more than 50 franchise stores now operating across the south of England, Southern Co-op's partners are proving that community is just as important as product offering. Operating under the 'Welcome' fascia, the co-operative's franchisees serve communities from Kent to Somerset and from London to the Isle of Wight.
Offering their customers well-known, trusted brands and a range of locally-sourced products, Southern Co-op's partners have gone from strength to strength while remaining agile enough to develop their offering in response to changing customer demands.
Independence and support
Welcome franchisee Dilan Patel recently opened his fourth store with Southern Co-op, having previously opened two stores in London and refurbished his father's store in Staplegrove, just outside Taunton. The entrepreneur enjoys the independence offered by his partnership with Southern Co-op, while benefiting from the team's experience and expertise.
"Our focus has been ensuring we service the needs of our customers. The support we've already had from local people has been amazing," Patel says, speaking at the opening of Welcome – Belvedere Gardens in Taunton.
"We couldn't be more pleased with the finished store. It's a fantastic working environment for staff and it's great for customers. It's been worth the investment and the hard work that's gone into it and now hopefully we will see the rewards."
Southern Co-op also offers its franchisees personalised support, improving outcomes across all departments.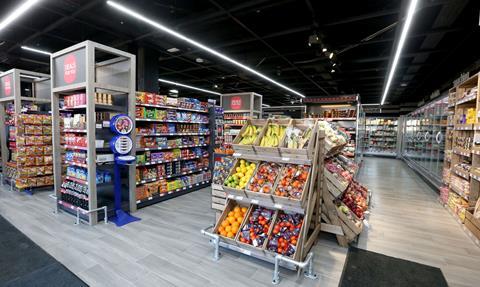 Ethics and partnership
Local communities' positive response reflects the brand's ethical commitments. Southern Co-op recently became one of the first convenience store chains to be accredited as a full member of the British Franchise Association, which strives to promote ethical franchising practices across the UK.
Mike Fitton, Southern Co-op's franchise business manager, explains that new and experienced retailers joined the co-operative last year, with strong partnerships leading to the opening of several stores during the height of the pandemic.
"In the last few years, we've seen a huge shift in consumer focus as more people have started to pay attention to a company's beliefs and ethos," he says.
"Our franchisees benefit from Southern Co-op's underlying values which have been embedded into our organisation since 1873. Their customers also appreciate the Co-op branded products which are known for their ethical values and sustainable focus."
Fitton added that sustainability was a "key part" of the co-operative's offer, with more packaging moving towards being recyclable. Initiatives include compostable carrier bags and a return scheme for cardboard and plastic to co-operative depots at no extra cost.
Deliveries are available up to six days a week across seven days with no minimum drops. Plastic, cardboard and waste collections are also available.
Development and support
With more than 200 company-owned stores, franchisees can access a range of support which Southern Co-op uses for its own stores, including marketing, planograms, store development, space and sales analysis and a full electronic point of sales (EPOS) and back office system.
Alongside the extensive Co-op own brand lines, retailers are encouraged to explore opportunities to offer locally sourced products.
The co-operative's franchise division, which has been steadily growing over the last few years, celebrated a successful 2020 with 15 new stores, up from 12 new stores the previous year.
Of the existing franchise stores, a total of 11 are petrol forecourts ranging in size from 1600sqft up to 3,000sqft. With great contacts at BP and Texaco, Southern Co-op works closely with both brands to ensure a joined-up approach.
To find out how Southern Co-op can work with you to develop your convenience store offering, contact welcomefranchise@southerncoops.co.uk or 02392 222677. Alternatively, visit www.thesouthernco-operative.co.uk/food/franchise.