With health & wellness firmly in the public consciousness, consumers have shown a clear desire to cut down on alcohol, with the result that the no- and low-alcohol category is growing rapidly, creating an opportunity for convenience retailers, says Australian Vintage.
With health and wellness in the psyche of the nation following the pandemic, the no- and low-alcohol category has thrived. In the past year, alcohol moderation and 'mindful drinking' have become a mainstream movement, with the desire to cut down alcohol intake at an all-time high – half of UK adults (49%) either don't drink any alcohol or are planning to cut down soon1.
The breadth and quality of the category is also growing to meet consumer demand. According to Nielsen data, the no and low ABV sector has grown an impressive 506% since 2015, while IWSR predicts sales of the no and low category will increase in volume by 31% by 20242.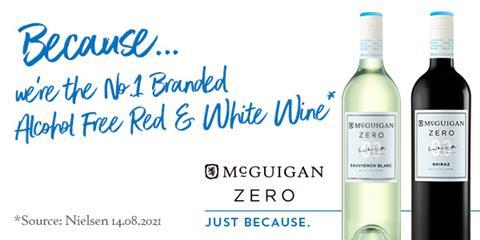 One brand that has seen the impact of this demand is McGuigan. Zero, McGuigan's no-alcohol wine brand, is the No.1 branded alcohol free red and white wine in the UK3. By using the latest spinning cone technology and working at low temperatures to gently remove alcohol after the fermentation process, McGuigan has created a quality no-alcohol wine that maintains its delicate fruit flavours.
"Since the pandemic, the alcohol-free category has increasingly moved into the public's consciousness, bringing with it greater expectation for range, choice and availability"

Julian Dyer, chief operating office for the UK and Europe, AVL
Australian Vintage Limited's chief operating officer for the UK and Europe, Julian Dyer says: "We're witnessing a huge shift globally towards alcohol-free drinks. Since the pandemic, the category has increasingly moved into the public's consciousness, bringing with it a greater expectation for range, choice and availability. McGuigan Zero has been an incredible success story for the category by providing the quality and variety that consumers are looking for."
So why else are consumers opting to go alcohol-free? Beyond a need for health and wellness, the way in which consumers spend their time has changed drinking behaviours. Since the pandemic, more people are opting for a night in, but are still looking for an adult drink that provides the same experience that comes with drinking alcohol, such as a high-quality, no-alcohol wine that can be paired with food or enjoyed leisurely.
For too long the category stood stagnant, with drinks notorious for their bad taste and high sugar content. McGuigan Zero was able to meet a rising demand for a premium no-alcohol product that does not compromise on flavour. It also offers an extensive range to mirror the usual choices customers would expect from alcoholic wines. Zero has a choice of five high-quality wines to choose from, including a shiraz, chardonnay, sparkling, rosé and sauvignon blanc.
Despite the fast-growing category staking its claim in the drinks business, the availability of no- and low-alcohol is not as accessible as needed. According to KAM Media, 19% have purchased no- or low-alcohol from a convenience store4, but with demand set to rise, there is still work to be done to move the category from a 'nice to have' to a 'must have'.
The popularity of the category is undoubtedly here to stay, as a staggering 1 in 3 Gen Zs are reportedly teetotal5. While the pandemic may have triggered the trend, it seems the younger generation will secure no and low's place in the future beer, wines & spirits aisle.
To find out more about the McGuigan Zero range, click here.
Sources
1 https://www.thetimes.co.uk/article/best-non-alcoholic-low-alcohol-drinks-guide-cbf9j85z3
2 https://www.thedrinksbusiness.com/2021/02/low-and-no-trend-sweeping-across-key-global-markets/
3 Nielsen, 14.08.21
4 https://kam-media.co.uk/low_and_no_2021/
5 https://kam-media.co.uk/low_and_no_2021/