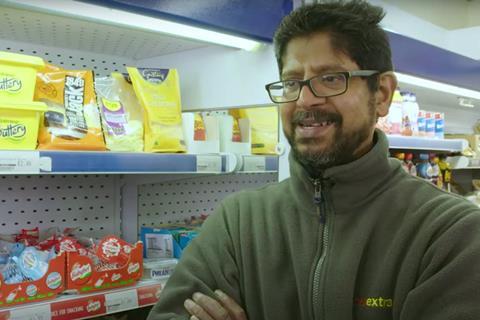 Mini Babybel® is the No.1 cheese snack format, with 650 Mini Babybel unzipped, eaten and enjoyed every minute in the UK[i]. With +19.7% growth year on year in convenience[ii], adding market-leading lines like Mini Babybel to meet customers' needs, positioning these in the right places and utilising correct merchandising can drive a healthy sales uplift, as demonstrated by soaring cheese snacking sales at Jey Sivapalan's 1 Stop Convenience Store (Go Local) in Derby.
Following a merchandising makeover[iii] of his store to upgrade his chilled and dairy sitings by the experts at Mini Babybel, Jey saw his category sales double.
The store makeover saw Mini Babybel's Channel Manager, Claire Wynne, make simple but key changes to drive sales. By increasing visibility, streamlining Jey's store chiller and adding PoS to help top-selling lines stand out, Claire was able to entice shoppers to try something new within Jey's dairy and food-to-go chilled fixtures.
Snacking products, like Mini Babybel, were also grouped together to make it easier for shoppers to navigate the snacking feature, which saw an increase of +22% of Mini Babybel sales alone. Finally, placing a Mini Babybel branded mini fridge by the till captured shoppers' attention, driving impulse and maximising sales opportunities.
Watch: Mini Babybel in store project
Jey says, "I'm really happy with the changes Bel UK recommended for my chilled and dairy range. My chiller is now merchandised logically and it's easier for my customers to find what they're looking for quicker. Since the visit, I've found more of my shoppers are buying chilled snacks, such as Mini Babybel. Introducing a secondary siting has also really helped to increase impulse sales."
Claire Wynne, Mini Babybel's Channel Manager says, "The vital changes were introducing market-leading lines, such as Mini Babybel, to appeal to shoppers who are looking for healthier snacks. Dairy and chilled is a vital category for Jey's store and he has the benefit of a lot of chiller space, so our merchandising changes were primarily to create the right flow. By introducing an additional siting near the till, we've helped Jey increase impulse purchases and drive sales."
Driving Snacking Sales with Cheese
Cheese is worth over £532.2m in the convenience sector and continues to grow in both value (+2.7%) and volume (2.2%)[iv]. Retailers can capitalise on this category growth by stocking recognisable brands, with efficient and effective ranging which caters to varied customer needs and missions.
Consumers are increasingly looking for convenient, healthier snacks, particularly products that are high in protein or portion controlled. With 38% of consumers seeing cheese as a good source of protein[v] and 54% as a source of calcium, cheese snacking presents a strong sales opportunity for retailers.
As the most loved family brand, with 100% consumer awareness in the UK amongst parents and young adults[vi], 72.6% of adults claim Mini Babybel is a good snack between meals and 68% of parents claiming Mini Babybel is 'the brand their kids love the most'[vii], making it a must-stock all year round.
Mini Babybel is available in a range of convenient and hugely popular pack formats to target all cheese snacking missions, including a net of 3 and single, ideal for food-to-go and meal deals. Ranging these within the food to go and meal deal areas of stores will help and guide shoppers while driving sales and encouraging impulse purchases.
Further trials of secondary Mini Babybel sitings to test the potential of cheese within snacking have seen uplifts as high as 300%[viii] as a result of merchandising, with 42%[ix] of shoppers who purchased Mini Babybel having never bought the brand before, showing its importance in attracting new customers to the brand.
Mini Babybel's top tips for your store
1. Cater to increasing consumer demands for healthier snacks by offering portion controlled, high-protein options
2. Maximise sales opportunities and drive impulse sales by introducing a secondary siting of top-selling dairy lines like Mini Babybel next to crisps, lunchtime snacks or sandwiches
3. Capitalise on seasonal opportunities, like summer snacking and back to school to attract customers to the chiller
4. Use PoS to showcase new products and to make your display noticeable
[i] Source Nielsen we 30/11/2019
[ii] AC Nielsen, Convenience, MAT 30.11.19
[iii] Undertaken by New Trade Media Ltd on behalf of Bel UK Ltd
[iv] AC Nielsen, Convenience, Snacking cheese, MAT to 30.11.19
[v] Mintel UK Cheese Report, October 2017
[vi] Source IPSOS brand health tracking NOV 2019
[vii] Source IPSOS brand health tracking NOV 2019
[viii] C2C research 2017
[ix] C2C research 2017