Despite all the challenges of the past 19 months, Mandeep Singh and his brothers Baljeet and Vrinder have brought in a host of innovations - from a beer cave to a thriving delivery service - at their Premier convenience store in Sheffield, and are reaping the rewards.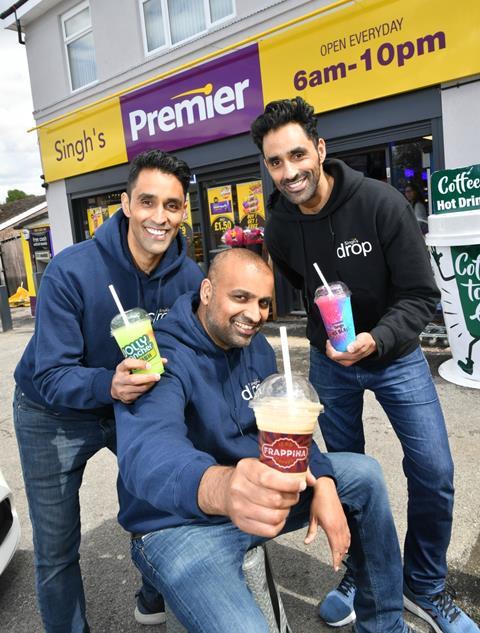 Although Mandeep Singh and his brothers are renowned as innovative retailers, the last time their store in Teynham Road, Sheffield, had a full-scale refit was in 2006, so it was due for one. "We knew we needed to go to the next level, to bring it up to standard and in line with what's happening in the market," Mandeep says. "We wanted to get more 'newness' in."
The updates have been very successful to date – so much so that the brothers are already planning to create an extra till point on the counter, as the two existing tills have been going virtually non-stop since they relaunched in May. Which isn't surprising as sales, margin, footfall and average basket spend have all increased since the refit.
Before settling on the new plan, the store team interviewed shoppers in-store in order to understand what they were using the shop for, what else they wanted to purchase there and, crucially, what competitor stores they were visiting locally. Mandeep explains: "Our shoppers said convenience, choice of products and price were all very important – as always – and also that customer service had to be second to none."
"From social media, you could see shoppers were highlighting Tango Ice Blast and milkshakes," he adds. "So we thought, we need to be doing this."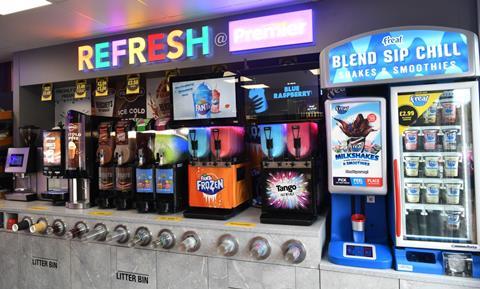 As a result, in came not just Tango Ice Blast and F'Real milkshakes, but also Fanta Frozen, Jolly Rancher, Hershey's Freeze and Frappina iced coffee, as well as new hot chocolate and coffee machines. All of them are arranged in a brightly coloured single self-service area, labelled Refresh@Premier.
"Some of these products sell for around £4 per serving and, often, they are bought for two or three members of the family at the same time," explains Mandeep. "Our average basket was £7-odd before – so two of these doubles it straight away."
As one of the leading retail exponents of social media, Mandeep hasn't missed the opportunity to highlight the new zone and the range of refreshing options to the store's many followers.
Food-to-go, meal deals and more
Food-to-go has been further enhanced with an in-store kitchen, enabling the business to offer its own hot and cold food, including filled baguettes, wraps and sandwiches made on-site and sold in a meal deal, along with a large bag of crisps and a drink for £3. "I reckon this is the best-value meal deal you can get," says Mandeep.
A counter labelled Premier Deli displays pies, cakes and cookies from local suppliers, including Woodthorpe Bakery and Patterson's, which also supplies fresh butchery meat. Local curries from East & West have also proved popular.
In fact, the entire fresh and chilled food offer has been expanded and opened up, with many products now delivered by Booker Retail Partners (BRP).
Ready meals and other meal solutions have been given more space, and now have more impact for the shopper. "Now they are displayed better, they are doing really well," explains Mandeep.
In another improvement, all soft drinks are sold chilled, including a range of imported American drinks that create a strong, and very popular, point of difference, enhanced by a huge range of confectionery from the other side of the Atlantic. Frozen food has also been given more space, occupying 10 doors instead of the previous four.
Innovation in vapes and beer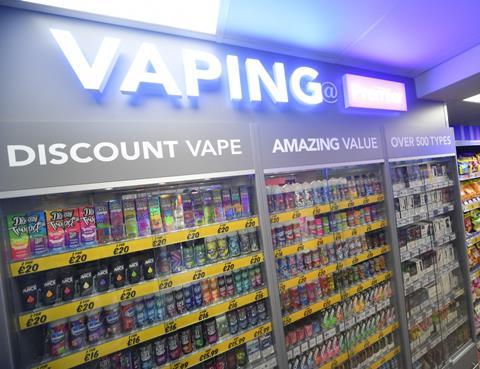 Another display innovation has proven particularly successful. The vape department is now on the shop floor, meaning shoppers can browse products for themselves. With increased space comes a wider range, so the store is now attracting shoppers that previously went to specialist vape outlets, and Singh's Premier can sell the same products at a much cheaper price.
"We are seeing loads of new shoppers and repeat vape purchasers, and they are picking up other stuff as well when they visit," says Mandeep.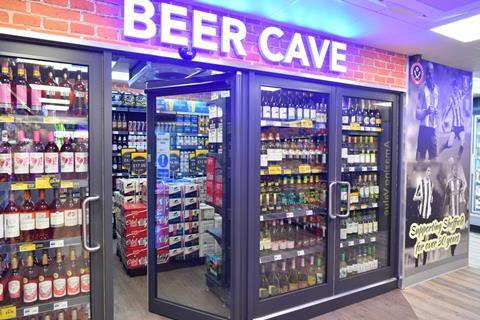 Across the product range, some SKUs (mainly grocery) were taken out as part of the refit, but overall the shop floor space was increased from 1,400sq ft to 1,800sq ft. And this expansion allowed for another of the key innovations – the beer cave. The 100sq ft chilled room hosts an impressive range of big packs, bottles and PD (PerfectDraft) Kegs, with the latter proving a particular hit. When the pubs were closed during lockdown, many people invested in a PD system, for house parties or just to enjoy the bar experience at home, and Singh's is selling the replacement kegs in the beer cave. Here again, social media has been very effective in getting the word out that you can buy replacement kegs, already chilled and ready to drink, from Singh's.
"We couldn't fill the beer cave up quickly enough. It brought in so many new customers, we were running out of stock"

Mandeep Singh
The only problem the family have found so far is that they completely underestimated demand and have asked the builders to come back to make the beer cave even larger. "We couldn't fill it up quickly enough. It brought in so many new customers, we were running out of stock," admits Mandeep.
Home deliveries
The kegs have also proved a popular item for home delivery, a service that has exploded for the business in the past year, so much so that it actually delayed the refit for a while. Mandeep recalls: "We were looking at the store and realised that, with people shielding and staying at home, we had to offer a delivered service and come up with a plan for that first. We started with a local partner, but they were taking 15% off the top and there came a point when we were growing our delivery business massively but not making enough from it. So we decided to plan our own solution, using our own people and our own vehicles."
The business registered the name Singh's Drop, and takes orders via a link on its Facebook page. Deliveries are made in a variety of ways, including two specially branded cars and three scooters, supported by other drivers if needed.
And they are needed, with weekly sales across the two Singh's stores that offer the service reaching £25k and average basket spends of £24. Branded staff clothing, including face masks, helps to keep the service front-of-mind for people visiting the store. "It's not just the other shops you have to worry about, it's the likes of Amazon too," says Mandeep. "But we can deliver a chilled beer keg within half an hour – not even Amazon can do that."
Why customer service is key
Mandeep recognises that customer service is key to the ongoing success of the business. "It's the people that make it – you need the right people in place to reflect the ethos and the energy of the business. Whether it's on the shop floor, in the kitchen, at the counter or on delivery, all the aspects have to be correct. If the staff attitude is right, it all falls into place."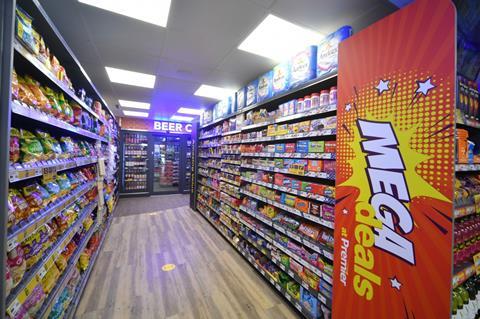 Mandeep and the family understand that the emotional connection with shoppers is vital, and this fed into the refit, with good-quality lighting throughout the store and clearing the front windows of clutter to let the daylight in. "Shoppers feel safe here – they can see their car outside, Premier Radio is playing tunes, it's all about making people feel good. We are looking to take our brand forward by offering a retail experience that is different to other stores. Price, range, service and the environment – the whole jigsaw coming together."
He adds: "We are still learning every day. We see it as a partnership with Booker and our shoppers, and the stronger the partnership, the better the business."
Martyn Parkinson, sales director at Booker – Retail says: "We are absolutely delighted with this store. It looks amazing and, not only that, it is delivering more profit for Mandeep. These improvements are future-proofing the business, so the store can continue to grow and build on these new elements and also capture all the latest consumer trends. Sales are now at a stunning £56,000 a week. Margin has increased by 6% and footfall has increased by over 20% and is still growing strongly. The store is now serving more than 6,000 shoppers week in, week out and I'm proud that the basket spend is averaging nearly £10.
"We have learned a lot from this project and I'm really pleased to be able to take the successes and roll them out to both our existing retailers and any new members. This is a really exciting time for Premier as we build upon more people shopping locally and ensuring our retailers have everything they need to maximise their store. Any retailer who would like to know more can simply contact their local Booker branch and they will be happy to help."
To pinpoint your local Booker branch or find out more about how Booker Group can help you achieve sales success, visit booker.co.uk
Store CV
Name: Singh's Premier
Retailer: Mandeep, Baljeet and Vrinder Singh
Stores in group: 3
Size: 1,800 sq ft
Services: Beer Cave, Food to Go, Refresh Zone, Vape Zone, Local Food
Trading Hours: 6am–10pm