With Costcutter now part of the Bestway family, it is better placed than ever to champion and support independent retailers, Costcutter argues. Its mission is to help independent retailers thrive, providing a full spectrum of support to enable stores to meet the needs of today's convenience shopper.
Costcutter has helped retailers to convert shoppers who saw their local store as a lifeline during the lockdowns of the past year into lifelong loyal customers. Supporting its independent retailers to retain these shoppers is a key focus for the group throughout 2021.
At the heart of this effort is the unique Shopper First business growth programme. This provides actionable insights based on in-depth shopper analysis and data, equipping retailers to tailor every aspect of their store and reflect changing shopper needs. Retailers who have participated in the programme have seen a minimum of 20% sales growth.
A fresh outlook
Shoppers are looking for more than top-up and impulse purchases from their local Costcutter, with an estimated 25% of shoppers shopping more often at their closest, most convenient stores1. With shoppers more prepared to do a full shop closer to home, a strong fresh offer is fundamental to retailers' success.
The access Costcutter retailers have to Co-op own brand products has never been more important. With over 2,000 products, the brand has demonstrably driven increased footfall, basket spend and sales across Costcutter stores.
The strong retail and fresh food offer, focused support for last mile delivery options, and stronger use of data and technology helps retailers maximise their sales and improve the experience for shoppers.
Automating shelf labelling
Costcutter is always looking for technology that will make a difference to retailers' bottom line. Its latest tech launch is proving especially beneficial is electronic shelf labels (ESLs), which allow pricing and promotions to be centralised and updated at the shelf edge at the push of a button, eliminating pricing errors and improving revenue.
Peter Juty recently trialled the Panasonic technology at his Costcutter store in Culverstone Green, Kent. Keen to reduce the time taken to manually update shelf labelling, as well as the problems being caused at till-point with price discrepancies, Juty installed ESLs.
Installed in just a day, the results have been an 80% reduction in time spent on label updates, an increase in shopper satisfaction and an estimated increase in future turnover of up to 10%. Initially expected to cover the cost of ESLs within three years, based on current rates this is more likely to be achieved in about 18 months.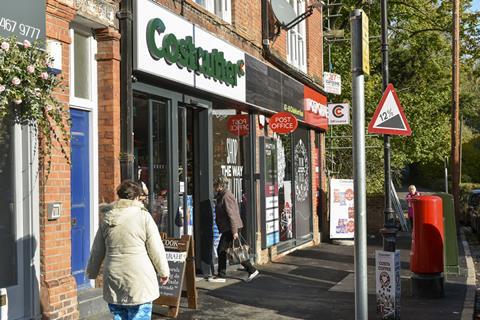 Growing convenience business
Retailers across the UK are recognising the strength of Costcutter's offer and the boost it brings to their business. New retailers joining the group are reporting impressive increases in footfall, sales and positive shopper feedback.
One such retailer celebrating success is Faheem Mohammed, who runs a Costcutter forecourt store in Ilkley, West Yorkshire. He has seen week-on-week sales growth since joining Costcutter earlier this year, with overall sales rising by 40%. He attributes the success and positive shopper feedback to the help and support of Costcutter and the impact of the Co-op own brand products.
Retailer profile: Costcutter Leybourne Chase
Owner: Ahilan Murugesu
Number of years as a member: Supplied by Costcutter for 10 years
Having been supplied by Costcutter for my store in Sutton for the past decade, the group's commitment came into its own when we opened a new Costcutter store in Leybourne early this year, writes Ahilan Murugesu. The level of retail expertise and the support I've received from the Costcutter team has been exceptional.
From merchandising, planograms and POS to promotions and marketing, they've helped me every step of the way. Access to Co-op own brand products has also made such a difference to our bottom line and helped us better meet shopper needs in terms of quality, variety and stock consistency in both our stores.
Choosing Costcutter was obvious based on my lengthy experience working with the group and the dedicated team. I felt confident that they would support me in opening a second store.
We'd been looking for a suitable site for some time and when we identified the purpose-built unit in Leybourne, the Costcutter team helped guide us from the moment we signed the lease to the launch day. As well as being in daily contact, they provided planograms, range advice and shopper insights to help us create a truly local offer that directly responds to shopper needs and drives footfall and basket spend.
Shoppers are already telling us what a great asset to the community the store is, which is so satisfying.
To find out more about Costcutter visit www.costcuttersupermarketsgroup.com, email contactus@costcutter.com or phone on 01904 232505. Readers can also access more information on Twitter.

Sources:
1 Nielsen State of the Nation 2020 and Nielsen Homescan Covid-19 Survey April 2020